A Cup of Tea for a Clearer Nose
The following is a Wall Street Journal report on Bi Yan Pian:
By LAURA JOHANNES, Wall Street Journal, July 20, 2009
Stuffed up and miserable from allergies? A traditional Chinese mix of 11 herbs called Biyan Pian can relieve congestion and help you breathe easier, according to companies that sell it. Western scientific evidence for the formula is scant, though one recent preliminary study found it effective.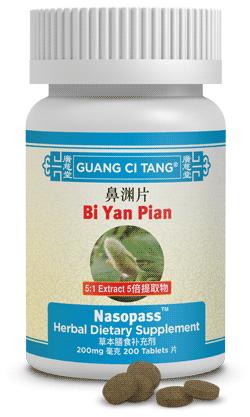 Biyan Pian literally means "nose inflammation pill." In the U.S., it is sold in supermarkets and natural-food stores and through acupuncturists either as tablets or as a strongly flavored tea. Its ingredients include Xanthium fruit, magnolia flower, wild chrysanthemum and Chinese licorice root. It is marketed to allergy sufferers and to people with inflamed nasal passages from a cold or the flu.
There is little published Western evidence for Biyan Pian. Natural Standard Research Collaboration, a Cambridge, Mass., scientist-owned group that evaluates natural therapies, says it didn't find enough evidence to even grade it. One of the few Western studies was published earlier this year. In a January study in the Journal of Alternative and Complementary Medicine, a tea containing Biyan Pian was found to be effective in treating symptoms of chronic rhinosinusitis, a long-lasting and often miserable inflammation of the nasal passages.
In the study, researchers at Morehouse School of Medicine in Atlanta found that the 27 study patients who drank four cups a day of tea enjoyed a better quality of life, including fewer headaches, relief from nasal congestion and less trouble falling asleep. The study didn't have a placebo group for comparison, generally considered necessary for a conclusive result. The study was funded in part by Traditional Medicinals Inc., the Sebastopol, Calif., company that sells the tea.
Terry Courtney, dean of Bastyr University's School of Acupuncture and Oriental Medicine in Seattle, says she has found in her patients that Biyan Pian tablets work well as a mild herbal decongestant. It is appropriate for "dry" congestion, a condition in which phlegm and mucus seems stuck and the person may feel headachy or hot, she adds. "Within 20 minutes of ingesting it, people begin to blow their nose. Inflamed and swollen passages start to calm down," Ms. Courtney says. If you see no effect, Biyan Pian may not be the best treatment for you, she adds. The treatment isn't best suited for people with runny noses and sneezing, she says.
The herb mix is considered fairly safe, though one of its components, licorice root, has been linked to high blood pressure in large amounts. In the traditional formula sold in most tablets, licorice is present in only small quantities and shouldn't be a problem, clinicians say. Traditional Medicinals' Breathe Easy tea, in which additional licorice root has been added to the Biyan Pian formula, carries a warning that it shouldn't be used in patients with high blood pressure.
In some people, says Roger Batchelor, an assistant professor at the National College of Natural Medicine in Portland, Ore., the herb mix can create excessive sinus drying and should be discontinued.
Source:
http://online.wsj.com/articles/SB20001424052970204900904574300363502923136