ActiveHerb Reaches 2000 Customer Review Milestone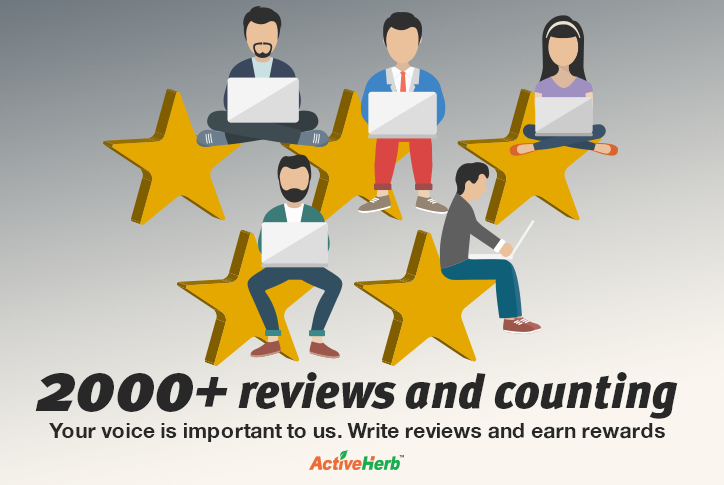 Recently, ActiveHerb posted its 2000th customer review. We are humbled and grateful for reaching this milestone, and for being the able to provide a safe and effective solution for so many customers.
As of this writing, we have received 2120 reviews, with an overall rating of 4.5 out of 5.
ActiveHerb is committed to offering the purest, most potent, consistent, and safest herbs on the market. Never compromising on our strict quality assurance methods, we strive to meet the health needs of every single customer. And judging by the reviews, our customers have confirmed our reputation as an industry leader.
One common sentiment in the over 2,000 reviews we noticed is that many of our customers actually have a regret about ActiveHerb: they did not find us sooner. After trying both pharmaceutical and natural remedies for decades, long-lasting relief finally came only thanks to our formulas.
For one ActiveHerb customer from North Carolina, YinVive Cool™ (Zhi Bai Di Huang Wan), has been the only effective, consistent relief for full-blown menopause and hot flashes. Before discovering YinVive Cool, she would suffer from hot flashes every hour throughout the night as well as heavy facial perspiration. This customer previously tried black cohosh, sesame seed and paste, red clover and homeopathic remedies. Although these remedies worked for her in the past, she says, they ultimately became ineffective.
Unlike western medicines, which targets one specific function or outcome, our formulas often result in a domino-effect of multiple positive outcomes. Oftentimes, our customers register much surprise when discovering that one of our formulas not only was effective for their primary concern, but also led to other improvements.
Take for instance a recent review from Marguerite V., who took our formula Slimin to help her lose weight. She reported to us, "I am very happy because my energy is so much better and I feel happier, therefore I am more active and not depressed. This formula has been so much more beneficial than my 10 pound weight loss and there is no doubt that my cholesterol ratios have improved."
Frequent feedback we've received inform us that our products make resolving health concerns very affordable. Revisiting the customer from North Carolina with hot flashes, she told us, "After three weeks of taking five pills three times a day I have found relief! No more waking in the night! I will continue this protocol. It's a lifesaver at a reasonable price! Thank you ActiveHerb." Our customers have also appreciated our recently-launched rewards program, which makes our products even more cost-effective.
In addition to being effective, leading to ancillary positive outcomes and being cost-effective, our customers have also reported that they appreciate our formulas because they do not require drastic lifestyle changes.
"I did not have to relinquish my morning coffee or evening cocktail and I still gained relief over significant symptoms," the former hot flash sufferer told us.
Over the course of receiving 2000 reviews, we've also been told by some customers that they appreciate how we help them understand how our formulas work. Traditional Chinese Medicine theory can be complex and esoteric for those who have not studied this ancient discipline. "Thank you for providing a much needed education to those who want to take herbal products and to explain this wonderful medicine in such an understandable way," the aforementioned Marguerite V. told us, adding, ""TCM is not some weird/crazy concept. It truly is such an excellent medicine and I wish for more people to become familiar and utilize it. For me TCM is the only medicine that I will utilize. It saved my life…."
And for some customers, taking an ActiveHerb formula has led to a great boost in confidence. One customer who recently emailed us confided that she had struggled with adult acne for most of her life, and that AcniPearl™ (Zhen Zhu An Chuang Pian) has "Cleared up blemishes on my face and the overall appearance of my skin has improved." In addition, this customer says she also takes EaseTonic "and has virtually eliminated using antidepressants. I'm very pleased that I found your company."