Guang Ci Tang Admired by American Chinese Medicine Community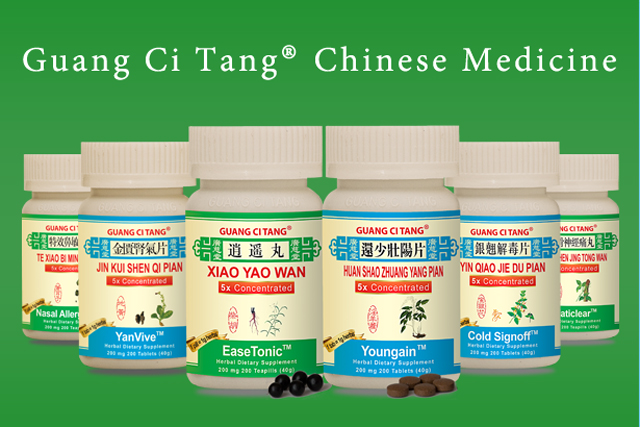 Recently, the Guang Ci Tang super-concentrated patent Chinese medicine, which has been well respected among the Traditional Chinese Medicine (TCM) community in North America, was awarded the most trusted TCM brand by Shanghai University of TCM Alumni Association of California (L.A.) USA.
Guang Ci Tang patent Chinese medicines may not have been well known for the general public as these products are made seldom available in local oriental pharmacies. They have been distributed exclusively by and used for TCM practitioners, clinics, and institutions. The Guang Ci Tang patent Chinese medicines are produced by one of the China's leading manufacturers of patent Chinese medicines.
Because of its choice of high quality materials, unique formulations, sophisticated manufacturing, as well as its reliable quality, Guang Ci Tang has become the most welcomed brand of Chinese patent medicine by the TCM community in North America. Noticeably, Guang Ci Tang was the first to introduce a new tablet form of its products to the US market five years ago. The innovation from the traditional "pill" to the new "tablet" has further raised the product quality and efficacy to a higher level.
Making a name brand of Chinese patent medicine is for sure not an easy task. It must first go through the test of efficacy, the "litmus test" of any Chinese medicine. It also has to withstand the test of time for consistency and reliability of product quality. The goals are hardly achievable for anyone who is not prepared with the perseverance of "ten years grinding one sword". But Guang Ci Tang did it.
Since its first day entering the North America market 15 years ago, Guang Ci Tang has played a very confident slogan— "same name different efficacy". On the road to success, it is to miss the dedications and hard works from both the manufacturer and the distributor of Guang Ci Tang products. This success is hard-won.
Indeed, customers who used Guang Ci Tang patent Chinese medicines may attest to the "same name different efficacy" in reality. After taking the Guang Ci Tang products for the real benefit of their health, many patients commented: "We took products of the same name from the other brands before, but their effect was hardly noticeable. Guang Ci Tang products work fast and the benefits are real. The "same name different efficacy" truly lives up to its promise."
Many TCM doctors have been using Guang Ci Tang products exclusively in their clinical practice for many years. They admire highly on the rapid and reliable results Guang Ci Tang products may achieve. Over the course the practitioners dealt with patients under various conditions and have accumulated a lot of clinical experiences on the applications of the Guang Ci Tang products. Here are some samples of such valuable experiences.
1) Liu Wei Di Huang Wan and Xiao Yao Wan together may help those who are under stress from work and with sleep problems;
2) Huo Xue Tong Mai Pian and Jiang Ya Pian may help those with hypertension and cardiovascular diseases;
3) Sheng Mai Pian is good for those elder people who have poor spirit, low energy, and insomnia;
4) Yin Qiao Jie Du Pian and Coldclear may be selectively used for different flu symptoms according to cold and heat causes……
The scope of the Guang Ci Tang product line of patent Chinese medicines is extensive. The wide selection of its products makes it possible for the TCM practitioners to apply appropriate Chinese medicines for a wide variety of conditions they may deal with in their TCM clinics and obtain fast and satisfied results.
Some TCM practitioners have even deployed Guang Ci Tang products to deal with chronic conditions that current Western medicines have had a hard time to treat on the basis of their skillful diagnosis of symptoms in light of TCM theory. The results have been amazing.
Case 1. A senior TCM practitioner successfully treated prostate disorders in 13 cases and effectively controlled the progression of prostate cancer in 4 cases by combining Gaung Ci Tang's Qian Lie Shu Pian and Nei Xiao Luo Li Pian.
Case 2. Another female patient, who suffered from cancer, got her condition under control after surgery and chemotherapy for two years. One day suddenly her whole body turned yellow and there was no stool and urination. The situation was very critical and her doctor couldn't find help in Western medicine. She sought the help of Chinese medicine. The patient was recommended to take Guang Ci Tang's Tumoclear and Qing Dan Hua Shi Pian. The next day, she started to discharge some stool and urine, and the yellow on her body started to fade too. One week later, she returned to the normal condition.
Case 3. A heart disease patient in her 50s had been treated with Western medicine and also took a heart dietary supplement at the cost of $180 per bottle for a long time. The expense was high but her condition did not get better. Last year, the patient was diagnosed to need a bypass surgery. Because the patient also had diabetes, she worried that the wound might be hard to heal after the surgery and looked for the help of TCM. After she took Guang Ci Tang's Huo Xue Tong Mai Pian over 2 weeks, the patient felt her symptoms improved. Then she visited her doctor and took the clinical tests again. The doctor said that she did not need the bypass surgery anymore and instead suggested her to continue with the Chinese medicine. It is truly remarkable that by taking Guang Ci Tang patent Chinese medicine the patient was spared from the bypass surgery. Both the patient and the doctor are quite amazed.
Case 4. A doctor, who himself was a long time sufferer of urinary tract disorders, did not find much help from Western medicine and was introduced to Guang Ci Tang products. He was recovered shortly after taking Li Shui Pian Shi Pian. The doctor commented with emotion: "It is wrong for Western medicine to ignore Chinese medicine. TCM really has many valuable experiences that can be learnt by and complementary to Western medicine."
Many TCM practitioners reported that a lot of loyal customers including themselves make Guang Ci Tang products as the necessity goods for their health care. They even carry them when they travel in case any urgent need occurs. For those who are familiar with Guang Ci Tang products, undoubtedly the primary reason why the products are so much appreciated and recommended is their unique and significant health benefits.
The efficacy itself however does not account all. Another important reason is the dependable and honest management approach of the Guang Ci Tang team. Guang Ci Tang hires experts and professors of TCM to research and develop the best formulations. During production, Guang Ci Tang assigns its professional staff to supervise carefully and monitor closely the manufacturing process of every batch of its products in order to eliminate any production defect.
Today as the costs of the raw materials, production, and transportation are soaring, the company would rather sacrifice its profit but not compromise its pursuit of excellence, and continuously lives up to its reputation of "same name different efficacy".
Guang Ci Tang products have passed all sampling tests conducted by the California Department of Health and other relevant agencies and are covered by product liability insurance. In the end, day after day and year after year, Guang Ci Tang has built itself a well known Chinese medicine brand that TCM practitioners have become trusted and consumers have relied on for their health.
(The Chinese Medical Report, March 12, 2008)
(Translated from the original in Chinese)
文章發表於2008年3月12日《中國醫藥導報》