How I Went From Feeling Anxious To Sleeping Like A Baby
The following post is written by an ActiveHerb customer, dated from November 13, 2019…
The stress of being the sole provider for a family is steep enough. But when the job you've had for the last 15 years gets pulled like a rug out from under you, stress takes on a whole new meaning.
After losing my job, in short order, I went from being a pretty happy-go-lucky guy to someone who barely felt like he was keeping it together. Nearly every second of the day, I felt like I was drowning. Racing thoughts of fear, doom and gloom hijacked my nearly every conscious thought.
In front of my young daughter, I was able to keep my silly alter ego in front of her and be the clown of a dad she loves to laugh at. Thankfully, I was able to mask my emotional distress in front of her. But as more and more days went by without hearing back from a potential employee, and as each night I spent tossing and turning with negative, sabotaging thoughts cascading and careening out of control like an avalanche, I was having fantasies about leaving my family for good and living out of a van with no responsibilities.
Believe me, Chinese medicine is the very last thing on Earth that I thought would provide me with relief. But that's precisely what has totally calmed my mind and helped me sleep a solid 6-7 uninterrupted hours.
One night—approximately my 17th in a row of getting by on just 3-5 hours of sleep—I was determined to find a solution that would both help me sleep better and calm my mind. As long as I was up for a few hours in the middle of the night, I might as well make use of that time and make an effort to find a solution for my worried mind, I told myself.
I'm happy to report that I found a solution that has worked wonders. Even before I got a new job offer, the solution, which I'll tell you about shortly, worked extremely well to ease my spiritual distress. I was shocked at how well and how quickly it worked. It was like taking a giant eraser to my mind, wiping away, if not all, most, of my mentally-sabotaging thoughts.
Reluctant Devotee of Chinese Medicine
Other than taking antibiotics for a sinus infection once in a blue moon, I've never been one to use prescription medication. I'm all for taking one as a last resort, but I'm sure you have heard the same advertisements for medications on TV: Are you just as shocked as I am when they list all the possible adverse side effects? It's scary.
But as reluctant as I was to going on anti-anxiety or insomnia medication as I was, I was equally averse to trying herbal medicine, especially Chinese medicine. You hear all kinds of horror stories on the news about Chinese medicine, from harvesting organs of endangered species to being contaminated with heavy metals. That's just as bad as Big Pharma side effects!
Believe me, Chinese medicine is the very last thing on Earth that I thought would provide me with relief. But that's precisely what has totally calmed my mind and helped me sleep a solid 6-7 uninterrupted hours every night, for the past several months.

Chinese Medicine Is Just Like Any Other Product: Not All Are Created Equal

So on that 17th night in a row that I yet again couldn't sleep for several hours in the wee hours of the morning, I went online and started doing research. I eventually came across this customer review on ActiveHerb's website from somebody in Tennessee:

"I have had years of falling asleep fast but waking up at 3 am and my mind going non stop." Since I started taking Sleepeace, I am sleeping like never before (or that I can remember). I am going to keep it up, I take it three times a day with the last dose an hour before I go to bed."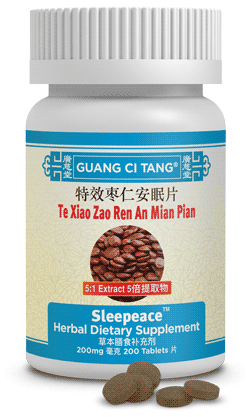 "Sleepeace? I like the sound of that. What's in it," I remember wondering. I looked at the product ingredients. It was several herbs that I had never heard of. But as I went back to the customer reviews and realized that dozens of people were having success with it, I figured what did I have to lose?
But then I remembered my concerns about Chinese medicine. What about the toxic ingredients and my passion for animal welfare? After doing a little more research before I hit the "add to cart" button for Sleepeace, I discovered that ActiveHerb offers totally clean herbal products.
They verify the purity with third-party testing and don't use crazy animal parts like rhino horn. I even went as far as to ask a neighbor of mine who is an acupuncturist in the San Diego neighborhood I live in if she had ever heard of them.
After she told me she actually uses ActiveHerb in her own practice, and the company has a reputation for having the safest and highest-quality herbal medicine, I felt at ease.

Staying Asleep Requires A Calm Spirit
But after confiding with my acupuncturist-neighbor what I was going through, she gave me a recommendation that echoed the rest of the customer review from above, which I'll add here:
"I also use SpiritCalm 3 times a day. Both products have helped my sleeping issue. Thank God I found Activeherb, my herbs arrive fast and the quality is great." [ActiveHerb note: the review is edited for brevity.]
Before I ordered both Sleepeace and SpiritCalm, I didn't know my Yin from my Yang. When I read the product descriptions and what they do, I have to admit, some of the concepts seemed over my head. "Rising hyperactive Liver Yang Qi? What the heck is that?" But after reading the complete description, and going over it again, it started to make more sense. In order to get a restful night's sleep, your body needs more than a physiological assist in helping you wind down; your mind and spirit both need a reboot as well!
More than anything, though, what convinced me to give these two formulas a try were the convincing real customer reviews.
I thought, what's the worst that can happen? I lose $40 (2 bottles of each)? Hey, I'm willing to invest $40 if it can improve even slightly my sleep.
Chinese Medicine For Sleep & A Calm Spirit … It Works!
I won't say that taking Sleepeace and SpiritCalm offered instant relief. My neighbor, the acupuncturist, told me to have some patience with herbal medicine; she suggested giving it at least 3 weeks before noticing positive outcomes. Imagine then, my surprise when only after my third day taking both formulas, I slept soundly from midnight to 7 a.m. I'll never forget the restorative bliss I felt getting a full night's sleep for the first time in what seemed like ages.
And remember, I didn't even have a new job at that point yet.
But would the formulas continue to do their magic? Or was it just a case of beginner's luck; would the Chinese medicines lose their efficacy after a while? All I can tell you is that 10 months after taking the combo of Sleepeace and SpiritCalm, there have only been a few nights that I haven't slept through the night (and those were probably the result of drinking too much wine).
Before I started taking the two formulas, I was so occupied with financial worry. I was constantly thinking about worst-case scenarios. "Are we going to have to move in with my parents? What if I never get a job offer, what will we do?"
After taking both herbal products, worries became no more bothersome than a pesky fly or gnat swirling around your face. Irksome, but not something that riddles you with anxiousness.
Give Sleepeace & SpiritCalm A Try!
Believe me, I never thought that herbs like Rhizoma Anemarrhenae Asphodeloidis or Caulis Polygoni Multiflori would be part of the solution that gave me my joy back in life.
But after almost a year after first trying it, I'm a complete believer in Chinese Medicine. Thank you, ActiveHerb for bringing me back to balance.
–Zach H.
San Diego, CA