Is TCM helping to treat coronavirus in China?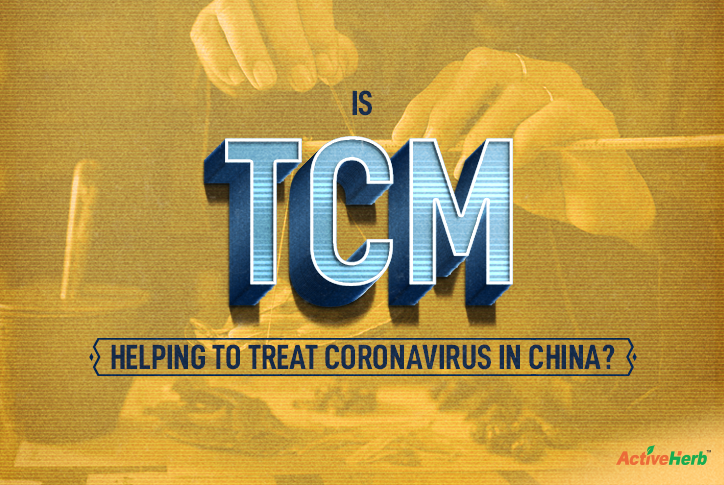 Although it's all doom and gloom in the mainstream media, there's actually a sliver of good news on the coronavirus front. Better treatment protocols in China have, in part, helped slow the percentage increase in the number of new cases diagnosed.

And increasingly, traditional Chinese medicine (TCM) is playing a vital role in the treatment protocol.

In fact, TCM universities and hospitals across China have dispatched more than 4,900 medical staff from some 600 traditional Chinese medicine (TCM) hospitals across the country to China's Hubei province, epicenter of the coronavirus epidemic.

And in Wuhan, Hubei's provincial capital and ground zero for the outbreak, five national medical teams of 757 TCM specialists from the China Academy of Chinese Medical Sciences and other elite medical institutions recently arrived here to help contain the outbreak.

In one particular hospital in Wuhan that was hastily built to treat the novel coronavirus—Jiangxia Module Hospital—over 200 TCM experts have been put in charge of treatment operations. Jiangxia, which can hold up to 800 beds, is the first TCM hospital dedicated to treating coronavirus and entirely managed by TCM doctors.

Traditional Chinese Medicine Successfully Treating Thousands of Coronavirus Patients

As for the effectiveness of TCM for treating infected coronavirus patients, ancient remedies are proving successful. In fact, as of February 25, TCM was used with positive results in over 60,000 confirmed cases across China.

According to China's deputy head of the National Health Commission, Wang Hesheng, TCM has been used in conjunction with modern protocols in the treatment of more than half of the confirmed patients in Hubei province.
As for the effectiveness of TCM for treating infected coronavirus patients, ancient remedies are proving successful. In fact, as of February 25, TCM was used with positive results in over 60,000 confirmed cases across China.
In the Jiangxia makeshift hospital, China Daily reported the first group of patients have been released, having fully recovered from coronavirus-related pneumonia. Zhang Boli (张伯礼), director of the TCM medical personnel at Jiangxia and President of the Tianjin University of Traditional Chinese Medicine, claims most of the patients who had TCM incorporated into their treatment plans felt better afterward.

In fact, according to officials at Jiangxia, since the hospital began operations on February 14, none of the patients' conditions had deteriorated.

Coronavirus Fever & Coughs Successfully Treated With TCM

Most coronavirus patients have shown mild symptoms such as fever and coughing. TCM has a time-tested, proven track record for alleviating these symptoms, including during the SARS epidemic of 2003. And thus far with the coronavirus outbreak, TCM once again seems to be helping patients recover.

Wang Rongbing, director physician with Beijing Ditan Hospital, said at a press conference recently, with TCM treatment, patients with mild symptoms have seen their fever or cough alleviated. And for severely ill patients, "TCM helped relieve symptoms and restore blood oxygen saturation, preventing the patients' conditions from developing into critically ill cases," Wang said in the press conference.

And according to Liu Qingquan, director of the Beijing Traditional Chinese Medicine Hospital and one of China's leading TCM leading experts dispatched to Wuhan, TCM has been positively implemented in approximately 90% of COVID-19 patients. "After analyzing case reports from different areas, we have reached a conclusion that TCM is able to prevent mild cases from getting worse," Liu is quoted in an independent Chinese news source.

3 Colleagues Of Deceased Whistleblower Improve After Being Treated With TCM

Li Wenliang is the 34-year-old ophthalmologist whistleblower who used the WeChat messaging app on December 30, 2019, warning his fellow medical school graduates about the novel virus. After being labeled a "rumormonger" by Chinese authorities, Wenliang fatally succumbed to the disease on February 7. Wenliang was not treated with TCM because of two primary factors: First, TCM had yet to be implemented in the treatment plan by Chinese authorities and the Hubei province medical establishment. And secondly, medical doctors were reluctant to use traditional remedies in the first place.

But the unwillingness of modern medical doctors in China to use traditional remedies may be easing. Recently, three of Wenliang's colleagues were in critical condition with COVID-19. After running out of modern treatment options, and Wenliang's colleagues showing no signs of improvement, the aforementioned experts, Liu Qingquan and Zhang Boli were called in to oversee the patient's treatment. Wenliang's colleagues were administered a TCM liquid herbal decoction. According to this Chinese-language report, "The traditional remedy has been administered for almost ten days, and the patient's condition has improved greatly. Two of them were fully recovered and pulled back from the edge of death."

What Hubei Learned From Other Provinces About Using TCM For Coronavirus

In provinces surrounding Hubei, notably Hunan and Henan, the first trickle of completely cured patients were recently discharged from hospitals. The discharged patients all had one thing in common: their treatment protocol combined modern medicine and herbal remedies.

Up until recently, according to the South China Morning Post (SCMP), each province dictated its own treatment policy. While Hubei and Hunan hospitals combined traditional and modern approaches, Hubei did not routinely treat patients with herbal remedies; less than a third of patients received herbal treatments. As the success of implementing TCM became apparent to Chinese health officials, central authorities in Beijing directed all Hubei agencies and hospitals involved in containing the epidemic to ensure herbal remedies were made available for all confirmed and suspected patients. (The agencies and hospitals had 24 hours to comply.)

In Shanxi province, local health authorities there recently reported that 91.5 percent of those who have used TCM have experienced positive results.

In two provinces with the highest rates of infection outside of Hubei—Guangdong and Zhejiang—SCMP reports patients were given herbal drinks to relieve symptoms even before they were testing positive.

Remarkably, recent data suggests Guangdong's reported mortality rate was only 0.1% of infected people, compared with Wuhan's rate of 2.6%. And in Zhejiang province, none of the 1,155 confirmed patients had died.

Conclusion

As of this writing, The Chinese Center for Disease Control and Prevention claims COVID-19 has a 2.3% mortality rate. Although this number is higher than influenza (0.1%), it pales in comparison to SARS and MERS (9.6% and 35%, respectively). But as we've seen in neighboring provinces of Hubei who began implementing TCM in treatment protocols earlier, the mortality rate is lower than the national average.

Neither TCM nor Western medicine currently offers a solution that kills COVID-19. Combining both systems of medicine appears to be the best approach to treating the disease. In the case of serious respiratory distress, modern medical equipment such as respirators are necessary to keep patients alive. And although TCM is widely regarded as being helpful in managing only non life-threatening symptoms, anecdotal evidence, such as Wenliang's three colleagues and many other patients, suggests ancient remedies can in fact be used successfully for critically-ill patients.

For at least 2,000 years, TCM has been used to help contain the spread of epidemics by supporting the immune system and managing symptoms.

References:

Western medicine, TCM scramble to offer therapies against COVID-19

Traditional Chinese Medicine Mobile Hospital Treats COVID-19 Patients In Wuhan

Traditional Chinese medicine offers oriental wisdom in fight against novel virus

Coronavirus death toll rises above 2,000 worldwide

WHO explains coronavirus mortality rate
Related from the ActiveHerb Blog:

How Helpful Is Chinese Medicine In Fighting Coronavirus?

Chinese Medicine Researcher Awarded Nobel Prize For Malaria Cure