In This Severe Cold & Flu Season, More People Seeking Relief From TCM Remedies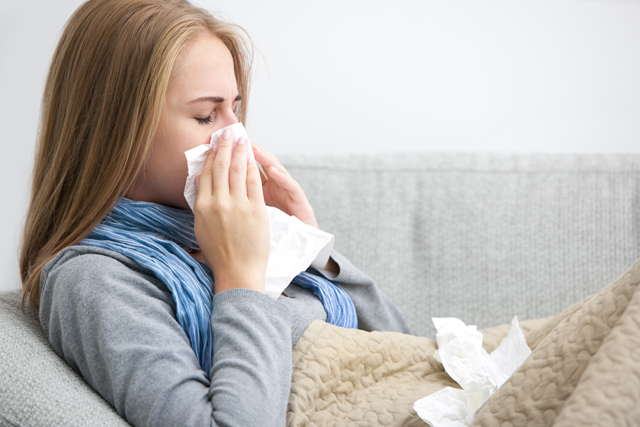 This year's flu is being described as the scariest in years. Is this just media hype? Or, will the 2017-2018 flu season indeed be to blame for a shockingly-high number of deaths? Although the total number of deaths due to the flu won't be available until next season, hospitalizations from flu or flu-related illnesses show no signs of abating. Stocks of flu vaccinations are in short supply, however, there are TCM formulas that may help prevent flu or help you recover from it…
Usually by this time of the year, cases of influenza are on the decline. Articles and news reports about flu would long be filtered out of the media cycle. However, this year, in the United States, it's been a particularly severe flu year and there seems no signs that cases of influenza or influenza-related illnesses such as pneumonia are leveling off.
If a groundhog were to predict how much longer flu season will last, it would cast a long, dark, nefarious shadow; there are several weeks more of influenza, the experts say. In fact, the average length of a flu season the last five flu cycles has been 16-20 weeks. But for 2018, experts predict, that as of this writing, we're only about halfway out of the woods.
Sobering influenza statistics for 2017-2018
According to a report in New York Times, this year's flu season is now more intense than any since the 2009 swine flu pandemic. Of all people seeking care at a health clinic or emergency room, 6.6% had influenza-like illness.
Flu activity has been elevated for nine consecutive weeks so far this season—in 49 out of 50 states (Hawaii being the lone exception). Often, different regions of the US experience a bump in flu cases at different times. However, data reveals that for the past three weeks, the entire country has been seeing a surge in the number of flu cases and severity of symptoms.
In San Diego County, home to ActiveHerb.com, there have been at least 174 flu-related deaths as of Jan. 24. And this past week, the Centers for Disease Control (CDC) reported seven additional pediatric deaths nationwide. Thus far, 37 children have died from flu or flu-related illness across the U.S.
What's really sobering about this season's flu is the dramatic rise in the hospitalization rate, which is used to predict the death rate. Experts predict that we're on track to equal or surpass 2014-15 flu season, which led to over 700,000 hospitalizations and over 50,000 deaths.
Conventional recommendations for flu
Even though flu season is in full swing, the CDC is still recommending that nearly all Americans age six months or older get the flu vaccine, especially for people who are at high risk of influenza complications such as pregnant women, older adults and young children.
However, many medical practices and pharmacies are out of flu vaccines. Moreover, there's also a shortage in some areas of antiviral drugs such as Tamiflu.
It goes without saying that one of the best ways to protect yourself from flu is by washing your hands often. Other obvious but obligatory recommendations: stop the spread of flu by staying home if you are sick. Also, visit a doctor if you think you have been infected by the flu virus.
How to protect yourself from the flu using TCM
As more people are seeking complementary and alternative medicines in general, it's only natural that sales of TCM formulas for cold and flu are likewise on the rise. Perhaps that's why four of our top 10 Best Sellers right now are remedies that may help relieve colds and flu.
Jade Defender
Jade Defender (Yu Ping Feng Pian) is our third best-selling TCM formulas, and for good reason. It's perhaps one of the most famous TCM formulas, in general, and may be especially effective for protecting your body from external attacks. In modern science, Jade Defender may work by supporting your immune system. This is one formula you should start taking a few weeks before flu season starts, however, you can start taking it anytime of year to protect yourself. Clinical studies suggest Jade Defender may benefit those who have a frequent past history of contracting the flu.
Camelio, of California, is one of many ActiveHerb customers who swears by Jade Defender: "I use this product to help my immune system and to my surprise it works wonders…." And Lindy, another customer from California adds, "Being prone to pneumonia, I have faithfully been taking Jade Defender for seven years. It keeps me healthy and protects me from any annual infections."
ColdClear
Our next best-selling formula, ColdClear, may enhance your body's natural defense when the cold or flu is full-blown. Michael Tierra, a renowned acupuncturist, herbalist and natural health advocate and healer, concluded after applying it in his own practice, "ColdClear is a fantastic cold remedy."
Chimitausu, Sugar Land, TX, agrees, saying, "I don't want to take over the counter cold medicine, because of drowsiness. I didn't expect relief as quickly as western medicine. However, to my surprise, I recovered within 2 days." And here's a concise review by Carole of University Place, WA, who claims, "I always have Cold Clear on hand and it really shortens the life of a cold…."
Cold Signoff
Also high on our best seller list is Cold Signoff (Yin Qiao Jie Du Pian), which may help nip a cold in the bud if taken early enough. When an outbreak of cold or flu occurs in the workplace or at school, this is one formula you may want to have on hand. But don't take it from us. Here's a review from a customer at higher risk of contracting bad colds:
"I take this product at the very first sign a cold may be coming on. It works every time! I am around children every day, so I'm exposed to lots of germs. I used to get a few bad colds every year. Now Cold Sign-Off makes my life healthier." — Name withheld, Los Angeles, CA
Nasopass
One more TCM formula that's on our best seller list worth mentioning is NasoPass, which may help if a cold or flu has saddled you with nasal congestion or mucous. Out of 34 customer reviews, NasoPass has a 4.5 star average rating (out of 5.0), including this feedback from Eli of Miami, FL, who says, "I give it to my 6 year old as soon as I hear sniffling. It clears up with 24 hours."
Breathmooth & FlemClear
In addition to these products, there are other cold remedies that are also popular with our customers, including Breathmooth, which may be especially useful for a lingering cough following the flu, as well as FlemClear, for cough with phlegm in the lungs. Here's a customer review from somebody who has had positive outcomes using both of these formulas:
"I'm over 60 and have had severe asthma since the age of 15. I've been on cortisone and it started to seriously affect my kidneys and adrenals. I started using Flemclear and Breathmooth and a miracle happened: I can breathe without cortisone and without an inhaler!" — Monika
Different people have different symptoms. As such, you may want to read this blog post from a licensed acupuncturist, Steven Blackstone, and his favorite eight cold and flu remedies, or check out our shop by concern cold & flu remedy page.
Sources: