In traditional Chinese medicine (TCM), the Spleen plays a critical role in transforming the body' nutrients into Yin, Yang, and Qi which are the fundamental energies for life. A strong Spleen can supply the body with abundant Yin, Yang, and Qi energy that may be present at low levels after birth. When the Spleen function is weak, digestion is compromised.
A common Spleen problem is insufficient Yang energy. Spleen Yang deficiency often comes with the Yang deficiency of the Stomach as well. As a result, one may experience a feeling of cold in the Stomach and the limbs, abdominal distension, and loose stool. For example, one cannot drink cold milk or ice water. The abdominal discomfort can be relieved after the abdomen is pressed with hands or covered with a warm water bag.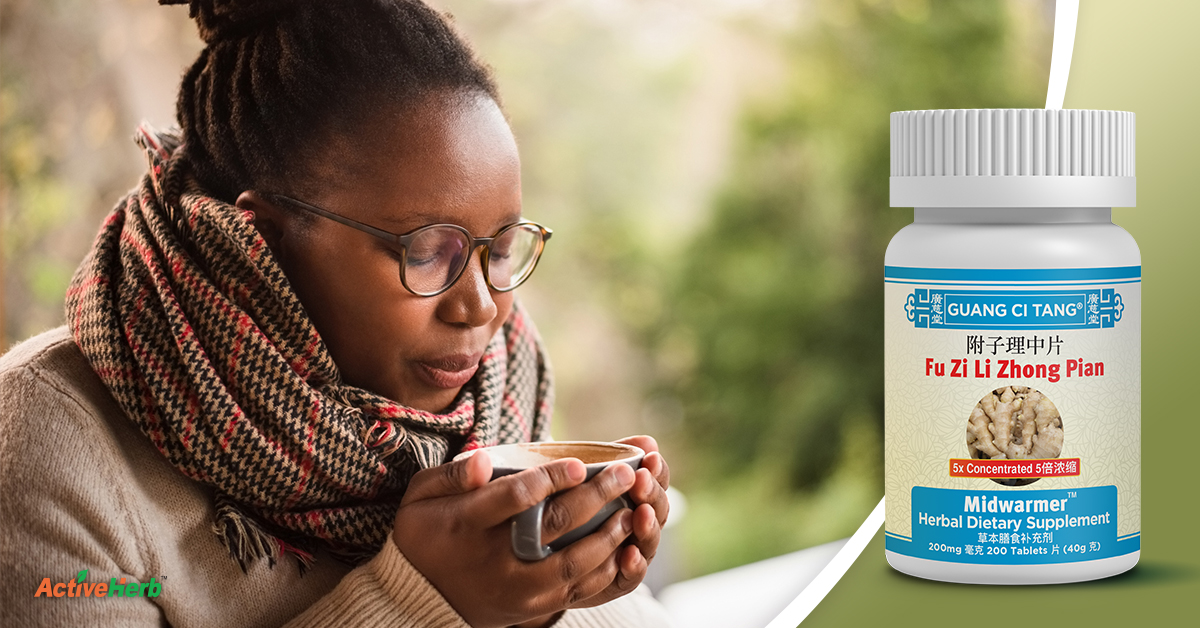 Fu Zi Li Zhong Tang is a popular Chinese herbal medicine used to reinforce the Yang energy of the Spleen and Stomach. This Chinese medicine is composed of several herbs that strengthen the Yang energy and the Spleen. Among them, Fu Zi (Zhi) (Processed Aconite Root) is perhaps the best-known Chinese herb for restoring the Yang energy and dispersing Cold. Gan Jiang (Dried Ginger) is acrid and warm in nature and disperses Cold. Dang Shen (Codonopsis root) replenishes the Qi energy and harmonizes the Spleen. Bai Zhu (Atractylodes root) is a key tonic for the Spleen and Stomach and removes Dampness. Gan Cao (Licorice root) tonifies Spleen and Qi and synchronizes the action of the other herbs.
Fu Zi Li Zhong Wan is indicated in China Pharmacopoeia for warming the middle-Jiao and strengthening the Spleen. The Chinese herb is used for the insufficiency and coldness of the Spleen and Stomach, cold hands and feet. †
What is the formula composition?
| | | |
| --- | --- | --- |
| Codonopsis root | Codonopsis pilosula | (Dang Shen) |
| Bai-zhu atractylodes rhizome | Atractylodes macrocephala | (Bai Zhu) |
| Sichuan aconite cured lateral root | Aconitum carmichaelii | (Zhi Fu Zi) |
| Ginger dried rhizome | Zingiber officinale | (Gan Jiang) |
| Chinese licorice root & rhizome | Glycyrrhiza uralensis | (Gan Cao) |
Other ingredients: .
We use as little fillers/binders as possible which together amounts to % of the tablet weight.
Guang Ci Tang
® Fu Zi Li Zhong Pian (Midwarmer™) 40 grams in 200 mg 200 tablets @ 5:1 strength.
At a true 5:1 concentration, this product represents the most potent form of Fu Zi Li Zhong Pian (Wan) on the market. One tablet is equal to 1 gram of raw herb.
Please note that Guang Ci Tang® Fu Zi Li Zhong Wan in the pill form, which has the same formulation as the tablet, is discontinued.
Fu Zi Li Zhong Pian tablets are made with all natural herbs that are tested for authenticity, quality, and potency. A traditional water decoction is prepared with the herbs to reproduce the time-tested action of the formula, and this water decoction is concentrated with our proprietary technology to form a potent extract that is made into easily absorbed tablets, which are remarkably effective, easy to use, and safe. The tablets are produced by Guang Ci Tang
®
in our state of the art cGMP-certified facility and imported in accordance with U.S. FDA guidelines. When you choose Guang Ci Tang
®
products, you are taking advantage of a wonderful fusion of science and tradition that incorporates the highest standards in the field of Chinese medicine today.
Please note that our tablets may appear neutral in finishing and a little brittle. You may observe a tiny bit of fine powder at the bottom of your bottle and occasionally one or a couple of broken tablets after transportation. This is because unlike other manufacturers, our tablets are not coated as part of our effort to minimize the use of excipients and to make them as pure as possible. These tablets can also be easily dissolved in hot water to serve as tea.
Pure. Potent. Proven.
True 5:1 concentration
Double the strength of regular brands
Minimal fillers and binders
No pharmaceuticals or dyes
Comprehensive lab testing (e.g., heavy metals,etc.)
Made in a cGMP certified facility
Unbeatable value
Safely used in the USA since 1995
Check for an independent US lab test report.
The standard dosage for Midwarmer™ is 5 tablets each time, taken 2 to 3 times daily with or before meals. One bottle lasts users 2 to 3 weeks.
The dose may be doubled for a quicker and stronger response as needed. Consult your practitioner for precise dosage recommendations based on body weight and other factors.
Midwarmer™ is a tonic and therefore it usually takes time before its effects become apparent.
Precaution
Use with caution during pregnancy.
Not suitable for acute gastrointestinal disorders.
Not suitable for use if you have heat sensation.
Consult your herbalist or physician before use if you have hypertension, diseases of heart, or kidney, asthma, or edema.
Consult your herbalist or physician before use if you are taking other medicines.
It may not suitable for you if the symptoms do not ease in a couple of weeks.
Keep out of reach of children.
Differentiation in Usage
Both Fu Zi Li Zhong Pian and
YanVive
may warm up the body. Fu Zi Li Zhong Pan is used when the stomach is also cold (e. g., being unable to drink ice water) whereas YanVive is used when one also has a weak lower back.
Side Effects
Aconite root is toxic in its unprocessed form and should not be taken in any circumstance. Aconite root used in traditional Chinese medicine including Fu Zi Li Zhong Pian was always first processed in a special procedure to significantly reduce the toxins and then further cooked to eliminate the toxins and is safe to be used. Fu Zi Li Zhong Pian (Wan) has been safely used with few adverse effects when used as directed. However, stop use if any adverse reaction occurs like increase of blood pressure, headache, and palpitation.
Allergy Info
Midwarmer™ is gluten free
Disclaimer:
Product reviews solely reflect the views and opinions expressed by the contributors and not those of ActiveHerb and are provided for informational purposes only. ActiveHerb does not verify or endorse any claims made in these reviews.
Please read the full product reviews disclaimer.
Midwarmer™ (Fu Zi Li Zhong Pian)
is rated out of
5
by
6
.
Rated

5

out of

5
by
JohnColorado
from
It works.
My acupuncturist/herbalist recommended Fu Zi Li Zhong for problems with loose stools. In my experience, many herbs take a long time to take effect; Fu Zi seemed to work quickly. There's a reason they call it a "mid-warmer." Not only does it stop loose stools, it warms your mid-section both front and back. My acupuncturist told me that loose stools are caused my to cold of a GI system. My only caution is to not take too much or you can get constipated. After adjusting the dosage, it works great.
Date published: 2014-06-09
Rated

5

out of

5
by
Brightstar
from
Great product
I have chronic poor circulation problem for many years. Every winter my hands and feet are icy cold. When the temperature drops below 15 degree, chilblains start to pop up all over my fingers and toes and both hands become swollen and sore. They then start to crack and bleed and look most unsightly. I bought the Midwarmer in late May and after 5 days noticed that, although winter had just set in and it was getting very cold, only a couple of chilblains appeared and the fingers did not get swollen. I also did not feel as cold as I normally would. Unfortunately, I then got the cold which turned into bronchitis and I had to stop taking the Midwarmer. But just based on the observation of those 5 days, I am very pleased with the product and can't wait to go back to it..
Date published: 2015-07-01
Rated

5

out of

5
by
Steve51
from
It worked for me.
Had loose bowel movements (diarrhea) for many months. I took 5 tablets of Fu Zi Li Zhong Pian. The directions suggest taking 5 tablets 3 x/day. I took the 5 tablets just a single time. Believe it or not, problem is remedied. It's been over 2 weeks and I'm fine.
Date published: 2018-01-18
Rated

5

out of

5
by
DeeDee
from
Really helps!
I purchased this for gastric upset/loose stools/chills. This product helped me feel better in one day! The loose stools returned to normal--and the chills subsided. I definitely recommed this product.
Date published: 2017-09-21
Rated

4

out of

5
by
Chris23
from
Too early to give a full reviews but so far good
I bought for my dad about a month ago. He told me to keep giving it to him. I can only say that he seems to be feeling better. Quite early to give a more detailed review.
Date published: 2018-03-20
Rated

5

out of

5
by
ZHAO
from
great features
I bought it a month ago, it works very well for my stomach after meal and very helpful to improve my sleeping quality.
Date published: 2019-01-10