Supports Bowel Movement
†
There are few things in life more frustrating than having the sensation of really needing to go to the bathroom but unsuccessfully evacuating the bowels. If you can relate, you're not alone.
If you want to safely and easily move the bowels, Constipass™ may help. This all-natural traditional Chinese medicine supplement contains six herbs that address the imbalances which have led to infrequent bowel movements.
Customers who have had positive outcomes with Constipass™ love how easy it is, simply by taking a handful of tablets instead of having to pursue more inconvenient and uncomfortable solutions.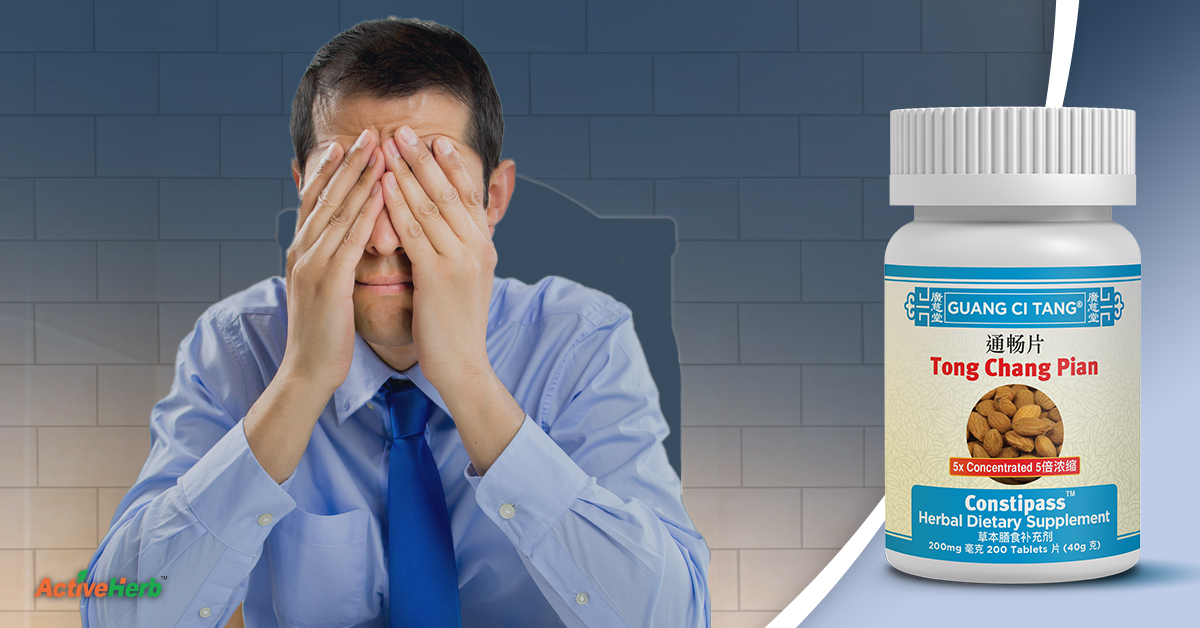 Signature TCM formula Moistens the Intestines
†
According to TCM theory, hardness in bowel movements may be caused by various reasons, such as excess heat or deficiency. Constipass™ is beneficial for infrequent bowel movements caused by excess heat in the intestines and stomach, signs of which include dry stool, along with heat sensation in the body, red face, red tongue, dry mouth with bad breath, and dark urine.
In general, heat dries out the fluids that are related to digestion. And in order for the body to compensate for the dryness, it removes moisture from the food in the intestines. When excess fire and heat dries out fluids in the intestines, stools become harder and more difficult to pass.
Constipass™ works by building back up the fluids that have dried out and become deficient.
Constipass™ does not work immediately; take it as directed for 2-3 weeks to notice the benefits, though you may notice positive outcomes sooner.
How does Constipass™ work?
The following three herbs have the primary action of moistening the intestines and unblocking the bowels: Tao Ren (Peach kernel), Huo Ma Ren (Hemp seeds), and He Shou Wu (Fleeceflower Root).
The main action of Da Huang (Rhubarb Root and Rhizome) is to drain heat, resolving intestinal fire and abdominal fullness, while Dang Gui (Chinese Angelica Root) tonifies the Blood. Dang Gui is also an efficacious TCM herb that helps move the bowels because of its intestine-moistening properties.
And finally, the last herb in Constipass™ is Qiang Huo (Notopterygium Root), which chiefly dispels wind.
What is the formula composition?
| | | |
| --- | --- | --- |
| Peach seed | Prunus persica | (Tao Ren) |
| Hemp fruit | Cannabis sativa | (Huo Ma Ren) |
| Chinese rhubarb root & rhizome | Rheum officinale | (Da Huang) |
| Fo-ti cured root tuber | Polygonum multiflorum | (Zhi He Shou Wu) |
| Dong quai root | Angelica sinensis | (Dang Gui) |
| Notopterygium root & rhizome | Notopterygium incisum | (Qiang Huo) |
Other ingredients: .
We use as little fillers/binders as possible which together amounts to % of the tablet weight.
Guang Ci Tang
® Tong Chang Pian (Constipass™) 40 grams in 200 mg 200 tablets @ 5:1 strength.
At a true 5:1 concentration, this product represents the most potent form of Tong Chang Pian (Wan) on the market. One tablet is equal to 1 gram of raw herb.
Please note that Guang Ci Tang® Tong Chang Wan in the pill form, which has the same formulation as the tablet, is discontinued.
Constipass™ is a Guang Ci Tang signature formula.
Tong Chang Pian tablets are made with all natural herbs that are tested for authenticity, quality, and potency. A traditional water decoction is prepared with the herbs to reproduce the time-tested action of the formula, and this water decoction is concentrated with our proprietary technology to form a potent extract that is made into easily absorbed tablets, which are remarkably effective, easy to use, and safe. The tablets are produced by Guang Ci Tang
®
in our state of the art cGMP-certified facility and imported in accordance with U.S. FDA guidelines. When you choose Guang Ci Tang
®
products, you are taking advantage of a wonderful fusion of science and tradition that incorporates the highest standards in the field of Chinese medicine today.
Please note that our tablets may appear neutral in finishing and a little brittle. You may observe a tiny bit of fine powder at the bottom of your bottle and occasionally one or a couple of broken tablets after transportation. This is because unlike other manufacturers, our tablets are not coated as part of our effort to minimize the use of excipients and to make them as pure as possible. These tablets can also be easily dissolved in hot water to serve as tea.
Pure. Potent. Proven.
True 5:1 concentration
Double the strength of regular brands
Minimal fillers and binders
No pharmaceuticals or dyes
Comprehensive lab testing (e.g., heavy metals,etc.)
Made in a cGMP certified facility
Unbeatable value
Safely used in the USA since 1995
Check for an independent US lab test report.
The standard dosage for Constipass™ is 5 tablets each time, taken 2 to 3 times daily with or before meals. One bottle lasts users 14 to 20 days.
The dose may be doubled for a quicker and stronger response as needed. Consult your practitioner for precise dosage recommendations based on body weight and other factors.
Precaution
Use as needed. It is suggested not to use continuously for months.
For best results restrain from eating spicy or oily food.
Stop use if allergic reaction occurs.
Consult your herbalist or physician before use if you are taking other medicines.
Keep out of reach of children.
Side Effects
Tong Chang Pian (Wan) has been safely used with few adverse effects.
Warning
1. Not for use during pregnancy.
2. Not suitable for use in case of deficiency of Qi and Blood etc.
3. Not for use in case of other underlying diseases such as colon cancer, intestinal obstruction etc..
Allergy Info
Tong Chang Pian (Wan) contains Tao Ren (Peach Kernel) and is gluten free.
Disclaimer:
Product reviews solely reflect the views and opinions expressed by the contributors and not those of ActiveHerb and are provided for informational purposes only. ActiveHerb does not verify or endorse any claims made in these reviews.
Please read the full product reviews disclaimer.
Constipass™ (Tong Chang Pian)
is rated out of
5
by
15
.
Rated

5

out of

5
by
Happy Customer
from
Really Great! It Works.
I take this at the same time I take a medication that causes constipation (I take 7 to 10 tablets). This herbal formula completely counteracts the constipation tendency (sorry if this is TMI) and neutralizes the situation. I also drink a tea blend of organic rose petals and damiana with it which provides a gentle and natural laxative effect. This is a wonderful product and it really works! This company has really FAST and reliable shipping too! I am a big fan of nature and not synthetic medications. I must also remember to drink A LOT of water while taking this formula. : )
Date published: 2015-12-29
Rated

5

out of

5
by
BBrownOrg
from
If your plumbing is backed up, this will fix it.
I bought Constipass for a few family members who regularly have constipation issues and this did the trick. One family member used the recommended dose and her problem was fixed within a few hours. The recommended dose did not work for another family member, however. My Chinese Herbalism teachers suggested the following: early afternoon, early evening take 12 pills, if there's not a bowel movement by morning take 12 more pills. This worked for him. Constipation is a big problem for a lot of people and the gentle effectiveness of Constipass is a blessing for them. Thank you ActiveHerb.
Date published: 2018-10-08
Rated

5

out of

5
by
kalo
from
Very effective
I had a 3 or 4 month bout of intestinal illness after eating a raw or undercooked meal, and a side effect of the illness was bad constipation. This product saved me from misery during that time period. I took less than the recommended dose, no more than 4 pills at once and only once or twice a day. When I started feeling completely better after 4 months, I weaned myself off of the Constipass pills over a couple of weeks. I'm totally back to normal health. I can't recommend these pills highly enough!
Date published: 2016-10-24
Rated

5

out of

5
by
9ersBoy
from
Amazing and Gentle
This is an amazing product that is easy to use and easy to control. Fluctuating the dosage brings about subttle differences in the effectiveness of this product. Highly recommended! 10 out of 10!
Date published: 2014-08-06
Rated

5

out of

5
by
acesk
from
Great for constipation
My Mom has had chronic constipation. This is the ONLY thing that makes her regular. She loves it!
Date published: 2014-09-20
Rated

5

out of

5
by
Lola
from
Gentle, high quality product
I use this more regularly than I would like due to IBS. It is far more gentle than even natural laxatives and it works in a reasonable, not hyper-speedy, way. I recommend this for people with IBS or food intolerances who need some help once in a while!
Date published: 2018-12-24
Rated

5

out of

5
by
kmth
from
Excellent product
My husband and myself are very satisfied with Constipass. We take 7 to 10 at a time and sometimes it requires another dose but it always works. The best feature of this product is that we never experienced cramps or any other discomfort.
Date published: 2018-11-12
Rated

3

out of

5
by
dede
from
More of a stool softener
This product does not work to go to the bathroom overnight or even the next day. It is so much like a stool softener nothing more. I do not like the return policy making it not worth the money to return.
Date published: 2017-02-28