A pleasant voice is desirable for everyone yet it is essential for those who depend on their voice on a daily basis (e. g., singers, teachers, salesman, customer service rep etc.). When their voice gets hoarse or even lost, they are in trouble with their job.
Hoarse voice can be caused by several conditions. Most cases of hoarseness are related to throat discomfort. Another common cause of voice hoarseness is the overuse of voice. For example, people like singers sing all the time; teachers and customer service representatives talk most of time; coaches yell too much. Hoarse voice can also be caused by smoking and excessive alcohol consumption. The dust particles or smog in the air are known to cause hoarseness too.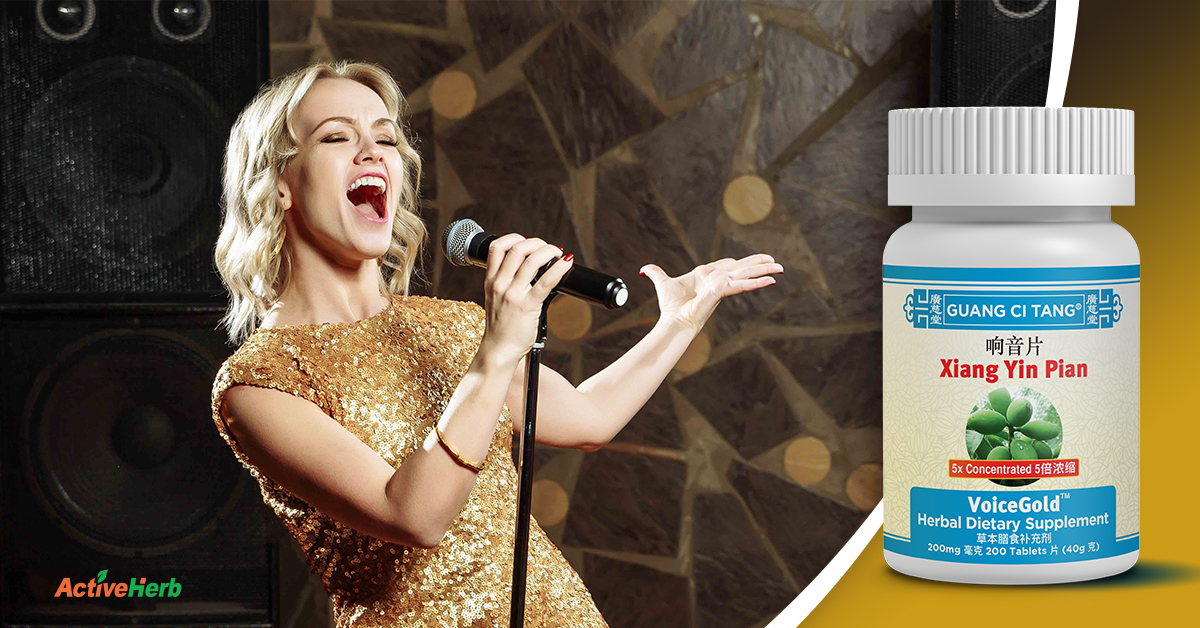 No matter the causes, VoiceGold™ supports comfort to your larynx and brightens voice. VoiceGold™ is a proprietary herbal formula consisting of a unique combination of Chinese herbs that help benefit the vocal box and the voice.
• Xuan Shen (Scrophularia root) nourishes the Yin energy, purges Fire, clears Heat, and resolves toxicity. This Chinese herb is known for its use in reducing sore throat, especially when it is used together with other herbs in the formula.
• Niu Bang Zi (Burdock fruit) disperses wind heat and soothes the larynx to relieve discomfort.
• Bo He (Peppermint) The commonly used medicinal herb disperses wind heat in the term of traditional Chinese medicine (TCM) and eases discomfort in throat.
• He Zi (Terminalia chebula fruit) is a key Chinese herb for voice care. It may soothes the throat to benefit the voice.
• Jie Geng (Platycodon root) ventilates the lung and clears phlegm.
• Gan Cao (Licorice root) The Chinese herb moistens the lung and transforms phlegm. It is often combined with platycodon root to clear phlegm and soothes the throat.
• Pang Da Hai (Sterculia seed) is popularly used in China to brew tea to protect voice. The Chinese herb moistens the lung and benefits the larynx.
What is the formula composition?
| | | |
| --- | --- | --- |
| Scrophularia root | Scrophularia ningpoensis | (Xuan Shen) |
| Chebulic myrobalan fruit | Terminalia chebula | (He Zi) |
| Platycodon root | Platycodon grandiflora | (Jie Geng) |
| Chinese mint aboveground parts | Mentha haplocalyx | (Bo He) |
| Sterculia lychnophora seed | Sterculia lychnophora | (Pang Da Hai) |
| Burdock fruit | Arctium lappa | (Niu Bang Zi) |
| Chinese licorice root & rhizome | Glycyrrhiza uralensis | (Gan Cao) |
Other ingredients: .
We use as little fillers/binders as possible which together amounts to % of the tablet weight.
Guang Ci Tang
® Xiang Yin Pian (VoiceGold™) 40 grams in 200 mg 200 tablets @ 5:1 strength.
At a true 5:1 concentration, this product represents the most potent form of Xiang Yin Pian (Wan) on the market. One tablet is equal to 1 gram of raw herb.
Please note that Guang Ci Tang® Xiang Yin Wan in the pill form, which has the same formulation as the tablet, is discontinued.
VoiceGold™ is a Guang Ci Tang signature formula.
VoiceGold™ tablets are made with all natural herbs that are tested for authenticity, quality, and potency. A traditional water decoction is prepared with the herbs to reproduce the time-tested action of the formula, and this water decoction is concentrated with our proprietary technology to form a potent extract that is made into easily absorbed tablets, which are remarkably effective, easy to use, and safe. The tablets are produced by Guang Ci Tang
®
in our state of the art cGMP-certified facility and imported in accordance with U.S. FDA guidelines. When you choose Guang Ci Tang
®
products, you are taking advantage of a wonderful fusion of science and tradition that incorporates the highest standards in the field of Chinese medicine today.
Please note that our tablets may appear neutral in finishing and a little brittle. You may observe a tiny bit of fine powder at the bottom of your bottle and occasionally one or a couple of broken tablets after transportation. This is because unlike other manufacturers, our tablets are not coated as part of our effort to minimize the use of excipients and to make them as pure as possible. These tablets can also be easily dissolved in hot water to serve as tea.
Pure. Potent. Proven.
True 5:1 concentration
Double the strength of regular brands
Minimal fillers and binders
No pharmaceuticals or dyes
Comprehensive lab testing (e.g., heavy metals,etc.)
Made in a cGMP certified facility
Unbeatable value
Safely used in the USA since 1995
Check for an independent US lab
test report
.
The standard dosage for VoiceGold™ is 4 tablets each time, taken 2 to 3 times daily with or before meals. One bottle lasts 16 to 25 days. The dose may be doubled for a quicker and stronger response as needed. Consult your practitioner for precise dosage recommendations based on body weight and other factors.
Precaution
Avoid oily, cold, and spicy food for best results.
Avoid smoking and alcohol for best results.
Consult your herbalist or physician before use if you are taking other medicines.
Keep out of reach of children.
Side Effects
VoiceGold has been safely used with few adverse effects when used as directed.
Allergy Info
VoiceGold™ is gluten free
Disclaimer:
Product reviews solely reflect the views and opinions expressed by the contributors and not those of ActiveHerb and are provided for informational purposes only. ActiveHerb does not verify or endorse any claims made in these reviews.
Please read the full product reviews disclaimer.
VoiceGold™ (Xiang Yin Pian)
is rated out of
5
by
7
.
Rated

5

out of

5
by
Bertha D
from
About a year ago I started clearing my voice over and over again
About a year ago I started clearing my voice over and over again, every morning, sometimes for two or three hours sometimes also in the afternoons. Every time I finished uttering one or two phrases, I had to clear my voice. I also had to clear my voice even if I did not speak. It was very uncomfortable but nothing I did seemed to help. About 15 days ago I ordered Voice Gold and started taking it. I could notice a definite improvement on the very FIRST day. In less than 10 days taking Voice Gold, my problem has been 99% resolved. I am a great believer in TCM and am very happy to have found a place where I can buy REAL chinese herbs. Thank you!
Date published: 2011-05-04
Rated

5

out of

5
by
Jan777
from
VoiceGold works well
I recently had a bad sore throat & raspy voice. Could barely talk & kept having the feeling something was in my throat. Would clear my throat but not only was it sore, I couldnt get rid of the raspy sound, more like a smokers voice , and yet I do not smoke. So I have had such good luck with Active Herb products & their customer service & pricing I decided to order this one as it is much less expensive than some of the other Chinese herb blends on the market. After taking the first suggested dose I noticed a couple of hours later my voice started clearing and I was sounded better. I took another dose before I went to bed, and by the next morning the soreness was gone, the lump in my throat was much less, & my voice was clear. The slight cough abated after the 3rd day. Very nice product works well & fast & my husband also used it for his allergies to pine pollen. Cleared him right up. Can't go wrong & service is super fast. I will order it again when I need it. Have told several people about it.
Date published: 2018-07-14
Rated

5

out of

5
by
Sweetface
from
Not sure yet
I didn't want to pass up the review but I haven't tried it yet. I bought 4 formulas and I'm currently focusing on clearing fire from liver so I didn't want to take any chances interfering with that medicine (which is great btw). Once I begin tonic formula Liver Soothe I will try Voice Gold and report back if I can. I wrote to active herb to make sure what I could take while taking Fire clear and they said no VanVive, but never mentioned anything about the others so I just decided to be cautious and not interfere with getting my liver in order. If taking voice gold was ok with Fireclear, they never told me. I'll report back, but by all means send me a review for Liver Fireclear and I will give more detail.
Date published: 2018-04-22
Rated

5

out of

5
by
PPorcello
from
Gives you back your voice
I have nodules on my vocal chords from an injury. About 5 times a year I lose my voice, chords are swollen, feels like I'm going to choke to death when I sleep. Doctors just give me steroids, and it does not work. I tried VoiceGold and within the first 3 days I was talking again. The choking feeling is gone, my voice is back, when I feel the symptoms coming on again, I take this wonderful product and it nips in the bud. Forever grateful to find this product.
Date published: 2019-01-07
Rated

5

out of

5
by
dr venus
from
I really felt it!
I felt it work to relax my vocal cords. definitely helped me sing more fully and clearly!
Date published: 2019-01-05
Rated

5

out of

5
by
TonicHealth
from
Voice Guard
All the most effective combination of herbal formula for clearing any voice or throat issues is fully loaded in this VoiceGold bottle. I take it for treatment of sore throat which can develop to have a bad cold if not treated early.
Date published: 2019-03-20
Rated

5

out of

5
by
Avinash55
from
Very effective for sore throat.
I always have this on hand for a sore that. I take it right away and the sore that goes away in a very short time.
Date published: 2019-02-09