Wu Zi Yan Zong pian literally means "five seeds passing on the generations" in Chinese. It was originated over one thousand years ago by someone who wanted the emperor to give rise to more offsprings. It is composed of five Chinese herbs (seeds) that can nourish the kidney and Jing (semen, the essence of life) in traditional Chinese medicine (TCM) terms.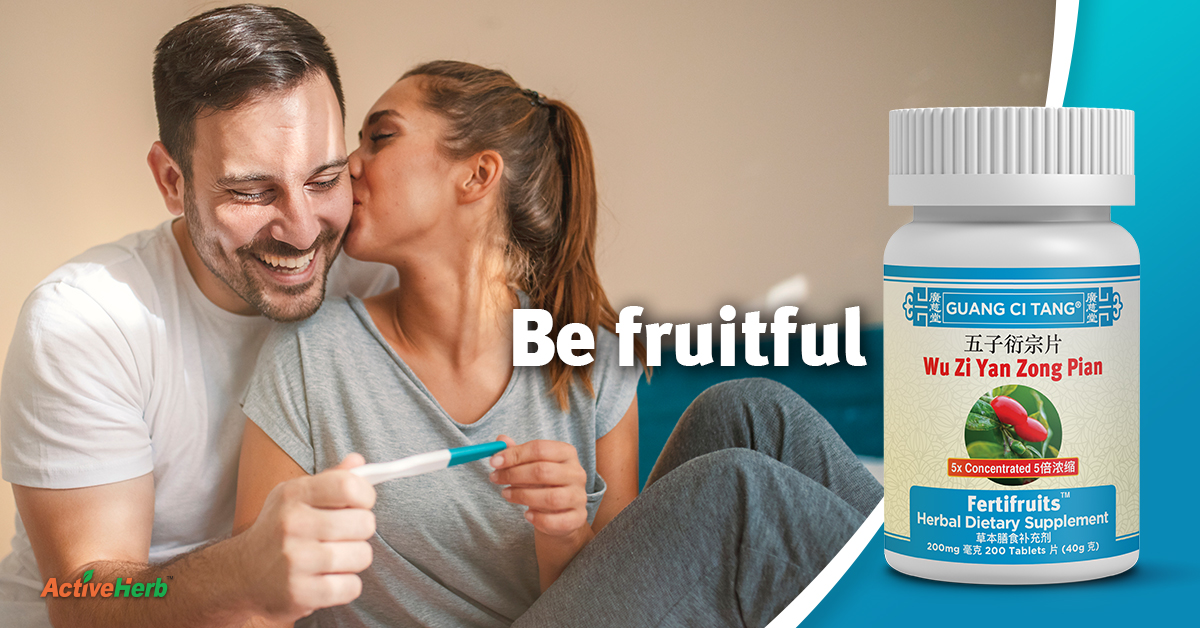 In TCM, the kidney is the source of Yin, Yang, and Jing. A normal reproduction needs a healthy kidney function with respect to Yin, Yang, and Jing. When kidney Yin, Yang, or/and Jing is weak, problems may arise in reproduction. Although in the ancient time people did not know the cause why a man fails to get his wife pregnant, this formula has been passed on for its use in helping couples getting offsprings. Today modern medical science has long revealed that the cause in male reproduction is mostly due to the semen problems regarding to sperm counts, sperm morphology, and sperm mobility etc.
Wu Zi Yan Zong Wan is indicated in China Pharmacopoeia for tonifying the kidney and nourishing Jing. It is suitable for use in the case of the kidney deficiency presented with lower back weakness and poor male performance.
Sperm growth and maturation is a lengthy process (2 to 3 months), any intended use should persist for at least 3 months and ideally 6 months.
What is the formula composition?
| | | |
| --- | --- | --- |
| Lycium fruit | Lycium barbarum | (Gou Qi Zi) |
| Chinese dodder seed | Cuscuta chinensis | (Tu Si Zi) |
| Palm-leaf raspberry fruit | Rubus chingii | (Fu Pen Zi) |
| Asian plantain seed | Plantago asiatica | (Che Qian Zi) |
| Schisandra fruit | Schisandra chinensis | (Wu Wei Zi) |
Other ingredients: .
We use as little fillers/binders as possible which together amounts to % of the tablet weight.
Guang Ci Tang
® Wu Zi Yan Zong Pian (Fertifruits™) 40 grams in 200 mg 200 tablets @ 5:1 strength.
At a true 5:1 concentration, this product represents the most potent form of Wu Zi Yan Zong Pian (Wan) on the market. One tablet is equal to 1 gram of raw herb.
Wu Zi Yan Zong Pian tablets are made with all natural herbs that are tested for authenticity, quality, and potency. A traditional water decoction is prepared with the herbs to reproduce the time-tested action of the formula, and this water decoction is concentrated with our proprietary technology to form a potent extract that is made into easily absorbed tablets, which are remarkably effective, easy to use, and safe. The tablets are produced by Guang Ci Tang
®
in our state of the art cGMP-certified facility and imported in accordance with U.S. FDA guidelines. When you choose Guang Ci Tang
®
products, you are taking advantage of a wonderful fusion of science and tradition that incorporates the highest standards in the field of Chinese medicine today.
Please note that our tablets may appear neutral in finishing and a little brittle. You may observe a tiny bit of fine powder at the bottom of your bottle and occasionally one or a couple of broken tablets after transportation. This is because unlike other manufacturers, our tablets are not coated as part of our effort to minimize the use of excipients and to make them as pure as possible. These tablets can also be easily dissolved in hot water to serve as tea.
Pure. Potent. Proven.
True 5:1 concentration
Double the strength of regular brands
Minimal fillers and binders
No pharmaceuticals or dyes
Comprehensive lab testing (e.g., heavy metals,etc.)
Made in a cGMP certified facility
Unbeatable value
Safely used in the USA since 1995
Check for an independent US lab test report.
Take 5 tablets each time, 2 to 3 times daily. One bottle lasts users about 2 to 3 weeks.
As it takes 2 to 3 months for the growth and maturation process of sperm, results may only be noticeable after 3 months. It is suggested to take 6 bottles in full dose as the first regimen for the use in fertility.
Precaution
Do not use during acute illness such as cold and flu, or during an acute infection.
Consult your herbalist or physician before use if you are under other medical treatment.
Restrain from sexuality during the administration.
Keep out of reach of children.
Side Effects
Wu Zi Yan Zong Wan has been safely used with few adverse effects.
Allergy Info
Fertifruits™ is gluten free
Disclaimer:
Product reviews solely reflect the views and opinions expressed by the contributors and not those of ActiveHerb and are provided for informational purposes only. ActiveHerb does not verify or endorse any claims made in these reviews.
Please read the full product reviews disclaimer.
Fertifruits™ (Wu Zi Yan Zong Pian)
is rated out of
5
by
9
.
Rated

5

out of

5
by
SunFlower
from
Good stuff good effect, I like it!
I bought this and QiVive (Bu Zhong Yi Qi Pian) two weeks ago and my husband took them one week, he feels he has a lot better energy than before he took them when he working. I said to him that people shouldn't take tood much medicine, would he like to reduce some doses if he already feel better. He said "No! I like the feeling now! Good energy!" Hehe...He is 48 years old, had gallblader removed, had a heavy car accident several years ago, had Acquired Diabetes and has Migraine headache (1 to 2 times a week headache). He felt tired and little energe before he took these medicines. They are really good! After a certein time this medicine, I will let him try the Migranoff too.
Date published: 2014-08-15
Rated

5

out of

5
by
Edward W
from
I tried to get his wife pregnant for a long time. I finally succeeded.
I tried to get his wife pregnant for a long time. I finally succeeded. We tried many things before. The only variable this time is the 6 bottles of Fertifruits I ordered from you and I used it for 6 months. I am very happy and now use it for general purpose.
Date published: 2011-06-14
Rated

5

out of

5
by
Kk84
from
Activeherb is the BEST!!!
Their herbs are of great quality and their service is even better! The pills smell great and go down way! I highly recommended them to many ppl and will always order me herbs from them!
Date published: 2018-04-24
Rated

5

out of

5
by
M Hilll
from
great company great products
I use this product a few times a year for several years now,good quality
Date published: 2017-01-11
Rated

5

out of

5
by
alec
from
helps virality
I have used and recommended this and youngain for men who are past 40 and still want to "operate" like they did in their 20's. i tell my clients to do 5 tabs 2x a day, do this until you finish the bottle, then call me back in 3-4 weeks if you want me to re-order. have had calls each time saying please speed order more.
Date published: 2019-03-05
Rated

3

out of

5
by
Snake
from
It causes constipation
I took the recommended dosage twice a day for the first and second day. On the second day, I started having constipation so I have decided to stop taking this product for now. I will probably adjust the dosage to half when I resume.
Date published: 2018-10-30
Rated

5

out of

5
by
Jeanjean
from
Great service effective medicine
Have some back pain on left side. The herbs medicine gave more energy, the left back pain is less as well
Date published: 2018-10-09
Rated

5

out of

5
by
Brian
from
Great product
Starting taking this about a month ago now, and it definitely makes a difference! Great product. Thanks!
Date published: 2015-06-08