Supports Relaxation & Mood†
Consider what many of us go through on a daily basis: financial worry; lack of free time; insecurity about the state of world affairs; untenable workloads and responsibility; relationship troubles … and so on and so on….
No wonder many of us feel irritable, anxious, and stressed-out, much of the time.
Thankfully, EaseTonic Plus™ is a traditional Chinese medicine herbal formula that may ease the burden of the daily grind. And for females, it may also ease premenstrual tension.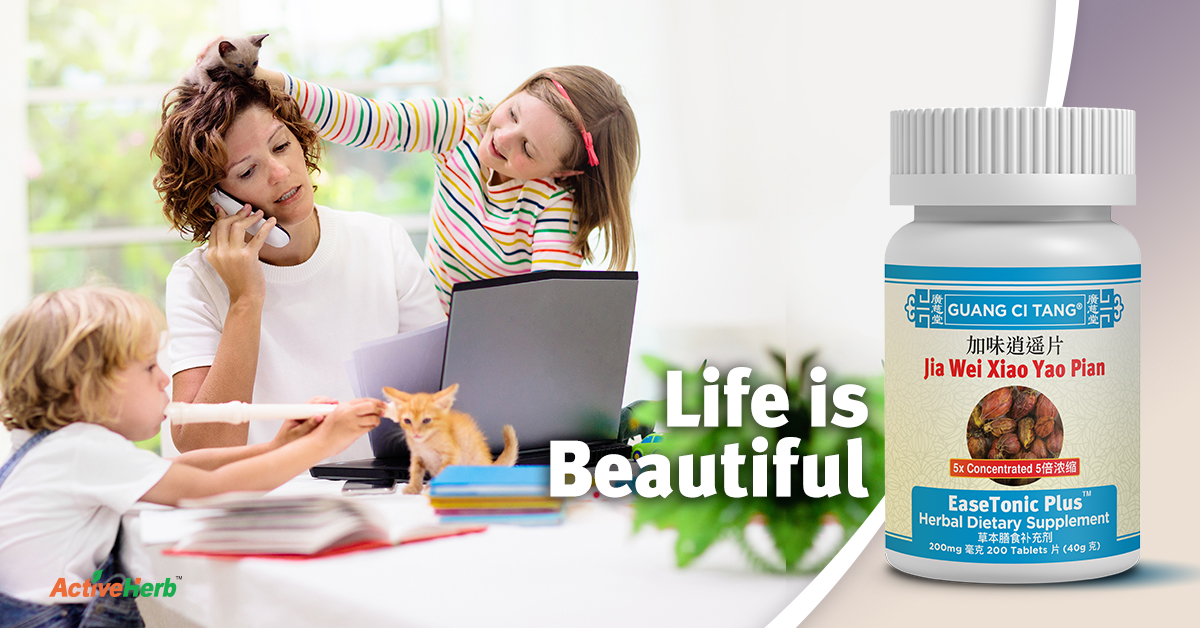 Enhanced Formula Clears Liver Qi Stagnation & Heat†
EaseTonic Plus is an enhanced formulation of Xiao Yao San (EaseTonic), one of the most popular TCM formulas for stress and mood management.
The formula builds on the ability of Xiao Yao Pian to clear Liver Qi stagnation. Chronic stress, according to TCM theory, leads to depressed Qi in the Liver meridian pathways. Other organ systems are affected as well, including Spleen. Consequently, nutrients can't be properly absorbed, which leads to excess phlegm and heat in the body.
Although it may seem like an esoteric concept in the west, emotions are closely tied to each organ system. In TCM theory, all associated feelings of anger, including resentment, short temper, and frustration, are tied to the Liver organ system. Anger results in stagnant Liver Qi.
Our Plus formula offers all the benefits of the original formula but also contains two extra heat-clearing herbs. The possible benefits of these heat-clearing herbs are alleviating classic symptoms of excess heat, including being quick to anger and hot flashes associated with menopause.
Given enough time, taking EaseTonic Plus may disperse the Liver Qi stagnation, resulting in an improved relaxed feeling and mental outlook.
How Does It Work?
Collectively, the all-natural herbs in Xiao Yao San soothe the Liver to disperse depressed Qi, strengthen the Spleen to nourish the Blood, and support a normal menstrual cycle. The addition of Mu Dan Pi and Zhi Zi clears excess heat.
Chai Hu (Bupleurum root) soothes the Liver to disperse Qi. Dang Gui (Chinese Angelica root) and Bai Shao (White peony root) nourish the Blood and the Liver. These first three herbs interact together to resolve the root cause of Liver Qi stagnation, as well as Blood deficiency.
Bai Zhu (Atractylodis Rhizome) and Fu Ling (Poria) strengthen the middle warmer and reinforce the Spleen, thereby enriching the generation of Qi and Blood. Sheng Jiang (Fresh Ginger rhizome) regulates the stomach and warms the middle warmer. Bo He (Peppermint) assists Chai Hu in soothing the Liver to disperse depressed Qi. Gan Cao (Licorice root) assists Bai Zhu and Fu Ling in replenishing Qi and invigorating the middle warmer; it also coordinates the synergistic effects of all the herbs in this formula.
Mu Dan Pi (Tree Peony Bark), besides clearing heat, cools the blood, invigorates the blood and dispels blood stasis. And the other heat-clearing herb, Zhi Zi (Gardenia Fruit) cools the blood and resolves toxicity.
What is the formula composition?
| | | |
| --- | --- | --- |
| Tree peony root bark | Paeonia suffruticosa | (Mu Dan Pi) |
| Gardenia fruit | Gardenia jasminoides | (Zhi Zi) |
| Bupleurum root | Bupleurum chinense | (Chai Hu) |
| Dong quai root | Angelica sinensis | (Dang Gui) |
| Chinese peony root without bark | Paeonia lactiflora | (Bai Shao) |
| Bai-zhu atractylodes rhizome | Atractylodes macrocephala | (Bai Zhu) |
| Poria sclerotium | Poria cocos | (Fu Ling) |
| Chinese licorice root & rhizome | Glycyrrhiza uralensis | (Gan Cao) |
| Ginger fresh rhizome | Zingiber officinale | (Sheng Jiang) |
| Chinese mint aboveground parts | Mentha haplocalyx | (Bo He) |
Other ingredients: .
We use as little fillers/binders as possible which together amounts to % of the tablet weight.
Guang Ci Tang
® Jia Wei Xiao Yao Pian (EaseTonic Plus™) 40 grams in 200 mg 200 tablets @ 5:1 strength.
Guang Ci Tang® Jia Wei Xiao Yao Wan (EaseTonic Plus™) 40 grams in 200 mg 200 pills @ 5:1 strength.
At a true 5:1 concentration, both products represent the most potent form of Jia Wei Xiao Yao Pian (San/Wan) on the market. One tablet or pill is equal to 1 gram of raw herb. Both tablets and pills have the same formulation.
Jia Wei Xiao Yao Pian tablets are made with all natural herbs that are tested for authenticity, quality, and potency. A traditional water decoction is prepared with the herbs to reproduce the time-tested action of the formula, and this water decoction is concentrated with our proprietary technology to form a potent extract that is made into easily absorbed tablets, which are remarkably effective, easy to use, and safe. The tablets are produced by Guang Ci Tang
®
in our state of the art cGMP-certified facility and imported in accordance with U.S. FDA guidelines. When you choose Guang Ci Tang
®
products, you are taking advantage of a wonderful fusion of science and tradition that incorporates the highest standards in the field of Chinese medicine today.
Please note that our tablets may appear neutral in finishing and a little brittle. You may observe a tiny bit of fine powder at the bottom of your bottle and occasionally one or a couple of broken tablets after transportation. This is because unlike other manufacturers, our tablets are not coated as part of our effort to minimize the use of excipients and to make them as pure as possible. These tablets can also be easily dissolved in hot water to serve as tea.
Pure. Potent. Proven.
True 5:1 concentration
Double the strength of regular brands
Minimal fillers and binders
No pharmaceuticals or dyes
Comprehensive lab testing (e.g., heavy metals,etc.)
Made in a cGMP certified facility
Unbeatable value
Safely used in the USA since 1995
Check for an independent US lab test report.
Take 5 tablets or pills each time, 2 to 3 times daily. One bottle lasts users about 2 to 3 weeks.
The dose may be doubled for a quicker and stronger response as needed (e. g., with heavy body weight).
As the herbal formula is a mild tonic, results may only be noticeable after 2 weeks. It is suggested to take 4 to 6 bottles in full dose as the first regimen. The dose may then be reduced.
Precaution
Use with caution if you are pregnant.
Not suitable for heavy menstrual flow.
Consult your herbalist or physician before use if you are under other medical treatment.
Avoid oily, spicy food for optimal results.
Keep out of reach of children.
Differentiation in Usage
Jia Wei Xiao Yao Wan is based on
Xiao Yao Wan
and it is more proper for use when internal heat sign is shown.
Side Effects
Jia Wei Xiao Yao Wan has been safely used by with few adverse effects or contraindications.
Allergy Info
EaseTonic Plus™ is gluten free
Disclaimer:
Product reviews solely reflect the views and opinions expressed by the contributors and not those of ActiveHerb and are provided for informational purposes only. ActiveHerb does not verify or endorse any claims made in these reviews.
Please read the full product reviews disclaimer.
EaseTonic Plus™ (Jia Wei Xiao Yao Pian)
is rated out of
5
by
44
.
Rated

5

out of

5
by
T Louise
from
Amazing results
The initial reason I started taking this a month ago was for stomach cramps. Sometime within that month I also felt less depression. Even though I have been going threw life challages I notice I feel more positive. I'm handling my emotions better. I then realized this herb was the only thing that I was doing different. I'm convicted this herb is the reason. My cramps are considerably less. I will continue this product. Also easy to take because they are small and go down fast. I take 5 in morning and 5 before bed time.
Date published: 2016-06-01
Rated

5

out of

5
by
katyh
from
Just take it
I can't believe how much this product is helping (along with acupuncture 2-4 x/month). I sought help for anxiety and depression and the weight is really lifting. My panic attacks are gone. GONE. My general anxiety is almost a thing of the past. A totally unexpected result was ... well now I'd say an 80% reduction in TMJ, intense jaw tension is been living with for over 15 years. It really started to disappear when I started these pills. You will be amazed.
Date published: 2017-07-17
Rated

5

out of

5
by
Barb
from
I find this product very calming
I purchase Jia Wei Xizo Yao Pian on a regular basis because it helps calm me on my stressfull days at work and also I find a better quality of sleep at night . I will continue purchasing this product.
Date published: 2014-03-11
Rated

4

out of

5
by
desi12
from
Works Great
I purchased this as I am withdrawing from anti-depressants that I have been on for a couple of decades. It worked great the first week and then leveled off which is the only reason I gave it four starts, otherwise I would have given it 5! It is still maintaining but the occasional valley is to be expected after being on the medication for so long. I think given what I am using it for, it is doing a phenomenal job!
Date published: 2017-04-26
Rated

5

out of

5
by
barbara k
from
I take Jia Wei Xiao Yao everyday
I take Jia Wei Xiao Yao everyday (6-12; started w/ 15) & it works great for major depression & hot flashes.
Date published: 2006-06-07
Rated

4

out of

5
by
Elfretzeee
from
More relaxed
I have been taking these supplements now going on 3wks and it's made a great difference. Although it's subtle it's still the same calming effect that lorazepam gave me without taking prescription. I will be buying more so long as this remains consistent. So far, so good!!
Date published: 2015-10-27
Rated

5

out of

5
by
bettay100
from
Great for PMS
Jia Wei was recommended by my herbal medicine practitioner/acupuncturist. I developed PMS right before menopause, and it was hard for me to deal with. This product helped balance out my moods.
Date published: 2014-04-06
Rated

5

out of

5
by
Nancy N
from
Jia Wei Xiao Yao Pian is great to keep me relaxing.
Jia Wei Xiao Yao Pian is great to keep me relaxing.
Date published: 2011-05-09
Would love to know if this is safe while breastfeeding? 
Hi, Thanks for the question. We do not see it contradictory.
Date published: 2018-04-13
Pill vs Tablet, which one is better?
They are the same thing. It is more about personal preference. Most customers like tablets. Please see more at http://www.activeherb.com/faq/#5 .Thank you.
Date published: 2016-07-30
Is there talcum in the tea pills and tablets of this product? If not what fillers or preservatives or sealing agents are used even if in very small amounts? Or are none used?
Hi, Thanks for the question. No, our products do not contain talcum. When a binding agent is needed, dextrin is used.
Date published: 2017-02-26
年轻男士可以服用加味逍遥丸吗?
加味逍遥丸不分男女,都可使用。年轻人一样可用。谢谢。
Date published: 2017-01-27
I just had a baby two weeks ago and I am currently breastfeeding. Is this safe for me to take at this time?