In the Media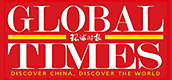 Traditional Chinese Medicine Products Find Fans Overseas
June 2016
In an interview with Global Times, an influential Chinese news agency, Chairman of ActiveHerb Dr. Sheldon Li explains why Chinese medicine finds its fans and keeps growing its base in the USA. Please see the the second part of the report.
Livinwithss
Neuropathy: Burn Me, Stab Me, Shoot Me
Nov. 2015
Suffering a neuropathy pain caused by a neurodegenerative condition, Gary got no help from common prescription meds until he found Corydalis Relaxe™ .