你知道吗?美国市场上很多西洋参是在中国或加拿大人工种植后进口到美国,然后冠名为美国花旗参销售的。ActiveHerb只售正宗美国原产的西洋参。真心赠真品。
人参在中药有"百草之王"之称。李时珍的《本草纲目》称人参"能治男女一切虚症"。中国药典认定的人参功效为"大补元气,复脉固脱,补脾益肺,生津,安神。 用于体虚欲脱,肢冷脉微,脾虚食少,肺虚喘咳,津伤口渴,内热消渴,久病虚羸,惊悸失眠,阳痿宫冷;心力衰竭,心原性休克。"久服人参可轻身益气延年。 现代药理研究发现人参含有人参皂甙,为人参的有效成分。人参能提高体力和脑力,降低疲劳度,有助于防治高血压、冠心病、心绞痛、癌症、糖尿病等。†

美国花旗参或西洋参是人参的一种。中医认为中国人参温补、西洋参凉补。花旗参补而不燥,不升火,老年小孩,四季皆宜,广受华人消费者欢迎。

西洋参原产于美国,是地道的美国特产。由于野生的西洋参日益稀少,目前主要依赖于人工种植。 绝大部分的西洋参产自威斯康辛州的马拉松县。现在加拿大和中国也有人工种植西洋参。为区别起见,一般称美国本地产的西洋参为美国花旗参。

美国威斯康辛土壤肥沃,得天独厚的自然气候造就了美国花旗参。在美国,人工种植花旗参需用处女地,无污染。花旗参苗娇嫩,易遭灾害,需细心栽培,生长周期大约四年 (3-5年)。 近些年来,由于加拿大和中国产的西洋参大量进口美国,价格更低,对美国花旗参种植业冲击很大,产量下降,以致美国市场上充斥着冒充威斯康辛花旗参的加拿大和中国产的西洋参, 正宗的美国花旗参倒不多了,物已稀为贵,这两年价格也节节攀升。

ActiveHerb作为美国信誉卓著的中药保健品公司,一直坚持信誉第一,所有产品货真价实,以下花旗参都是我们精心挑选的正宗的原产美国花旗参,生产商也都信誉卓著。 我们的花旗参价格最优惠,并且买六盒还享有额外折扣,另外对$45以上定单提供美国免费快件邮寄。这些美国花旗参自用送礼两相宜。


1. 许氏花旗参 - 精致短枝中号1/4磅礼盒装 (许氏编号 0132.4);知名品牌。许氏人参是全美最大的种植花旗参的公司。
2. 许氏花旗参 - 人工花旗參片 1/4磅礼盒装 (许氏编号 0126.4);知名品牌。许氏人参是全美最大的种植花旗参的公司。


很多人购买或收到西洋参后,往往嫌它服用痲烦。实际上,花旗参可以方便地用来炖鸡汤或切片。花旗参切片第一可拿到中药店(真的美国花旗参很硬,药店不见得愿意切片哟。) 或第二在家里把西洋参放在干碗里,隔水蒸10分钟,软后再切。切片用来泡茶或含服。


如何识别美国花旗参?
正宗的美国花旗参质量最好,参味最浓,价格也最高,因此一些商家把加拿大和中国产的西洋参冒充美国花旗参。那么有什么办法来鉴别美国花旗参呢?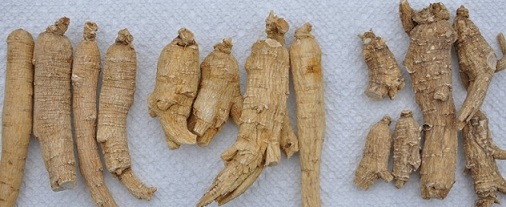 (由Marathon Ginseng姜博士提供)
请看图左是中国产西洋参(来自美国某网站的假威州参);中是加拿大产西洋参;右是美国威斯康辛产的西洋参。
外表上:美国产的西洋参就象老人脸,很沧桑。有较多皱纹,既有横纹,又有竖纹,表面皮孔突出明显,且颜色较深。皱纹越多越皱越好,说明西洋参新鲜时个大, 自然冷干后收缩得多,足量。而国产和加拿大产的西洋参,横纹较少较浅,竖纹很少,色颜偏白或浅黄。
质地上:美国花旗参质重很硬,难以切片,切片易碎。而国产和加拿大产的西洋参看似漂亮,但质地较疏松,易切片。
味道上:美国参闻着就香味扑鼻,拿几片参片泡开水,一会就甘苦味浓郁,可反复冲泡。喝后口内回甘悠长。而加拿大和中国产的西洋参, 参味可就要淡多了。
价格上:美国花旗参成本高,而加拿大和国产的西洋参价格低廉的多。礼盒装的西洋参如果卖得比我们的便宜,则很可能是加拿大和中国产的西洋参。
为什么美国威斯康辛产西洋参品质最好?
美国威斯康辛州作为西洋参的原产地,自然最适合西洋参的生长。威斯康辛土地辽阔,人口稀少,到处都是处女地可用于种植西洋参,没有污染。种植过程中严格控制农药使用。 收获之后,土地不再种植西洋参。美国西洋参种植的时间最长,技术最成熟。
其它西洋参产地既不是原产地,对土地也无限制,如用以前种烟草的地来种西洋参,而种烟草时会使用农药,农药也就残留在土里,从而污染西洋参。 同一块地反复种植西洋参,更易受霉菌等侵害,因此更容易导致农药使用。而其它产地对农药使用的控制并没有美国严格。
参考文献
本内容受知识产权法律保护,如有侵害将追诉法律责任。
SpiritCalm™ (An Shen Bu Xin Pian)
is rated out of
5
by
43
.
Rated

4

out of

5
by
2westies
from
SpiritCalm
I've been taking this a short time, but seeing improvements already. I'm a 66 year old woman, 128 pounds. I've been having heart attack symtoms, chest pain, palpitations, shortness of breath and more. After an emergency room visit and stress test I found no heart related problems. After taking this for about a week, all my symtoms are greatly reduced. The only thing I haven't experienced is improved sleep. I'm wondering if another formula would serve me better, but I'll give this some time. Because of the sleep issue I'm not giving five stars. Very good product though.
Date published: 2015-01-10
Rated

4

out of

5
by
Nellie
from
seems to calm
I'm not a believer in herbal medicines and was given a few of these tablets by a friend. I certainly felt calmer after taking them and more chilled out, shouted at the kids less and generally didn't get bothered by the things that usually wound me up. Whether it's the tablets actually doing anything or a placebo effect......not sure and don't care to be honest as long as I feel better in myself. Taking no where near the recommended 7 tablets at a time, more like 2 a day and it seems to be having an effect. Working or not, the cost is cheap if I'm feeling better.
Date published: 2015-06-10
Rated

5

out of

5
by
MichelleDR
from
Fantastic Results!
I have an adopted son who was born addicted to several illegal substances. He was adopted at birth and is now 13 years old. He has always had a difficult time focusing, calming himself when he perceives everything is going wrong, he was high-strung, and often could not sleep. This product has helped in every one of those areas. He is now calm, focused, able to think clearly, and no longer has uncontrollable tantrums. These are fantastic results and he reminds me when it is time for him to take his An Shen!!
Date published: 2016-12-14
Rated

5

out of

5
by
Magical
from
Life Changing
Years of emotional and mental stress are being reversed with SpiritCalm. This herb is truly life changing. I immediatly felt a difference in my ability to stay calm. My emotions are no longer controlling the day. This herb significantly helps to stay grounded. I take it with other herbs such as Sleepeace and MooDelight. You can heal!! You can remember what the body feels like before stress!
Date published: 2016-08-19
Rated

5

out of

5
by
HeatherL
from
Awesome Herbs
My acupuncturist prescribed this for me for calming and grounding. I was having mild anxiety due to hormone fluctuations and this really helped quite a bit. It also seems to be evening out my sleep. I wake up much less during the night. It really is great stuff with no side effects and natural. I just love it. It keeps me calm and grounded throughout the day as I handle multiple tasks as I have my own business.
Date published: 2015-10-02
Rated

5

out of

5
by
Heidi
from
helps me stay calm
SpiritCalm helps me when my brain won't shut off. Whether it is too many thoughts during the day or at night, this stuff works. Of course, best effects are achieved taking it regularly, but even if I suddenly realize I am obsessing before bed, taking it has helped me a lot. It is important to read all the indications before trying to make sure you get the right formula. There is another one called SleepPeace which also is my go-to for insomnia.
Date published: 2015-10-15
Rated

5

out of

5
by
Janet
from
Very Effective Herb
Started taking this herb on the recommendation of my acupuncturist for heart palpitations, anxiety and insomnia. Had an EKG and my heart is fine but all the stress in my life was causing sleepless nights and a racing heart. After one month I was sleeping normally again and the palpitations stopped. Bottom line, this herb was a lifesaver and one of the most effective herbs I've ever taken. I still take them even after a year but don't need the full dosage. I highly recommend!
Date published: 2016-10-20
Rated

5

out of

5
by
Jaisy C
from
Spiritcalm is helpful for my anxiety.
Spiritcalm is helpful for my anxiety. I can really see the difference. I am recommending it to my niece.
Date published: 2013-02-02
What are the possible adverse reaction of An Shen Bu Xin pill might have?
I have never experienced any side effect with any Chinese herbal formulas in the 20 years I have been taking them. If you have an allergy to an herb in the formula then I would be cautious. Otherwise, I don't think you have anything to lose by giving these a try.

Date published: 2015-11-11