Healthy lungs ensure that abundant oxygen is transported from the air into the bloodstream while as much carbon dioxide is released from the blood and expelled from the body. The lung capacity or vital capacity is a measurement of the lungs' ability to respire, and starts to decline around the age of 30.
When the lungs are weakened, a basic task like climbing a flight of stairs may leave you breathing more heavily. One may experience lack of physical strength, reluctance to talk, and a pale complexion. These are indications of Lung Qi deficiency in traditional Chinese medicine (TCM). Another common type of Lung weakness is Lung Yin deficiency, which is shown as occasional cough without spitting out mucus, scratchy throat, hot palms and soles, and night sweat etc. Smoking cigarettes is a common cause of Lung Yin deficiency.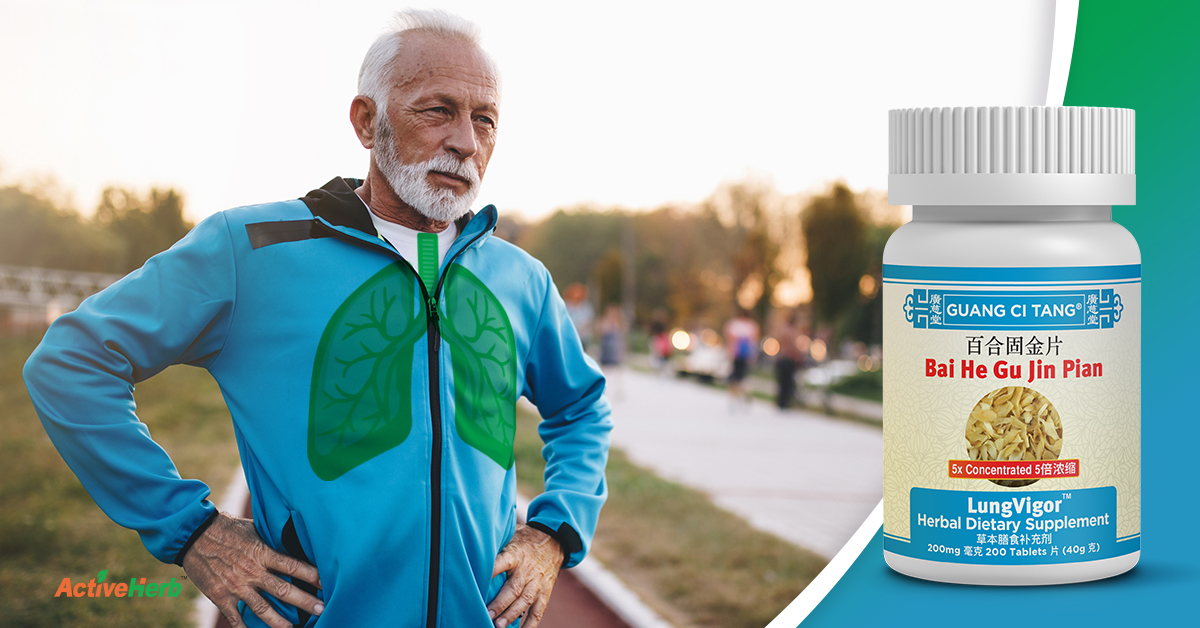 Bai He Gu Jin Tang is a popular Chinese herbal medicine used to replenish the Lung Yin energy. As the lungs are characterized as "Metal" in TCM and Bai He or lily is the chief Chinese herb in the herbal formula, it becomes the name of "Lily Strengthen Metal".
Bai He (Lily bulb) is the chief Chinese herb in the formula that nourishes the lung Yin energy and moistens the lungs. Lily also has an effect on clearing lung heat.
Di Huang (Rehmannia root), used in both raw and prepared forms, is also a chief herb in the formula. The Chinese herb nourishes Yin and tonifies the kidneys. In addition, the raw Rehmannia root clears heat and generates fluids to relieve thirst. The combination of Rehmannia and Lily serves to enforce each other's function in replenishing lung (metal) and kidney (water).
Mai Men Dong (Ophiopogon tuber) may nourish the Lung Yin energy, moisten the Lungs, and clear Lung heat, thus enhancing the Lily's effectiveness.
Xuan Shen (Scrophularia root) nourishes Yin and reduces Fire and assists the action of Rehmannia.
Bei Mu (Fritillaria bulb) moistens the lungs and transforms phlegm.
Jie Geng (Platycodon root) ventilates the lung and clears phlegm.
Gan Cao (Licorice root) The Chinese herb moistens the lung and transforms phlegm. It is often combined with platycodon root.
Dang Gui (Angelica root) and Bai Shao (Peony root) nourishes the blood to benefit the Yin energy.
What is the formula composition?
| | | |
| --- | --- | --- |
| Rehmannia cured root tuber | Rehmannia glutinosa | (Shu Di Huang) |
| Rehmannia root tuber | Rehmannia glutinosa | (Di Huang) |
| Ophiopogon root tuber | Ophiopogon japonicus | (Mai Dong) |
| Brown's lily bulb | Lilium brownii | (Bai He) |
| Zhejiang fritillary bulb | Fritillaria thunbergii | (Zhe Bei Mu) |
| Dong quai root | Angelica sinensis | (Dang Gui) |
| Chinese peony root without bark | Paeonia lactiflora | (Bai Shao) |
| Chinese licorice root & rhizome | Glycyrrhiza uralensis | (Gan Cao) |
| Scrophularia root | Scrophularia ningpoensis | (Xuan Shen) |
| Platycodon root | Platycodon grandiflora | (Jie Geng) |
Other ingredients: .
We use as little fillers/binders as possible which together amounts to % of the tablet weight.
Guang Ci Tang
® Bai He Gu Jin Pian (LungVigor™) 40 grams in 200 mg 200 tablets @ 5:1 strength.
At a true 5:1 concentration, this product represents the most potent form of Bai He Gu Jin Pian (Wan) on the market. One tablet is equal to 1 gram of raw herb.
Please note that Guang Ci Tang® Bai He Gu Jin Wan in the pill form, which has the same formulation as the tablet, is discontinued.
Bai He Gu Jin Pian tablets are made with all natural herbs that are tested for authenticity, quality, and potency. A traditional water decoction is prepared with the herbs to reproduce the time-tested action of the formula, and this water decoction is concentrated with our proprietary technology to form a potent extract that is made into easily absorbed tablets, which are remarkably effective, easy to use, and safe. The tablets are produced by Guang Ci Tang
®
in our state of the art cGMP-certified facility and imported in accordance with U.S. FDA guidelines. When you choose Guang Ci Tang
®
products, you are taking advantage of a wonderful fusion of science and tradition that incorporates the highest standards in the field of Chinese medicine today.
Please note that our tablets may appear neutral in finishing and a little brittle. You may observe a tiny bit of fine powder at the bottom of your bottle and occasionally one or a couple of broken tablets after transportation. This is because unlike other manufacturers, our tablets are not coated as part of our effort to minimize the use of excipients and to make them as pure as possible. These tablets can also be easily dissolved in hot water to serve as tea.
Pure. Potent. Proven.
True 5:1 concentration
Double the strength of regular brands
Minimal fillers and binders
No pharmaceuticals or dyes
Comprehensive lab testing (e.g., heavy metals,etc.)
Made in a cGMP certified facility
Unbeatable value
Safely used in the USA since 1995
Check for an independent US lab test report.
The standard dosage for LungVigor™ is 5 tablets or pills each time, taken 2 to 3 times daily with or before meals. One bottle lasts users 2 to 3 weeks.
The dose may be doubled for a quicker and stronger response as needed. Consult your practitioner for precise dosage recommendations based on body weight and other factors.
LungVigor™ is a tonic and therefore it usually takes time before its effects become apparent.
Precaution
Avoid alcohol, cigarette, spicy food while taking the product.
Not suitable if you have cough from a cold.
Not suitable for use if phlegm is excessive and thick.
Not suitable for use if you have digestion disorders.
Consult your herbalist or physician before use if you are taking other medicines.
Consult your herbalist or physician before use if you are children, old or very weak.
Only to be used by children under adult's direction.
Keep out of reach of children.
Side Effects
Bai He Gu Jin Pian (Wan) has been safely used with few adverse effects.
Allergy Info
LungVigor™ is gluten free
Disclaimer:
Product reviews solely reflect the views and opinions expressed by the contributors and not those of ActiveHerb and are provided for informational purposes only. ActiveHerb does not verify or endorse any claims made in these reviews.
Please read the full product reviews disclaimer.
LungVigor™ (Bai He Gu Jin Pian)
is rated out of
5
by
14
.
Rated

5

out of

5
by
Willy
from
LUNG VIGOR BAI HE GU JIN PIAN
I take 5 pills 3 times a day. I have taken one whole bottle and am on my second bottle The reason I started taking it was because I had bronchitis and a lot of mucous in my throat and lungs. It acts as an expectorant for me and I coughed up so much mucous . My lungs feel clear and I am breathing a lot better . I am going to finish the second bottle . I would recommend this product if you have excessive mucous in the lungs!
Date published: 2015-05-10
Rated

3

out of

5
by
mgonblue
from
Breathe easy
I live in the country in the south west so that means pollen and dust storms in the summer and cold air and wood stoves in the winter, i was a smoker so my lungs have been damaged. I have had some results as i can breathe easier as i felt that i was going to have to go on oxygen but it seems to have gotten better and I've only used 2 bottles hopefully long term will see greater results.
Date published: 2016-01-13
Rated

5

out of

5
by
Magical
from
Amazing
Lung Vigor is healing, and a productive herb recipe. I notice immediate results. I could breathe deeply, and felt I could take a full breathe of air without any tightness or constriction in my chest. I noticed slight results in improvement of my skin and facial complexion, as well as the health of my nails. Lung Vigor is a wonderful product for smokers and non smokers!
Date published: 2017-06-16
Rated

5

out of

5
by
Health Conscious
from
It's good!
This was recommended by my acupuncturist when I struggled after a viral infection with my voice breaking up. I have taken it for 1 1/2yrs and I don't have that issue. If my voice gets weak/scratchy, it heals quickly.
Date published: 2015-01-13
Rated

5

out of

5
by
Mickey
from
Lung Vigor
To help a persistent cough, I ordered these. They are good. My cough went from almost constant, to virtually not at all. Take the recommended dosage. It is a big relief not to be coughing so much.
Date published: 2018-12-16
Rated

5

out of

5
by
Yogalady
from
Effective!
I've been having dry cough for the past month. I started taking these pills according to instruction and already felt the result. Less coughing!
Date published: 2014-02-24
Rated

5

out of

5
by
Joel
from
Completely Effective
This is the most effective product I've found for my situation. I'll use this product for as long as I deem it needed. Basically it has mostly resolved my throat and cough issues. And I believe that it will resolve these issues shortly. Best I've felt in a year. Thank you ActiveHerb.
Date published: 2017-03-01
Rated

5

out of

5
by
SimplifiedMom
from
My son's cough is so much better
My son would always get sick the first week of school and then on and off through Thanksgiving every year for 6 years. Since taking this product he has not had a cough or gotten sick!
Date published: 2015-11-13
Will you have this back in stock soon? Thanks
Thank you for your question. We expect to have it back in stock in July. Please check back later.
Date published: 2016-06-28
Hi, The product refers to "China Pharmacopoeia 2000". Is this reference available in English? What are the typical symptoms the product addresses? Does it address Hoarseness? Thank you. Alexander
RE: Bai He Gu Jin Pian Do you have any idea why you don't have this because this formulation by this supplier is not available anywhere. If you do think you will eventually carry this brand and product again do you have an estimated time period?