Maintain strength and stamina
†
Ever notice how sometimes you just can't seem to fully regain your strength? You're so listless you can barely sustain a conversation, much less climb a flight of stairs. Moreover, when you look in the mirror, you barely recognize the pale face devoid of vibrancy staring back at you. However, you've done plenty of sleeping and your condition has not improved.
Tonics8™ is an herbal traditional Chinese medicine (TCM) remedy that may help you feel normal. It may tonify both Blood and Qi, thus normalizing bodily functions and supporting energy levels.
Classic Blood and Qi Tonic Formulas in a Combo
†
Both men and women can benefit from Tonics8, especially in the case of the TCM syndrome associated with pale complexion, weak breathing, blood deficiency and menstruation. (Women are more often prone to blood deficiency, especially when heavy menstruation occurs.).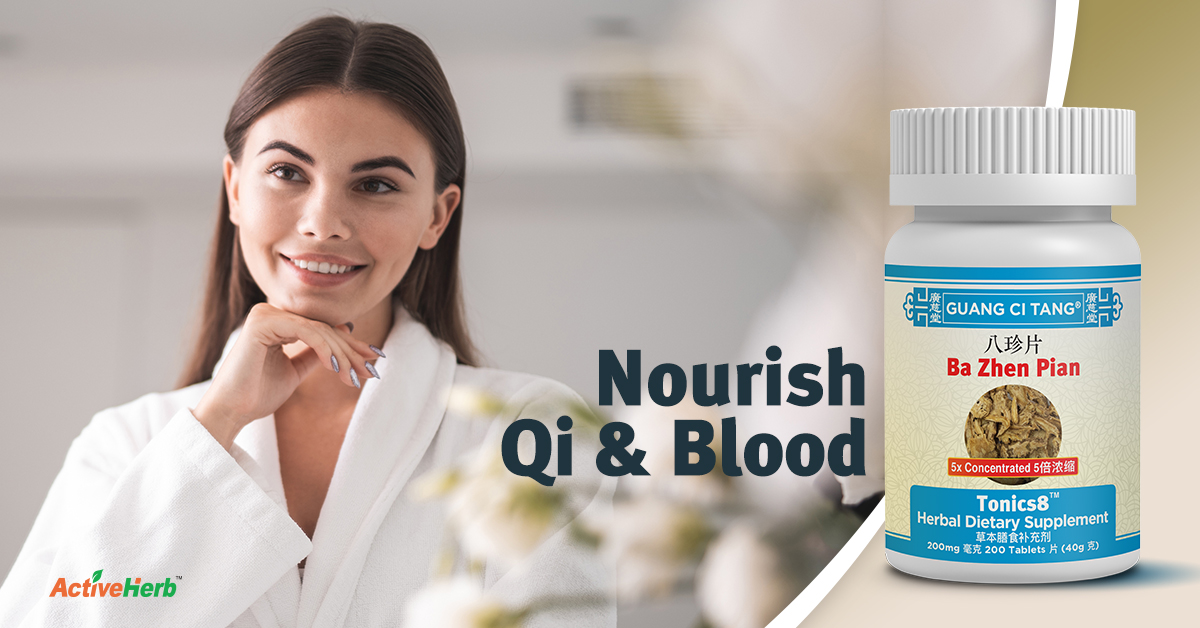 Qi and Blood are fundamental concepts in TCM, required for homeostasis and a long, healthy life. First, Qi is the vital force that controls your body. Qi is nourished by the air you breathe and the food you eat (including Chinese herbs). As for blood, which is interconnected with Qi, one of its primary roles is to nourish the body's tissues. However, your body can become deficient in healthy blood production if your Qi is deficient, and thus, your tissues become dry, resulting in not only tiredness, but a pale complexion.
The reason Tonics8 may help is, it's actually two classic, basic formulas rolled into one: Si Wu Tang Pian, a well regarded ancient Chinese medicine used to enrich the Blood and support a normal menstrual cycle, and Si Jun Zi Tang, an equally-revered, centuries-old formula for supplementing Spleen Qi energy and supporting digestion.
How does Tonics8 work?
In the formula, Dang Shen (Codonopsis Root) tonifies the middle burner, augments Qi, and strengthens the Spleen. Bai Zhu (Atractylodes Rhizome) tonifies the Spleen and augments Qi and dries dampness. Another herb in the formula that leaches out dampness is Fu Ling (Poria), which also strengthens the Spleen.
Another Qi-augmenting and Spleen tonifier is Gan Cao (Licorice Root), which also expels phlegm. The above 4 herbs comprise the the famous Spleen Qi supplementing formula, Si Jun Zi Tang.
The next four herbs make Si Wu Tang, the fundamental Blood tonic. Dang Gui (Chinese Angelica Root) is used to nourish and invigorate the Blood, while Bai Shao (White Peony Root) nourishes the blood and regulates menses.
Chuan Xiong (Szechuan Lovage Rhizome) invigorates the Blood and moves Qi. The last herb in the formula is Shu Di Huang (Processed Rehmannia Root), which tonifies Yin and Jing as well as nourishes the Blood.
What is the formula composition?
| | | |
| --- | --- | --- |
| Dong quai root | Angelica sinensis | (Dang Gui) |
| Rehmannia cured root tuber | Rehmannia glutinosa | (Shu Di Huang) |
| Codonopsis root | Codonopsis pilosula | (Dang Shen) |
| Bai-zhu atractylodes rhizome | Atractylodes macrocephala | (Bai Zhu) |
| Poria sclerotium | Poria cocos | (Fu Ling) |
| Chinese peony root without bark | Paeonia lactiflora | (Bai Shao) |
| Sichuan lovage rhizome | Ligusticum chuanxiong | (Chuan Xiong) |
| Chinese licorice root & rhizome | Glycyrrhiza uralensis | (Gan Cao) |
Other ingredients: .
We use as little fillers/binders as possible which together amounts to % of the tablet weight.
Guang Ci Tang
® Ba Zhen Pian (Tonics8™) 40 grams in 200 mg 200 tablets @ 5:1 strength.
At a true 5:1 concentration, this product represents the most potent form of Ba Zhen Pian (Tang/Wan) on the market. One tablet is equal to 1 gram of raw herb.
Please note that Guang Ci Tang® Ba Zhen Wan in the pill form, which has the same formulation as the tablet, is discontinued.
Ba Zhen Pian tablets are made with all natural herbs that are tested for authenticity, quality, and potency. A traditional water decoction is prepared with the herbs to reproduce the time-tested action of the formula, and this water decoction is concentrated with our proprietary technology to form a potent extract that is made into easily absorbed tablets, which are remarkably effective, easy to use, and safe. The tablets are produced by Guang Ci Tang
®
in our state of the art cGMP-certified facility and imported in accordance with U.S. FDA guidelines. When you choose Guang Ci Tang
®
products, you are taking advantage of a wonderful fusion of science and tradition that incorporates the highest standards in the field of Chinese medicine today.
Please note that our tablets may appear neutral in finishing and a little brittle. You may observe a tiny bit of fine powder at the bottom of your bottle and occasionally one or a couple of broken tablets after transportation. This is because unlike other manufacturers, our tablets are not coated as part of our effort to minimize the use of excipients and to make them as pure as possible. These tablets can also be easily dissolved in hot water to serve as tea.
Pure. Potent. Proven.
True 5:1 concentration
Double the strength of regular brands
Minimal fillers and binders
No pharmaceuticals or dyes
Comprehensive lab testing (e.g., heavy metals,etc.)
Made in a cGMP certified facility
Unbeatable value
Safely used in the USA since 1995
Check for an independent US lab test report.
The standard dosage for Tonics8™ is 5 tablets each time, taken 2 to 3 times daily with or before meals. One bottle lasts users 2 to 3 weeks. The dose may be doubled for a quicker and stronger response as needed. Consult your practitioner for precise dosage recommendations based on body weight and other factors.
Tonics8™ is a tonic and therefore it usually takes time before its effects become apparent.
Precaution
Use with caution if you are pregnant.
Do not use together with cold medicine.
Not suitable for if you have indigestion problems.
Only to be used by children under adult's direction.
Consult your herbalist or physician before use if you are taking other medicines.
Consult your herbalist or physician before use if you have hypertension, or you are children, old or very weak.
Keep out of reach of children.
Differentiation in Usage
Please do not confuse Ba Zhen Pian (Tonics8™) with Ba Zheng Pian (UTflow™), a completely different formula for urinary tract health.
Side Effects
Ba Zhen Pian (Wan) may sometimes cause food stagnation.
Allergy Info
Tonics8™ is gluten free
Disclaimer:
Product reviews solely reflect the views and opinions expressed by the contributors and not those of ActiveHerb and are provided for informational purposes only. ActiveHerb does not verify or endorse any claims made in these reviews.
Please read the full product reviews disclaimer.
Tonics8™ (Ba Zhen Pian)
is rated out of
5
by
5
.
Rated

4

out of

5
by
EllenT69
from
Hard to tell for right now
I have been taken this pill for the symptoms of easy tiring, feeling weak and lack of energy. I believe in Chinese herb medicine, but I also know it will take a while to get the result. Right now I am on the second bottle and I hope I can feel a full improvement after one or two month.
Date published: 2017-06-09
Rated

5

out of

5
by
BBrownOrg
from
Great formula for recovering from your menstrual period
I learned in Chinese Herbology school that this is a great formula for recovering from your menstrual period. Think about it; you've lost blood, your appetite is shot, and you have almost no energy. Tonics8 will restore all of that and make you feel right again. My Chinese Herbology teachers say to take this formula after your period until ovulation (at which point they recommend taking EaseTonic until the beginning of your period and nothing during your period). The Tonics8 formula is also good for men with low energy, poor appetite, and symptoms of Blood Deficiency such as pale face, spots in visual field, dry skin or hair, dizziness, heart palpitations, insomnia, and forgetfulness. I tend to fall into the Blood Deficient type: pale face with dry skin and hair -- especially in winter. If I overdo things physically or at work I notice these symptoms much more, along with low energy and appetite. After taking the standard dose listed on the bottle for a week I feel and look much better. I'm so grateful for this formula!
Date published: 2018-11-20
Rated

5

out of

5
by
Wacogirl
from
Renewed Energy
I got on Tonic 8 after having two rounds antibiotics for allergy infections. It helped me to regain energy and rebuild after my system was depleted. I have taken Tonic 8 before and again have had good success.
Date published: 2018-12-26
Rated

5

out of

5
by
ChrissyB
from
Great for heavy period sufferers
I am anemic due to heavy periods and this herb has helped me to regain my energy after a cycle. Highly recommended!
Date published: 2019-01-20
Rated

4

out of

5
by
Afsh
from
Fast results
I was low in blood count and these herbs helped bring it up in one bottle. Energy is back too
Date published: 2019-01-29