Urination is the voiding of urine from the urinary bladder through the urethra to the outside of the body. Ba Zheng San is an excellent herbal remedy used for maintaining urinary tract health and supporting normal urine flow. The condition Ba Zheng San deals with is called "Lin Syndrome" (淋证) from the perspective of Traditional Chinese Medicine (TCM). Lin Syndrome is characterized with dribbling urination and is classified into multiple types depending on the appearance of urine etc. The most common cause of Lin Syndrome is the damp heat of the bladder. Accordingly, the main treatment principle is to clear Heat, remove Dampness and support urine flow.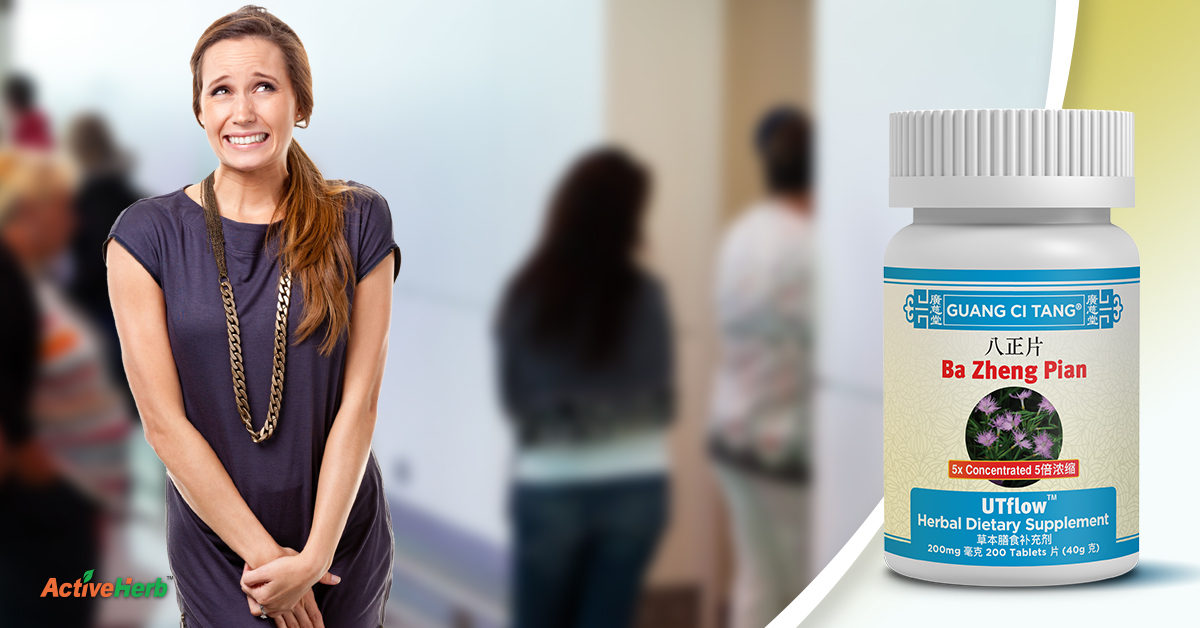 Ba Zheng San has successfully implemented the principle since its invention 900 years ago. Ba Zheng San is most suitable for the Lin syndrome presenting with urgent urination, little volume of urine that is dark and turbid, heavy feeling in the lower abdomen, thirsty mouth, red tongue with yellow fur, and slippery forceful pulse.
UTflow™ is composed of 9 Chinese herbs. In the formula, Qu Mai (Herb Dianthi), Bian Xu (Knotweed), Mu Tong (Caulis Akebiae), Hua Shi (Talcum), Che Qian Zi (Plantain Seed), and Deng Xin Cao (Medulla Junci) clear Heat and Dampness, and support a healthy urine flow. They work synergistically to achieve the maximal strength. Zhi Zi (Gardenia Fruit) drains Damp Heat from Triple Burner through the urine and Da Huang (Rhubarb) drains Damp-Heat through the stool. Zhi Gan Zao (Licorice) harmonizes the action of other cooling and purging herbs and protects the stomach.
What is the formula composition?
| | | |
| --- | --- | --- |
| Fringed pink aboveground parts | Dianthus superbus | (Qu Mai) |
| Asian plantain seed | Plantago asiatica | (Che Qian Zi) |
| Knotweed aboveground parts | Polygonum aviculare | (Bian Xu) |
| Chinese rhubarb root & rhizome | Rheum officinale | (Da Huang) |
| Talcum | | (Hua Shi) |
| Akebia stem | Akebia trifoliata | (San Ye Mu Tong) |
| Gardenia fruit | Gardenia jasminoides | (Zhi Zi) |
| Chinese licorice honey-roasted root & rhizome | Glycyrrhiza uralensis | (Zhi Gan Cao) |
| Soft rush pith | Juncus effusus | (Deng Xin Cao) |
Other ingredients: .
We use as little fillers/binders as possible which together amounts to % of the tablet weight.
Guang Ci Tang
® Ba Zheng Pian (UTflow™) 40 grams in 200 mg 200 tablets @ 5:1 strength.
At a true 5:1 concentration, this product represents the most potent form of Ba Zheng Pian (San/Wan) on the market. One tablet is equal to 1 gram of raw herb.
Ba Zheng Pian tablets are made with all natural herbs that are tested for authenticity, quality, and potency. A traditional water decoction is prepared with the herbs to reproduce the time-tested action of the formula, and this water decoction is concentrated with our proprietary technology to form a potent extract that is made into easily absorbed tablets, which are remarkably effective, easy to use, and safe. The tablets are produced by Guang Ci Tang
®
in our state of the art cGMP-certified facility and imported in accordance with U.S. FDA guidelines. When you choose Guang Ci Tang
®
products, you are taking advantage of a wonderful fusion of science and tradition that incorporates the highest standards in the field of Chinese medicine today.
Please note that our tablets may appear neutral in finishing and a little brittle. You may observe a tiny bit of fine powder at the bottom of your bottle and occasionally one or a couple of broken tablets after transportation. This is because unlike other manufacturers, our tablets are not coated as part of our effort to minimize the use of excipients and to make them as pure as possible. These tablets can also be easily dissolved in hot water to serve as tea.
Pure. Potent. Proven.
True 5:1 concentration
Double the strength of regular brands
Minimal fillers and binders
No pharmaceuticals or dyes
Comprehensive lab testing (e.g., heavy metals,etc.)
Made in a cGMP certified facility
Unbeatable value
Safely used in the USA since 1995
Check for an independent US lab test report.
The standard dosage for UTflow™ is 5 tablets each time, taken 2 to 3 times daily with or before meals. One bottle lasts users 14 to 21 days. The dose may be doubled for a quicker and stronger response as needed. Consult your practitioner for precise dosage recommendations based on body weight and other factors.
Precaution
Not suggested for use over 3 weeks because the formula's strong purging nature.
Avoid taking it together with tonic Chinese herbs for best results.
Consult a herbalist or physician before use if you are taking other medicines.
Keep out of reach of children.
Differentiation in Usage
Please do not confuse Ba Zheng Pian (UTflow™) with
Ba Zhen Pian
(Tonics8™), a completely different formula for tonifying Qi and Blood.
Side Effects
Ba Zheng Pian (San) has been safely used with few adverse effects when used as directed. But a long term use of the formula (not recommended) may cause weakness, dizziness, or loss of appetite.
Warning
1. Not for use during pregnancy.
2. Not for use by people in poor physical conditions.
Allergy Info
UTflow™ is gluten free
Disclaimer:
Product reviews solely reflect the views and opinions expressed by the contributors and not those of ActiveHerb and are provided for informational purposes only. ActiveHerb does not verify or endorse any claims made in these reviews.
Please read the full product reviews disclaimer.
UTflow™ (Ba Zheng Pian)
is rated out of
5
by
11
.
Rated

5

out of

5
by
Lenantik
from
Excellent Service
An immediate need was promptly handled in a friendly manner.
Date published: 2014-04-20
Rated

5

out of

5
by
jeriwho
from
Usually requires the whole bottle, but works well
My TCM doctor gave me a bottle of UT Flow when I complained of burning urine. Since going through menopause, this problem appears every now and then. I started to feel better as soon as I started taking it (8 pills at a time, 3x a day), but I really did need to go through the entire bottle to get over the UTI. I now supplement cranberry pills to try to ward off future problems, but I keep a bottle of UTFlow on hand, just in case.
Date published: 2019-01-28
Rated

5

out of

5
by
Ellen
from
Persistent bladder pain resolved
I bought a bottle of Uti Flow for a very persistent bladder issue that would not go away. Within a short period of time, my bladder pain was gone. I decided to buy two more bottles to have on reserve. So thankful to have found this formula.
Date published: 2016-07-12
Rated

4

out of

5
by
Zeek
from
Great Product
The first time i actually looked forward to using a product that does what is it will do. I followed the directions to the letter and when it was finished (must finish) I feel great and whole like a real man. No side affects whatsoever. THX
Date published: 2014-10-28
Rated

5

out of

5
by
Momster
from
Works better than antibiotics!
This works wonder. This will be my go to medicine for bladder infections works quick and effective. Plus side no side effects like yeast infections from antibiotics.
Date published: 2018-12-15
Rated

4

out of

5
by
OLD HIPPIE
from
GREAT FOR URNIARY TRACK
I USE THIS PRODUCT FOR MY 71 YEAR OLD BODY WHEN URNIARY TRACK GETS PAINFUL AND WEAK. IT DOES HELP AND I WILL CONTINUE USING AS NEEDED.
Date published: 2018-12-22
Rated

3

out of

5
by
deee
from
utflow
so far I am not noticing much difference..its been a month or so and I'll keep using this product a bit longer
Date published: 2015-07-16
Rated

5

out of

5
by
jackie28
from
This works!
This works! And I appreciated the prompt service- even over the Holidays, it arrived in 2 days.
Date published: 2019-01-14
i would like to ask whether your product including a fact sheet ? 我想問一下,你們的產品中有沒有說明書的? 
Hi, Thanks for the question. The product does not include any additional instruction sheet than the label itself.
Date published: 2015-10-25