In Traditional Chinese Medicine (TCM), Bu Zhong Yi Qi Wan can nourish the spleen and promote Qi due to the Qi deficiency. The central Qi provides the vital energy of the body including the internal organs and physical activities. When Qi is weak, the body more easily loses the physical strength and shows tiredness, weakness, lack of interest in speech; the organs like stomach, uterus, and rectum are not easy to maintain their upright positions.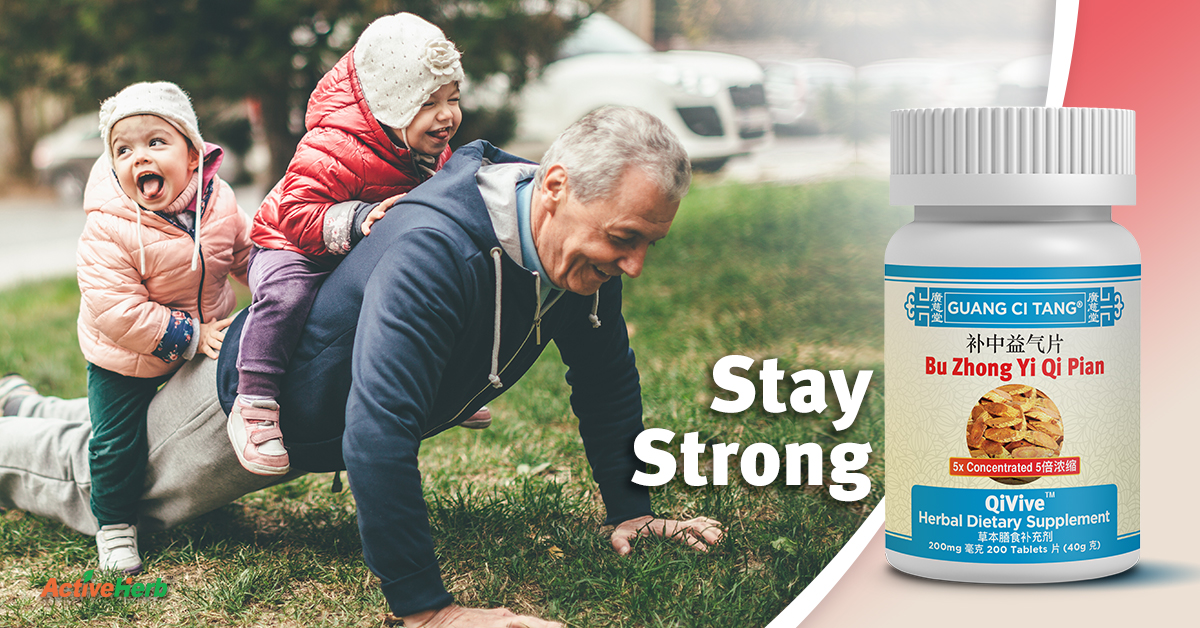 Bu Zhong Yi Qi Wan is indicated in China Pharmacopoeia for replenishing Qi, elevating the spleen Yang, promoting physical strength, and supporting the internal organs in normal shapes.
Does research support QiVive?
Modern biomedical studies have found many beneficial actions of Bu Zhong Yi Qi Wan that support its traditional use. In controlled human trials, Bu Zhong Yi Qi Wan can significantly improve the physical strength and energy.†
What is the formula composition?
| | | |
| --- | --- | --- |
| Astragalus honey-roasted root | Astragalus membranaceus | (Zhi Huang Qi) |
| Chinese licorice honey-roasted root & rhizome | Glycyrrhiza uralensis | (Zhi Gan Cao) |
| Codonopsis root | Codonopsis pilosula | (Dang Shen) |
| Bai-zhu atractylodes rhizome | Atractylodes macrocephala | (Bai Zhu) |
| Dong quai root | Angelica sinensis | (Dang Gui) |
| Chinese cimicifuga rhizome | Cimicifuga heracleifolia | (Sheng Ma) |
| Bupleurum root | Bupleurum chinense | (Chai Hu) |
| Tangerine dried rind of mature fruit | Citrus reticulata | (Chen Pi) |
| Jujube fruit | Ziziphus jujuba | (Da Zao) |
| Ginger fresh rhizome | Zingiber officinale | (Sheng Jiang) |
Other ingredients: .
We use as little fillers/binders as possible which together amounts to % of the tablet weight.
Guang Ci Tang
® Bu Zhong Yi Qi Pian (QiVive™) 40 grams in 200 mg 200 tablets @ 5:1 strength.
Guang Ci Tang® Bu Zhong Yi Qi Wan (QiVive™) 40 grams in 200 mg 200 pills @ 5:1 strength.
At a true 5:1 concentration, both products represent the most potent form of Bu Zhong Yi Qi Pian (Tang/Wan) on the market. One tablet or pill is equal to 1 gram of raw herb. Both tablets and pills have the same formulation.
Bu Zhong Yi Qi Pian tablets are made with all natural herbs that are tested for authenticity, quality, and potency. A traditional water decoction is prepared with the herbs to reproduce the time-tested action of the formula, and this water decoction is concentrated with our proprietary technology to form a potent extract that is made into easily absorbed tablets, which are remarkably effective, easy to use, and safe. The tablets are produced by Guang Ci Tang
®
in our state of the art cGMP-certified facility and imported in accordance with U.S. FDA guidelines. When you choose Guang Ci Tang
®
products, you are taking advantage of a wonderful fusion of science and tradition that incorporates the highest standards in the field of Chinese medicine today.
Please note that our tablets may appear neutral in finishing and a little brittle. You may observe a tiny bit of fine powder at the bottom of your bottle and occasionally one or a couple of broken tablets after transportation. This is because unlike other manufacturers, our tablets are not coated as part of our effort to minimize the use of excipients and to make them as pure as possible. These tablets can also be easily dissolved in hot water to serve as tea.
Pure. Potent. Proven.
True 5:1 concentration
Double the strength of regular brands
Minimal fillers and binders
No pharmaceuticals or dyes
Comprehensive lab testing (e.g., heavy metals,etc.)
Made in a cGMP certified facility
Unbeatable value
Safely used in the USA since 1995
Check for an independent US lab test report.
Take 5 tablets or pills each time, 2 to 3 times daily. One bottle lasts users about 2 to 3 weeks.
The dose may be doubled for a quicker and stronger response as needed (e. g., with heavy body weight).
As the herbal formula is a mild tonic, results may only be noticeable after 1 month. It is suggested to take 4 to 6 bottles in full dose as the first regimen. The dose may then be reduced.
Precaution
Do not use it if you are taking cold medicines.
Do not use it if you have hypertension.
Consult your herbalist or physician before use if you are taking other medicines.
If any adverse symptom occurs like headache and dizziness, discontinue use.
Keep out of reach of children.
Differentiation in Usage
Both Bu Zhong Yi Qi Tang and
Si Jun Zi Tang
are used for replenishing Qi. But Si Jun Zi Tang is more for Spleen Qi deficiency leading to digestive issues like poor appetite and pale face etc whereas Bu Zhong Yi Qi Tang for Qi deficiency leading to tiredness and lack of physical strength etc.
Side Effects
Bu Zhong Yi Qi Wan has been safely used by with few adverse effects when taken as directed.
Allergy Info
QiVive™ is gluten free
Disclaimer:
Product reviews solely reflect the views and opinions expressed by the contributors and not those of ActiveHerb and are provided for informational purposes only. ActiveHerb does not verify or endorse any claims made in these reviews.
Please read the full product reviews disclaimer.
QiVive™ (Bu Zhong Yi Qi Pian)
is rated out of
5
by
29
.
Rated

5

out of

5
by
Mary
from
Just What I Needed
Having to deal with the "change of life"(menopause) has been a real challenge. I have felt depressed,tired, and listless with no energy and I mean nooo energy. I spent a lot of time laying down on the couch watching tv feeling exhausted. I read about the need for boosting my Qi. I purchased the QiVive along with Brain New and Neuro soothe. I take the recommended 5 tabs but only 2 times per day. I have had a surge of energy that is wonderful! I feel so much better that I joined an excercise class which I attend 4 days a week. What a difference! Try it, you will see for yourself. It really works!
Date published: 2014-06-24
Rated

5

out of

5
by
june22
from
has helped with prolapse
I have been taking this for about two months twice a day. I feel much better and am not experiencing the issues with prolapse and hemorrhoids as I was prior to taking the product. My question is do I continue to take this non stop? I have cut down to 4 tablets twice a day from 5. I do not want stop taking them and have issues return. Please answer.
Date published: 2016-02-08
Rated

5

out of

5
by
Feelingpositive5220
from
Really works for me
I had been going to an acupuncturist for prolapse and was given a different brand of these pills - they helped a lot - between them and the treatment I had none of the distressing symptoms that can go along with organ prolapse. I had to quit going to the Dr. because I wasn`t covered anymore by my insurance - and he doesn`t ship supplements - so I searched and found these. I am sensible about things like posture and heaving lifting and take these pills 5 x 3 times daily and I can remain symptom free for the most part - I do know when it is time to take them again - I have them in my purse and travel bag and at work - I don`t want to not have them when I need them. My GP told me I need surgery and has booked an appointment for me to see a surgeon but I do not plan on having the surgery. I have not heard good things about it.
Date published: 2015-12-29
Rated

5

out of

5
by
Waterfordian
from
I love this
I was recommended this by a doctor of acupuncture to boost my energy. I love them. I take 5 pills and it's enough to get me through the day. If I wake up in the morning feeling groggy I take this and within a short time I have forgotten about the slow start to the day and am moving about with a sense of ease. The effects are very gentle, no spike in energy and no crash. I have found no side effects taking these, which I have with other pills I have taken.
Date published: 2014-12-27
Rated

5

out of

5
by
BBrownOrg
from
Increases strength, energy, and appetite
QiVive is my go-to formula for whenever I'm feeling drained, weak, or have no appetite. I usually take the recommended dose and within a few days I feel much, much better. First my appetite returns with a vengeance and the energy and strength follow. I lift weights several times a week and QiVive really does help with improving strength and gaining muscle. QiVive has also helped with a mild prolapse issue that was starting to concern me. I recall a time in my life when I felt weak and low energy for several years. I wish I had QiVive back then! Thank you ActiveHerb.
Date published: 2018-10-08
Rated

5

out of

5
by
DeeDee
from
really does help
I was skeptical at first, but I have always gotten good results from Chinese herbs, so I gave it a try. So glad I did-------it really helps with low energy levels. I take the recommended dosage in the morning, and I don't get that "slump" in the late afternoon. Give it a try!!
Date published: 2016-03-21
Rated

5

out of

5
by
kneadforlife
from
great result!
I'm very pleased with this product. I really did not expect the results I got from taking this supplement exactly according to the directions on the bottle. I have much more energy and a great improvement in the condition I am taking it for.
Date published: 2014-07-17
Rated

5

out of

5
by
mtngram
from
Wonderful relief
My naturopathic doctor recommended these in pill form for uterine prolapse. It takes a while to get relief, probably 3 bottles need to be taken first, but when this kicks in....the results are extremely good. Then I cut back on the dosage and just take 5 pills a day for maintenance. Won't be without them! Rarely do I have pain or discomfort anymore. HIghly recommended.
Date published: 2017-02-16
Is any ingredient of this combination a diuretic?
Thanks for the question. No, it is not.
Date published: 2015-07-24
Is this safe to take while pregnant?  
If the ancient Chinese herbal formula are made from a combination of Astragalus and Ginseng, where's the Ginseng on your formula ? I can't see it listed.
Is it best to take this product on an empty stomach or with food.