Signature Formula Clears Toxic Heat
†
Andrografix is a special blend of Chinese herbs. Its primary action is removing toxic heat. According to traditional Chinese medicine (TCM) theory, when external evils such as Wind and Heat, strike the body, they invade it progressively from its surface to the deep layers. In the process, the body launches immune response, comfort in the nose, throat, and the head can be affected, generating Wind Heat or toxic heat in TCM.
How Does Andrografix Work?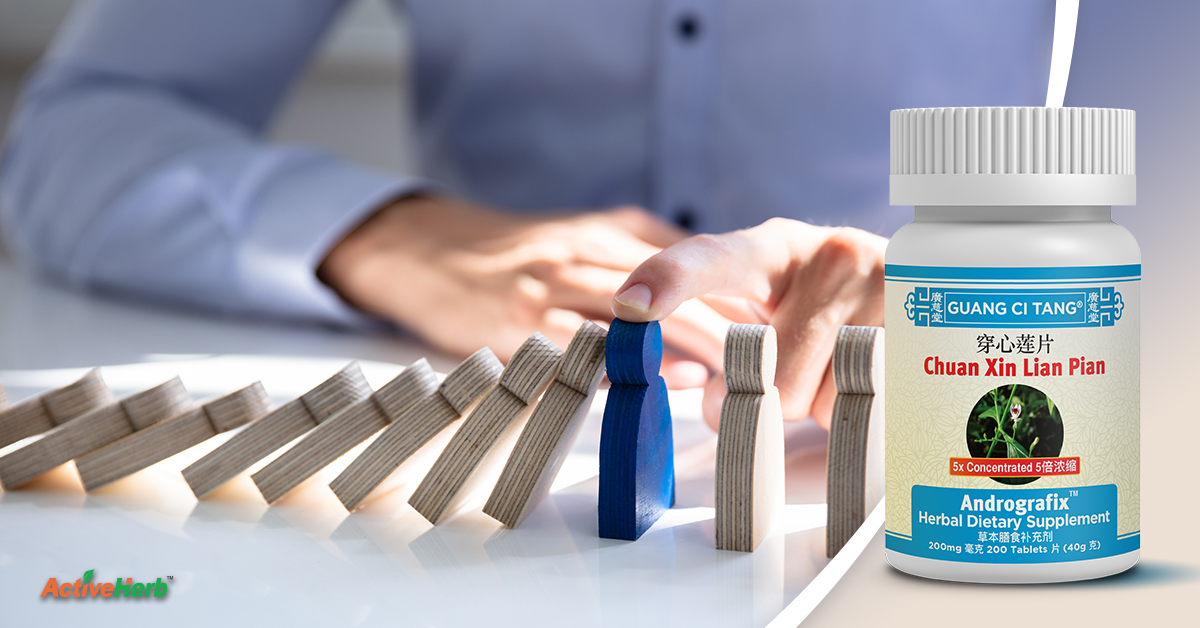 Andrografix is composed of 4 Chinese herbs that clear Wind Heat from the body.
Chuan Xin Lian (Andrographis) is one of the most widely used herbs in TCM. It is a heat-clearing and detoxifying herb that is used especially for removing heat in the lung and discomfort caused by lung heat. Pu Gong Ying (Dandelion) clears heat and drains fire. In TCM applications, it soothes the throat and tonsils.. Xia Ku Cao (Prunella) clears Liver fire. The fourth herb in the formula, Bai Hua She She Cao (Snake tongue Grass) also removes toxic heat as well as dampness. This herb is commonly used in TCM to soothe the throat and lungs.
What is the formula composition?
| | | |
| --- | --- | --- |
| Andrographis aboveground parts | Andrographis paniculata | (Chuan Xin Lian) |
| Dandelion whole plant | Taraxacum sinicum | (Pu Gong Ying) |
| Hedyotis whole plant | Hedyotis diffusa | (Bai Hua She She Cao) |
| Heal all fruit spike | Prunella vulgaris | (Xia Ku Cao) |
Other ingredients: .
We use as little fillers/binders as possible which together amounts to % of the tablet weight.
Guang Ci Tang
® Chuan Xin Lian Pian (Andrografix™) 40 grams in 200 mg 200 tablets @ 5:1 strength.
Guang Ci Tang® Chuan Xin Lian Wan (Andrografix™) 40 grams in 200 mg 200 pills @ 5:1 strength.
At a true 5:1 concentration, both products represent the most potent form of Chuan Xin Lian Pian (Wan) on the market. One tablet or pill is equal to 1 gram of raw herb. Both tablets and pills have the same formulation.
Andrografix™ is a Guang Ci Tang signature formula.
Chuan Xin Lian Pian tablets are made with all natural herbs that are tested for authenticity, quality, and potency. A traditional water decoction is prepared with the herbs to reproduce the time-tested action of the formula, and this water decoction is concentrated with our proprietary technology to form a potent extract that is made into easily absorbed tablets, which are remarkably effective, easy to use, and safe. The tablets are produced by Guang Ci Tang
®
in our state of the art cGMP-certified facility and imported in accordance with U.S. FDA guidelines. When you choose Guang Ci Tang
®
products, you are taking advantage of a wonderful fusion of science and tradition that incorporates the highest standards in the field of Chinese medicine today.
Please note that our tablets may appear neutral in finishing and a little brittle. You may observe a tiny bit of fine powder at the bottom of your bottle and occasionally one or a couple of broken tablets after transportation. This is because unlike other manufacturers, our tablets are not coated as part of our effort to minimize the use of excipients and to make them as pure as possible. These tablets can also be easily dissolved in hot water to serve as tea.
Pure. Potent. Proven.
True 5:1 concentration
Double the strength of regular brands
Minimal fillers and binders
No pharmaceuticals or dyes
Comprehensive lab testing (e.g., heavy metals,etc.)
Made in a cGMP certified facility
Unbeatable value
Safely used in the USA since 1995
Check for an independent US lab test report.
The standard dosage for Andrografix™ is 5 tablets or pills each time, taken 2 to 3 times daily with or before meals. One bottle lasts users 2 to 3 weeks.
The dose may be doubled for a quicker and stronger response as needed. Consult your practitioner for precise dosage recommendations based on body weight and other factors.
Precaution
Avoid alcohol, cigaret, spicy, chilly, oily (like french fries) food.
Consult your herbalist or physician before use if you are taking other medicines.
Keep out of reach of children.
Side Effects
Chuan Xin Lian Pian (Wan) has been safely used with few adverse effects when it is used as directed.
Allergy Info
Andrografix™ is gluten free
Disclaimer:
Product reviews solely reflect the views and opinions expressed by the contributors and not those of ActiveHerb and are provided for informational purposes only. ActiveHerb does not verify or endorse any claims made in these reviews.
Please read the full product reviews disclaimer.
InflamClear™ (Chuan Xin Lian Kang Yan Pian)
is rated out of
5
by
19
.
Rated

5

out of

5
by
DJ Burbank
from
InflamClear
I put an extensive review in here about this herb years ago, but here's a more concise version. This is a wonderful anti-bacterial, anti-viral and anti-inflam herb that can be used preventatively or instead of cold or flu medicine itself. It doesn't work on certain flu strains, but very seriously, I've been using this herb in combination with another Chinese herb called Cholinex for around 20 years, and I take it upon first inkling of any incoming symptom: fatique, sore throat, sinus clog, etc. This will either shorten flu or cold period, or, more often in my experience, completely wipe it out.
Date published: 2019-02-12
Rated

5

out of

5
by
RobertS
from
Excellent results
Woke up yesterday morning with a sore throat and other classic symptoms of a wind-heat attack (Chills and fever, runny nose, headache, etc.). Fought it off successfully using a combination your Yin Qiao Jie Du Pian and Chuan Xin Lian Kang Yan Pian. Very satisfied. Took 4 5-tablet doses of each of these formulas yesterday. Symptoms remained very muted; they began to taper off in late afternoon and are gone this morning. Can recommend this combination as one of the most effective cold remedies I've ever used.
Date published: 2016-01-08
Rated

5

out of

5
by
lady in Naples
from
wonderful for skin issues in the lower part of the body
recommended this supplement by my acupuncturist who said i had damp heat in my liver. I took 15 pills at a time sometimes 20 along with Sarcandra herb which is great for relieving hsv-1 and hsv-2. I am now using this as a daily method for maintaining outbreak free health. I use these herbs in conjunction with acupuncture 1-2 times a week.
Date published: 2017-04-05
Rated

5

out of

5
by
Skipwilburn
from
Life saver for Cold season
My family is taking Inflamclear for over eight years. At the onset of a cold we take 9 tablets and then two to three times a day 7 tablets. In most cases we never get the cold and very few times if we did, it cut the duration of the cold symptoms in half or less. It is an excellent product and we cannot imagine to be without it.
Date published: 2015-08-26
Rated

5

out of

5
by
suzspiel
from
Really works
I started using this herb upon recommendation from my acupuncturist. When ever I start feeling one of those nasty, hard to swallow, feels like fire in the back of my throat, sore throats coming on I start taking double the amount recommended on the back. Each time, within 24 hours, all symptoms are gone. I'm a teacher and a vocalist. This has been a voice saver.
Date published: 2015-02-21
Rated

5

out of

5
by
DJBurbank
from
True Cure for the Common Cold
If there is such a thing as a "cold"; it's all virus. Some flus are worse than others, but this product from Active Herb, which is a great store, is a must-have. Used to buy it from my acupuncture guy who charged $30 a bottle. I use it like this: You start to feel hot, fatigued and that flu everyone's got coming in at you -- IMMEDIATELY pop down 10 of these babies, every 2-4 hours, and I take it IN CONCERT WITH CHOLINEX (NIU HUANG JIE DU PIAN) 100 tablets per box from Amazon's LTGDepot, and I'm telling you, your crud is OVERWITH, most of the time, over night. I hate to plug another product, and I'd buy it from Active Herb if they carried it, but this stuff is necessary to take with these little brown pills in order to be effective in knocking out tough flu virus, or bacterial infections. If you wait until you actually have it, this will shorten the length it stays with you. But get it right away ---- why suffer with illness you don't need? For sore throat, put 2 or 3 of them under your tongue, during the day and also while you sleep and let them dissolve. They don't taste great, just a bit bitter, but man, your sore throat is GONE. What these herbs do is kick your immune system into high gear so you actually do the work. This herb, medicinally, will not hurt you; nor does it actually kill virus or bacteria. It prompts YOU to do it, and it works. Usually, my wife, on day 3 of this, will get a little, mild intestinal upset from this herbal mix because she has a very delicate system. I on the other hand, never do, ever. The AMA will never sanction this as an actual medicine, because it can't sell it. But this is the only thing that is natural that will work on your "cold" or flu. Airborne or Cold-eze, anything with Zinc or any of that pharmacy over the counter garbage is just that, useless garbage.
Date published: 2015-01-15
Rated

5

out of

5
by
suzie
from
chuan zin lian
Great product for bacterial infections. Been using it since the 90s. Never fails to knock out, for example, a tooth infection within days.
Date published: 2016-04-05
Rated

5

out of

5
by
ceecee
from
inflamclear
I bought this 2 wks ago and I believe I can't live without it now
Date published: 2014-08-25