In Traditional Chinese Medicine (TCM), the kidney is fundamental to all organs and generate Yin and Yang energies. The function of the kidney is believed to reflect in the ears. When the kidney gets weaker, buzzing in the ears is often observed along with other signs such as weakness and soreness of the low back and lightheadedness. It may also come with occasional hearing issue. If the kidney deficiency is on the Yin energy side, the symptoms may also include sweating. This type of hearing problem tends to occur in association with aging.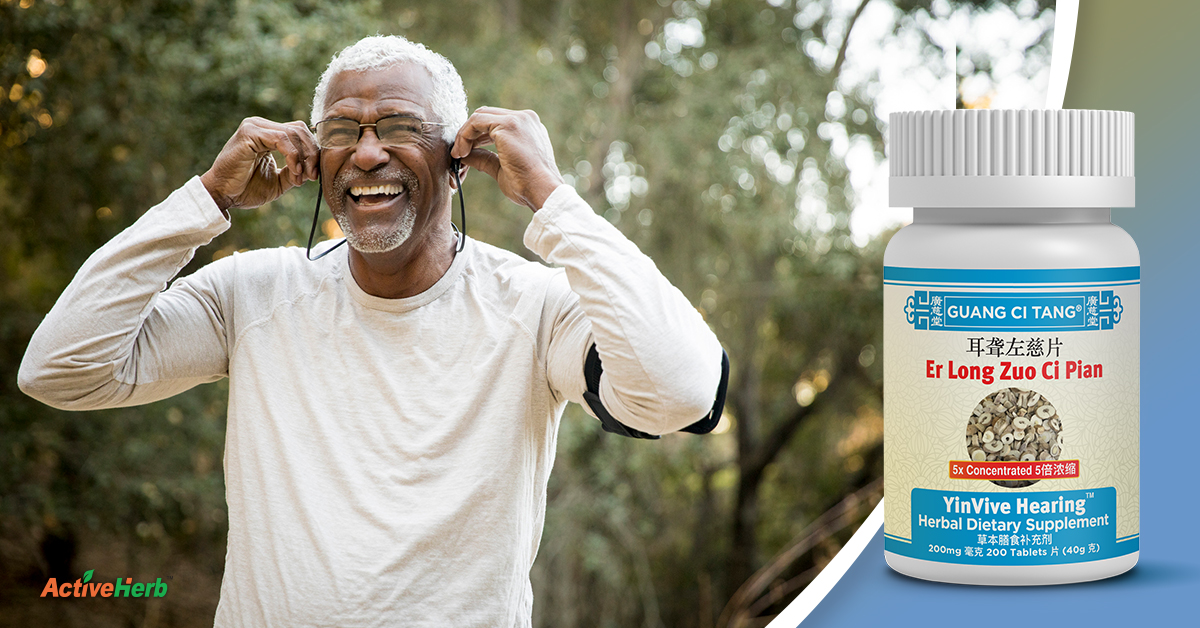 Er Long Zuo Ci Pian nourishes kidney Yin and helps alleviate the occasional ear buzzing due to kidney Yin deficiency. It is however not suitable for any hearing problem with an abrupt onset.
What is the formula composition?
| | | |
| --- | --- | --- |
| Rehmannia cured root tuber | Rehmannia glutinosa | (Shu Di Huang) |
| Chinese yam rhizome | Dioscorea oppositifolia | (Shan Yao) |
| Asiatic dogwood fruit without seed | Cornus officinalis | (Shan Zhu Yu) |
| Tree peony root bark | Paeonia suffruticosa | (Mu Dan Pi) |
| Poria sclerotium | Poria cocos | (Fu Ling) |
| Asian water plantain rhizome | Alisma orientale | (Ze Xie) |
| Magnetite | | (Ci Shi) |
| Bupleurum marginatum root | Bupleurum marginatum | (Zhu Ye Chai Hu) |
Other ingredients: .
We use as little fillers/binders as possible which together amounts to % of the tablet weight.
Guang Ci Tang
® Er Long Zuo Ci Pian (YinVive Hearing™) 40 grams in 200 mg 200 tablets @ 5:1 strength.
At a true 5:1 concentration, this product represents the most potent form of Er Long Zuo Ci Pian (Tang/Wan) on the market. One tablet is equal to 1 gram of raw herb.
Please note that Guang Ci Tang® Er Long Zuo Ci Wan in the pill form, which has the same formulation as the tablet, is discontinued.
Er Long Zuo Ci Pian tablets are made with all natural herbs that are tested for authenticity, quality, and potency. A traditional water decoction is prepared with the herbs to reproduce the time-tested action of the formula, and this water decoction is concentrated with our proprietary technology to form a potent extract that is made into easily absorbed tablets, which are remarkably effective, easy to use, and safe. The tablets are produced by Guang Ci Tang
®
in our state of the art cGMP-certified facility and imported in accordance with U.S. FDA guidelines. When you choose Guang Ci Tang
®
products, you are taking advantage of a wonderful fusion of science and tradition that incorporates the highest standards in the field of Chinese medicine today.
Please note that our tablets may appear neutral in finishing and a little brittle. You may observe a tiny bit of fine powder at the bottom of your bottle and occasionally one or a couple of broken tablets after transportation. This is because unlike other manufacturers, our tablets are not coated as part of our effort to minimize the use of excipients and to make them as pure as possible. These tablets can also be easily dissolved in hot water to serve as tea.
Pure. Potent. Proven.
True 5:1 concentration
Double the strength of regular brands
Minimal fillers and binders
No pharmaceuticals or dyes
Comprehensive lab testing (e.g., heavy metals,etc.)
Made in a cGMP certified facility
Unbeatable value
Safely used in the USA since 1995
Check for an independent US lab test report.
The standard dosage for YinVive Hearing™ is 5 tablets each time, taken 2 to 3 times daily with or before meals. One bottle lasts users 2 to 3 weeks. The dose may be doubled for a quicker and stronger response as needed. Consult your practitioner for precise dosage recommendations based on body weight and other factors.
YinVive Hearing™ is a tonic and therefore it usually takes time before its effects become apparent.
Precaution
Not suitable for use if issue has an acute onset.
Only suitable for issue due to Yin deficiency of the liver and kidney (see above).
Consult your herbalist or physician before use if you are taking other medicines.
If any adverse symptom occurs, discontinue use.
Keep out of reach of children.
Side Effects
Er Long Zuo Ci Pian (Wan) has been safely used with few adverse effects when used as directed.
Allergy Info
YinVive Hearing™ is gluten free
Disclaimer:
Product reviews solely reflect the views and opinions expressed by the contributors and not those of ActiveHerb and are provided for informational purposes only. ActiveHerb does not verify or endorse any claims made in these reviews.
Please read the full product reviews disclaimer.
YinVive Hearing™ (Er Long Zuo Ci Pian)
is rated out of
5
by
16
.
Rated

5

out of

5
by
Paula
from
Real help!
I just had my hearing checked by a conventional ENT. The results were not bad for my age, but he said there was nothing to be done for my tinnitus. I have been taking this product for about 3 months daily as recommended on bottle. Sometimes, depending on intensity of the tinnitus I take one dose and others 2 doses. I have definitely noticed quite an improvement. Sometimes now, I cannot detect any sound at all. Thank you so much.
Date published: 2014-11-19
Rated

5

out of

5
by
Steve C
from
Er Long Zuo Ci Pian realy works.
Er Long Zuo Ci Pian realy works. It reduced my ring in the right ear about 75%. I noticed result within 1st week of use. I am 70 years old.
Date published: 2009-01-19
Rated

5

out of

5
by
LaughingRain
from
so far, so good
it's too soon to give a confidant review as heard you must take a herb for 30 days at the least to get results, however, in the short time I take this, a few weeks, the noise in my ear does seem to be getting less noticeable. am planning on getting another 2 or 3 months worth. as well I can afford this product. so many things for tinnitus are way out of my budget.
Date published: 2014-08-24
Rated

5

out of

5
by
Barbara80
from
Excellent product
this is a superb product that has worked for my tinnitus reducing it so much that I don't think about it anymore.
Date published: 2014-08-08
Rated

5

out of

5
by
Bobbi
from
a very effective product
On the advice of my T'ai Chi teacher, i ordered this medication, and to my great (and happy surprise) found it greatly helped me. I have suffered for a long time with dizziness, and am now living a comfortable and happy life, and doing things I haven't been able to do for a long time.
Date published: 2014-11-09
Rated

5

out of

5
by
honeybell
from
What a relief
I was almost done trying to find something that would help my ringing in my ears. I ordered ER LONG ZUO CI PIAN . It works as a matter of fact, I am ordering morel
Date published: 2015-06-26
Rated

5

out of

5
by
Jimn685
from
It's good for ear ringing!
I just have this medicine not too long ago, It's lower the volume of ringing but it did not over yet. I have about 1 bottle and I still have about 5 more to go.
Date published: 2016-12-13
Rated

4

out of

5
by
David
from
Interesting
I've tried Yin Vive, Yin Vive Vision, and now this. There may be subtle differences. I still have some ringing in my ear, but it comes and goes; I think this helps. I'm only on my second bottle, I bought six. I like the underlying Yin Vive formula. Favorite maybe Yin Vive Vision. I'm an optometrist. I helped myself with relaxing lenses when I read, reduced my eyeglass prescription, but acupuncture helped as well. I think Chinese medicine can help.
Date published: 2017-03-10
Hello, I am a very satisfied customer and was wondering if you can help me with a concern. I bought ArtitEZ for my mom and was wondering if she can also take YinVive Hearing together with it. Will there be any adverse effect between the two. Thanks