Cleanse and Detox
†
Feeling 'normal' these days is a rare luxury for many people. The food we eat, the air we breathe, the financial and other stressors we face, may be detrimental to our health. For some people this toxic influence manifests as a wide variety of symptoms that are attributed to excess toxicity, fire and/or wind-dampness, according to TCM theory.
And how do some people these days get rid of toxicity? Juice fasts and cleanses are trendy. But many restrictive fasts and cleanses starve the body of fiber, protein and natural fats. Another popular detox trend is colonics. However, cleanses and colonics are not the most enjoyable, affordable and easiest way to detox.
CoptisClear™ makes it easy for you to help your body get rid of toxins. This TCM formula features one of the most widely used herbs for addressing fire and dampness in the body.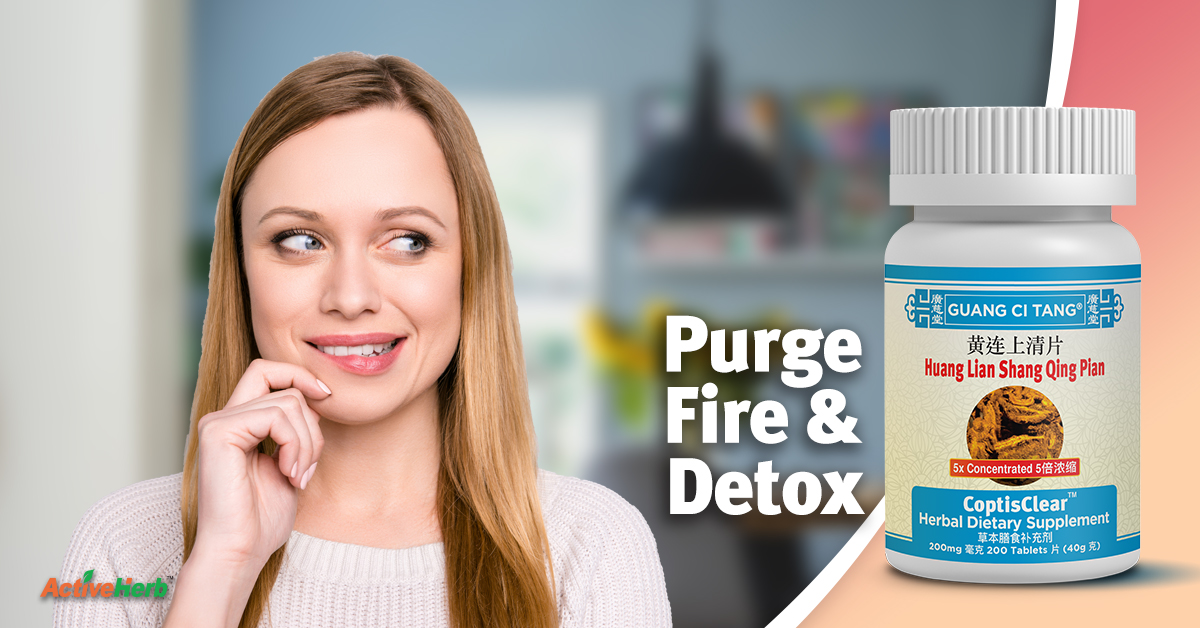 Modern formula improves upon successful ancient formula
If you want lasting relief from symptoms caused by toxins, excess heat and/or fire, CoptisClear™ is based on—and expands upon—a popular TCM remedy that's been successfully used for centuries. Whereas many traditional Chinese formulas that purge heat and remove fire contain only a handful of herbs at most, CoptisClear™ contains 17 herbs, drastically increasing the toxin-removing potential.
CoptisClear™ may help if you have some of the following common manifestations of excess heat, fire and toxicity: a sensation of heat, discomfort in eyes, mouth, and tooth, infrequent bowel movements and yellow urine.
CoptisClear™ works by draining fire and purging toxins. CoptisClear™ is especially beneficial for imbalances related to Upper Burner—located above the diaphragm.
How Does CoptisClear™ Work?
Because there are so many herbs in CoptisClear™, the following is an abridged summary of the herbal actions.
Huang Lian (Coptis Rhizome), the formula's Chinese namesake, has been used for hundreds of years to clear heat, remove toxicity, and drain dampness. It's one of the most commonly used Chinese herbs and its history dates back to the Emperor's Classic of Materia Medica, in which it's listed as one of the best herbs.
This action of Coptis is enforced by Huang Qin (Scutellaria Root), Huang Bo (Amur Cork Tree Bark), and Shi Gao (Gypsum), all of which purges fire and removes heat, and resolves toxicity.
Zhi Zi (Gardenia Fruit) cools the blood and resolves toxicity from urination. Da Huang (Rhubarb) purges heat and moves the bowels to remove toxins.
Among the above herbs, Huang Lian (Coptis Rhizome), Huang Qin (Scutellaria Root), Huang Bo (Amur Cork Tree Bark), and Zhi Zi (Gardenia Fruit) together form Huang Lian Jie Du Tang, a basic yet regarded Chinese medicine formula for detoxification.
Lian Qiao (Forsythia Fruit), Man Jing Zi (Vitex Fruit), Fang Feng (Siler Root), Jing Jie (Schizonepeta Herb), Bai Zhi (Dahurian Angelica Root), Ju Hua (Chrysanthemum Flower), Bo He (Peppermint), and Chuan Xiong (Szechuan Lovage Rhizome) all release the exterior, and disperse wind, and clear heat.
Jie Geng (Platycodon Root) ventilates the Lungs, benefits the throat and dispels phlegm. Xuan Fu Hua (Inula Flower) descends Qi. And finally, Gan Cao (Licorice Root) harmonizes the action of all herbs in the formula.
What is the formula composition?
| | | |
| --- | --- | --- |
| Chinese rhubarb root & rhizome | Rheum officinale | (Da Huang) |
| Chrysanthemum flower | Chrysanthemum morifolium | (Ju Hua) |
| Gardenia fruit | Gardenia jasminoides | (Zhi Zi) |
| Forsythia fruit | Forsythia suspensa | (Lian Qiao) |
| Simple-leaf chaste tree fruit | Vitex trifolia | (Man Jing Zi) |
| Schizonepeta aboveground parts | Schizonepeta tenuifolia | (Jing Jie) |
| Fragrant angelica root | Angelica dahurica | (Bai Zhi) |
| Chinese skullcap root | Scutellaria baicalensis | (Huang Qin) |
| Platycodon root | Platycodon grandiflora | (Jie Geng) |
| Siler root | Saposhnikovia divaricata | (Fang Feng) |
| Chinese mint aboveground parts | Mentha haplocalyx | (Bo He) |
| Phellodendron stem bark | Phellodendron chinense | (Huang Bo) |
| Sichuan lovage rhizome | Ligusticum chuanxiong | (Chuan Xiong) |
| Gypsum | | (Shi Gao) |
| Chinese licorice root & rhizome | Glycyrrhiza uralensis | (Gan Cao) |
| Japanese elecampane inflorescence | Inula japonica | (Xuan Fu Hua) |
| Coptis rhizome | Coptis chinensis | (Huang Lian) |
Other ingredients: .
We use as little fillers/binders as possible which together amounts to % of the tablet weight.
Guang Ci Tang
® Huang Lian Shang Qing Pian (CoptisClear™) 40 grams in 200 mg 200 tablets @ 5:1 strength.
At a true 5:1 concentration, this product represents the most potent form of Huang Lian Shang Qing Pian (Wan) on the market. One tablet is equal to 1 gram of raw herb.
Please note that Guang Ci Tang® Huang Lian Shang Qing Wan in the pill form, which has the same formulation as the tablet, is discontinued.
Huang Lian Shang Qing Pian tablets are made with all natural herbs that are tested for authenticity, quality, and potency. A traditional water decoction is prepared with the herbs to reproduce the time-tested action of the formula, and this water decoction is concentrated with our proprietary technology to form a potent extract that is made into easily absorbed tablets, which are remarkably effective, easy to use, and safe. The tablets are produced by Guang Ci Tang
®
in our state of the art cGMP-certified facility and imported in accordance with U.S. FDA guidelines. When you choose Guang Ci Tang
®
products, you are taking advantage of a wonderful fusion of science and tradition that incorporates the highest standards in the field of Chinese medicine today.
Please note that our tablets may appear neutral in finishing and a little brittle. You may observe a tiny bit of fine powder at the bottom of your bottle and occasionally one or a couple of broken tablets after transportation. This is because unlike other manufacturers, our tablets are not coated as part of our effort to minimize the use of excipients and to make them as pure as possible. These tablets can also be easily dissolved in hot water to serve as tea.
Pure. Potent. Proven.
True 5:1 concentration
Double the strength of regular brands
Minimal fillers and binders
No pharmaceuticals or dyes
Comprehensive lab testing (e.g., heavy metals,etc.)
Made in a cGMP certified facility
Unbeatable value
Safely used in the USA since 1995
Check for an independent US lab test report.
The standard dosage for CoptisClear™ is 5 tablets each time, taken 2 to 3 times daily with or before meals. One bottle lasts users 13 to 20 days. The dose may be doubled for a quicker and stronger response as needed. Consult your practitioner for precise dosage recommendations based on body weight and other factors.
Precaution
Not recommended for use if you have poor digestion function.
Not recommended for use together with Chinese tonic herbs.
Avoid spicy and chilly food.
Consult your herbalist or physician before use if you have diabetes, chronic disease of kidney, heart, or liver.
Consult your herbalist or physician before use if you are taking other medicines.
Keep out of reach of children.
Side Effects
Huang Lian Shang Qing Pian (Wan) has been safely used with few adverse effects when it is used as directed.
Warning
1. Not for use during pregnancy.
Allergy Info
CoptisClear™ is gluten free
Disclaimer:
Product reviews solely reflect the views and opinions expressed by the contributors and not those of ActiveHerb and are provided for informational purposes only. ActiveHerb does not verify or endorse any claims made in these reviews.
Please read the full product reviews disclaimer.
CoptisClear™ (Huang Lian Shang Qing Pian)
is rated out of
5
by
8
.
Rated

2

out of

5
by
landi3337
from
Not potent enough, but good packaging
I've used another brand of Huang Lian Shang Qing Pian for many years and 3 pills of that brand are usually good enough. But with this brand, even six pills aren't enough. The label says to take 5 pills. However, I like that these come in a bottle, rather than tiny packages with only a few pills per package. These were also a little cheaper than the other brand.
Date published: 2015-10-22
Rated

5

out of

5
by
BBrownOrg
from
Great for canker sores!
CoptisClear is great for canker sores! You can head one off in half a day using the recommended dose if you feel a canker sore start forming. If you have a full blown canker sore it could take several days using the recommended dose. I have a friend that gets huge canker sores on her mouth that makes it look like she's had botox injections. CoptisClear clears them up. Thank you ActiveHerb.
Date published: 2018-10-08
Rated

5

out of

5
by
ern35
from
Product Works!
I bought Coptis Clear to get rid of canker sores. The product seems to be working. I haven't had a break out in 21 days.
Date published: 2016-03-21
Rated

5

out of

5
by
Miss Michelle
from
Clears Acne
This cleared my acne and a boil that I had within a couple of weeks of using it. Not sure if you're supposed to use it long term so I just used one bottle and then the Acnipearl afterwards which i am still using.
Date published: 2018-10-24
Rated

5

out of

5
by
Kimmy
from
really works
I have been using this for my fever blisters flare ups. As soon as I feel one coming on..I take it for 1-2 days..and gone..have been taking this now for several years..
Date published: 2018-11-08
Rated

5

out of

5
by
Sarie
from
great for UTI's
My acupuncturist gave this to me for a UTI and it cleared it right up. Great remedy
Date published: 2018-09-25
Rated

5

out of

5
by
skykeller31
from
CoptisClear
This formula seems to be working for my son, and we will purchase again. The shipping is very fast!
Date published: 2015-09-15
Rated

5

out of

5
by
Monamouse5
from
Gets rid of cold sores fast.
At the first sign of a cold sore we use this and it takes the cold sores away not only that it keeps them away longer.
Date published: 2019-01-08