Xiao Huo Luo Pian invigorates the blood, unblocks the channels, dispels wind and dampness and transforms phlegm to relieve numbness and discomfort. Xiao Huo Luo Pian is also particularly useful in relieving discomfort due to Wind-Cold-Damp obstruction ("Bi syndrome" in TCM). In both cases, symptoms are aggravated by Cold and there is reduced range of motion. Frequently, these symptoms are most severe in the lower body.
The tongue is typically moist and white, reflecting interior cold. Xiao Huo Luo Pian is both warming and dispersing, therefore it is contraindicated in cases of Yin deficiency, weak constitution and pregnancy.
Today, Xiao Huo Luo Pian may be used to provide support for rehab with the appropriate TCM pattern presentation.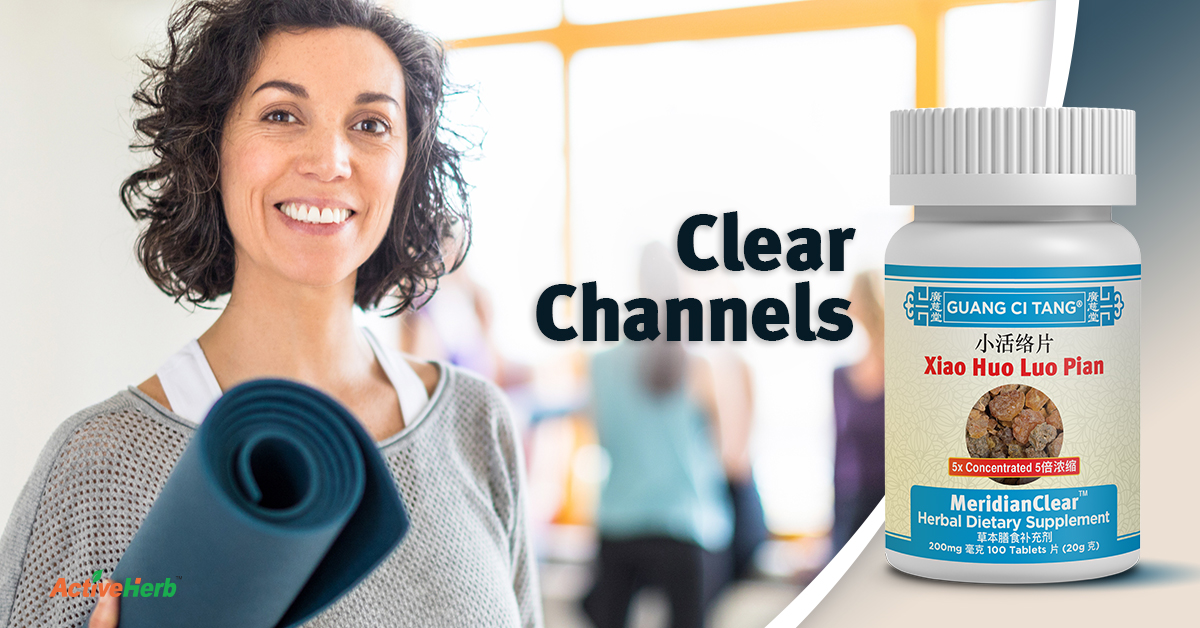 Xiao Huo Luo Pian is an important classical formula for releasing Wind, Cold and Dampness from the body and restoring proper physiological function to the channels.
Xiao Huo Luo Pian is composed of six herbal medicinals which powerfully warm the channels and dispel Wind-Cold-Dampness. The chief herbs are Zhi Chuan Wu (prepared mother root of common monkshood) and Zhi Cao Wu (prepared wild monkshood root). Chuan Wu and Cao Wu are among the most effective herbs in the Chinese materia medica for warming the channels and dispersing Cold and Dampness.
Dan Nan Xing (Arisaema pulvis) is a deputy herb in this formula whose primary functions are in dispelling Wind and dissolving Phlegm. Dan Nan Xing is cool in nature and somewhat mitigates the hot nature of the other herbs in the formula.
The two assistant herbs Mo Yao (Myrrh) and Ru Xiang (Boswellia resin) invigorate the blood, relieve discomfort and increase Qi flow in the meridians. Finally, Di Long (Earthworm) opens the channels and extinguishes Wind. Di Long is frequently found in formulas which address Bi / obstruction syndrome as it is extremely effective at unblocking the meridians.
What is the formula composition?
| | | |
| --- | --- | --- |
| Chinese arisaema bile-cured rhizome | Arisaema erubescens | (Dan Nan Xing) |
| Sichuan aconite cured main root | Aconitum carmichaelii | (Zhi Chuan Wu) |
| Aconitum kusnezoffii cured root | Aconitum kusnezoffii | (Zhi Cao Wu) |
| Earthworm | | (Di Long) |
| Frankincense oleo-gum-resin | Boswellia carterii | (Ru Xiang) |
| Myrrh oleo-gum-resin | Commiphora myrrha | (Mo Yao) |
Other ingredients: .
We use as little fillers/binders as possible which together amounts to % of the tablet weight.
Guang Ci Tang
® Xiao Huo Luo Pian (MeridianClear™) 20 grams in 200 mg 100 tablets @ 5:1 strength.
At a true 5:1 concentration, this product represents the most potent form of Xiao Huo Luo Pian (Dan/Wan) on the market. One tablet is equal to 1 gram of raw herb.
Please note that Guang Ci Tang® Xiao Huo Luo Wan in the pill form, which has the same formulation as the tablet, is discontinued.
Xiao Huo Luo Pian tablets are made with all natural herbs that are tested for authenticity, quality, and potency. A traditional water decoction is prepared with the herbs to reproduce the time-tested action of the formula, and this water decoction is concentrated with our proprietary technology to form a potent extract that is made into easily absorbed tablets, which are remarkably effective, easy to use, and safe. The tablets are produced by Guang Ci Tang
®
in our state of the art cGMP-certified facility and imported in accordance with U.S. FDA guidelines. When you choose Guang Ci Tang
®
products, you are taking advantage of a wonderful fusion of science and tradition that incorporates the highest standards in the field of Chinese medicine today.
Please note that our tablets may appear neutral in finishing and a little brittle. You may observe a tiny bit of fine powder at the bottom of your bottle and occasionally one or a couple of broken tablets after transportation. This is because unlike other manufacturers, our tablets are not coated as part of our effort to minimize the use of excipients and to make them as pure as possible. These tablets can also be easily dissolved in hot water to serve as tea.
Pure. Potent. Proven.
True 5:1 concentration
Double the strength of regular brands
Minimal fillers and binders
No pharmaceuticals or dyes
Comprehensive lab testing (e.g., heavy metals,etc.)
Made in a cGMP certified facility
Unbeatable value
Safely used in the USA since 1995
Check for an independent US lab test report.
The standard dosage for MeridianClear™ is 2 tablets each time, taken 2 times daily with or before meals on an average body weight of 110 lb. One bottle lasts users 25 days.
The dose may be increased proportionally on body weight. Consult your practitioner for precise dosage recommendations on this and other factors.
Precaution
Consult your herbalist or physician before use if you are taking other medications or receiving other medical treatments.
Discontinue use if allergic reaction occurs.
Keep out of reach of children.
Discontinue use if you experience numbness of the tongue, headache, dizziness, abdominal pain, shortness of breath or any adverse reactions.
Xiao Huo Luo Pian is a warming and dispersing formula, therefore it is contraindicated in cases of Yin deficiency or weak constitution.
Side Effects
Xiao Huo Luo Pian contains herbs which are potentially toxic in high doses. Please do not use doses higher than suggested. Xiao Huo Luo Pian has been safely used with few adverse effects when taken as directed.
Warning
1. Not for use during pregnancy.
Allergy Info
MeridianClear™ is gluten free
Disclaimer:
Product reviews solely reflect the views and opinions expressed by the contributors and not those of ActiveHerb and are provided for informational purposes only. ActiveHerb does not verify or endorse any claims made in these reviews.
Please read the full product reviews disclaimer.
MeridianClear™ (Xiao Huo Luo Pian)
is rated out of
5
by
4
.
Rated

1

out of

5
by
Jaquie0
from
Adverse reactions.
While this is a tonic, and I know takes time to build up on the system, I experienced adverse reactions to this. It's supposed to ally eats pain, while it produced a ton of gas and bloating. Not happy. Returned product.
Date published: 2015-07-31
Rated

5

out of

5
by
Anuhea
from
Herbs
I ordered several different herbs for myself & my husband. We feel they are good quality & effective & we plan to continue ordering different kinds in the future.
Date published: 2016-05-26
Rated

5

out of

5
by
droopey
from
very very good
I was introduce to this product used it for a month and my pain in legs is all gone will continue to use and also introduce to some of my friends
Date published: 2019-02-01
Rated

5

out of

5
by
Nickie
from
Great product
I've been using this and see a distinct difference in my mood regulation and sleep paterns
Date published: 2019-03-19