In TCM, many of the signs associated with poor circulation are described as "blood stagnation". These signs include blue color of the nails and lips, cold limbs, even occasional tight chest. Huo Xue Tong Mai Pian is a general formula used to support the circulation of blood with its unique combination of ingredients.†
Huo Xue Tong Mai Pian combines several famous blood-moving Chinese herbs together based on classical pairings established over centuries. San Leng (Sparganium rhizome) and E Zhu (Zedoria rhizome) combine together to achieve a potent blood-moving effect, and these two herbs are considered to be an indispensable pair for conditions of blood stasis.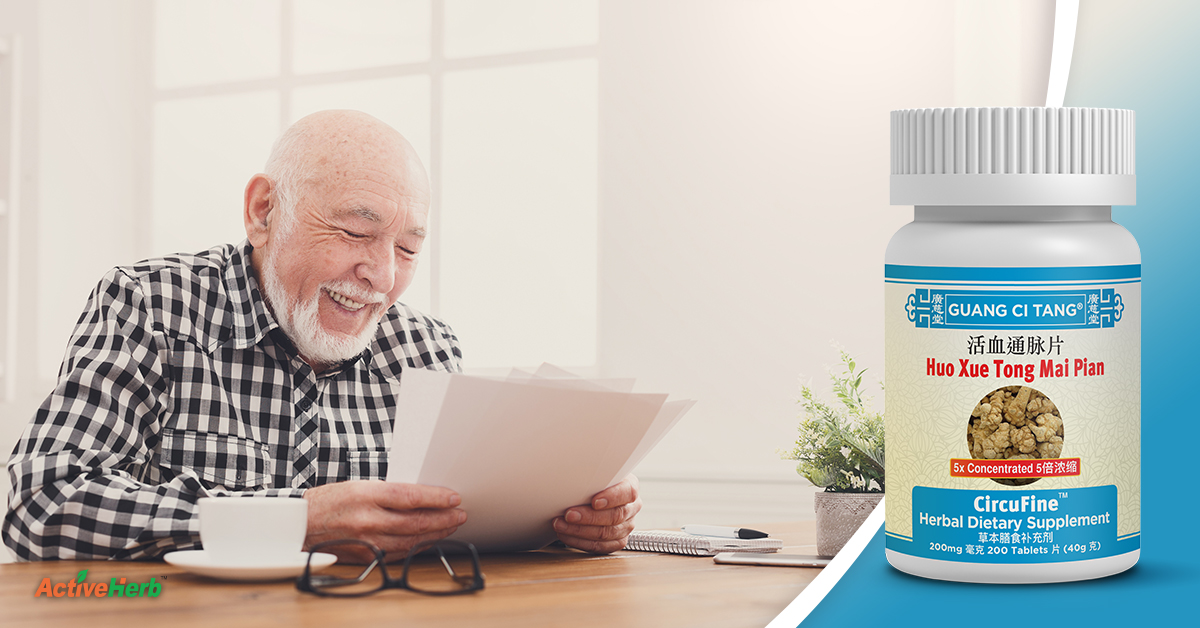 Dan Shen (Salvia root) and San Qi (Notoginseng root) are each famous for supporting cardiovascular health. Dan Shen helps to improve microcirculation and has broad-ranging benefits for the heart and circulatory system. San Qi is considered essential for supporting circulation in the coronary arteries. They combine together to form a key aspect of this formula's blood-regulating function.
Tao Ren (Peach kernel) and Hong Hua (Safflower) are herbs that have been used together for over a thousand years. Tao Ren, the inner kernel of a peach pit, is one of the oldest herbs known to Chinese medicine, and it has been a quintessential herb for removing blood stagnation throughout history. Hong Hua, which consists of beautiful red safflower petals, is its traditional herbal companion, and the two herbs are a key component in a wide range of formulas used for invigorating blood.
Xuan Shen (Scrophularia root) and Dang Gui (Chinese Angelica) nourish the body' blood and fluids while contributing unique actions to the formula. Xuan Shen is cooling and balances the formula' warm nature according to Chinese medical principles, and its moist nature balances the naturally acrid, dispersing action of the main blood-moving herbs within the formula. Dang Gui simultaneously nourishes the blood and moves the blood.
Finally, Yu Jin (Curcuma root), Ze Lan (Lycopus), and Yan Hu Suo (Corydalis root) round out the formula by expanding its ability to move the blood. Yan Hu Suo is famous in Chinese medicine for unblocking Qi and Blood stasis.
What is the formula composition?
| | | |
| --- | --- | --- |
| Chinese salvia root & rhizome | Salvia miltiorrhiza | (Dan Shen) |
| Scrophularia root | Scrophularia ningpoensis | (Xuan Shen) |
| Shiny bugleweed aboveground parts | Lycopus lucidus | (Ze Lan) |
| Dong quai root | Angelica sinensis | (Dang Gui) |
| Sparganium rhizome | Sparganium stoloniferum | (San Leng) |
| Zedoary rhizome | Curcuma zedoaria | (E Zhu) |
| Peach seed | Prunus persica | (Tao Ren) |
| Turmeric root tuber | Curcuma longa | (Yu Jin) |
| Corydalis yanhusuo tuber | Corydalis yanhusuo | (Yan Hu Suo) |
| Tienchi ginseng root | Panax notoginseng | (San Qi) |
| Safflower flower | Carthamus tinctorius | (Hong Hua) |
Other ingredients: .
We use as little fillers/binders as possible which together amounts to % of the tablet weight.
Guang Ci Tang
® Huo Xue Tong Mai Pian (CircuFine™) 40 grams in 200 mg 200 tablets @ 5:1 strength.
Guang Ci Tang® Huo Xue Tong Mai Wan (CircuFine™) 40 grams in 200 mg 200 pills @ 5:1 strength.
At a true 5:1 concentration, both products represent the most potent form of Huo Xue Tong Mai Pian (Wan) on the market. One tablet or pill is equal to 1 gram of raw herb. Both tablets and pills have the same formulation.
CircuFine™ is a Guang Ci Tang signature formula.
Huo Xue Tong Mai Pian tablets are made with all natural herbs that are tested for authenticity, quality, and potency. A traditional water decoction is prepared with the herbs to reproduce the time-tested action of the formula, and this water decoction is concentrated with our proprietary technology to form a potent extract that is made into easily absorbed tablets, which are remarkably effective, easy to use, and safe. The tablets are produced by Guang Ci Tang
®
in our state of the art cGMP-certified facility and imported in accordance with U.S. FDA guidelines. When you choose Guang Ci Tang
®
products, you are taking advantage of a wonderful fusion of science and tradition that incorporates the highest standards in the field of Chinese medicine today.
Please note that our tablets may appear neutral in finishing and a little brittle. You may observe a tiny bit of fine powder at the bottom of your bottle and occasionally one or a couple of broken tablets after transportation. This is because unlike other manufacturers, our tablets are not coated as part of our effort to minimize the use of excipients and to make them as pure as possible. These tablets can also be easily dissolved in hot water to serve as tea.
Pure. Potent. Proven.
True 5:1 concentration
Double the strength of regular brands
Minimal fillers and binders
No pharmaceuticals or dyes
Comprehensive lab testing (e.g., heavy metals,etc.)
Made in a cGMP certified facility
Unbeatable value
Safely used in the USA since 1995
Check for an independent US lab test report.
The standard dosage for CircuFine™ is 6 tablets each time, taken 2 to 3 times daily with or before meals. One bottle lasts users 11 to 17 days.
The dose may be doubled for a quicker and stronger response as needed. Consult your practitioner for precise dosage recommendations based on body weight and other factors.
CircuFine™ is a tonic and therefore it usually takes time before its effects become apparent.
Precaution
Consult your herbalist or physician before use if you are taking other medicines.
Keep out of reach of children.
Side Effects
Huo Xue Tong Mai Pian (Wan) has been safely used with few adverse effects.
Warning
1. Not for use during pregnancy.
Allergy Info
Huo Xue Tong Mai Pian (Wan) contains Tao Ren (Peach Kernel) and is gluten free.
Disclaimer:
Product reviews solely reflect the views and opinions expressed by the contributors and not those of ActiveHerb and are provided for informational purposes only. ActiveHerb does not verify or endorse any claims made in these reviews.
Please read the full product reviews disclaimer.
CircuFine™ (Huo Xue Tong Mai Pian)
is rated out of
5
by
6
.
Rated

5

out of

5
by
Bennie
from
Great blood work
My doctor has me on atorvastatin, but my blood work usually wasn't as good as I'd like. I started taking Huo Xue Tong Mai Wan early last year and my blood work numbers are the best they have ever been I'm thinking of ditching the statins.
Date published: 2016-04-30
Rated

5

out of

5
by
E Joy
from
Great. For circulation
Take to keep circulation in legs , great to help with sciatic nerve problems
Date published: 2016-11-26
Rated

5

out of

5
by
Jimm
from
Veey effective
I bought this to help with blood circulation. I was not disappointed. Cold extremities (fingers or toes) are a sign of circulation blockages. Within about 20 minutes the circulation is smooth.
Date published: 2018-06-23
Rated

5

out of

5
by
TonicHealth
from
Improvement of blood circulation
I bought one of this bottle months ago and also recently I bought another one. Right now I almost finish both bottles as it really helps my blood circulation that within a week my minor body lump going away completely cleared. That is great.
Date published: 2018-11-21
Rated

4

out of

5
by
FogLover
from
Working so far...
I have tightness in my leg and have been taking this for 2 weeks now. My leg is not as tight as it was before, so I'll continue to take this to help with circulation.
Date published: 2019-01-09
Rated

2

out of

5
by
Snake
from
Not sure if this is the right product for me
I purchased this because my legs are cold. I have tripled the dosage but I haven't noticed much difference. Maybe I need the stasis product instead.
Date published: 2018-11-19