Have you ever thought if there is an easy way, other than a lab test, to tell whether your body might carry too much sugar? Probably not. Amazingly, in ancient times, Chinese doctors have already recognized the existence of blood sugar with a simple test: urinating on a rock to see if ants were attracted to feed on sweetness. Not only that, Chinese doctors also noticed thirst as an accompanying sign and thus named the symptoms together as Xiao Ke (wasting and thirsting) syndrome.
From the perspective of TCM, most Xiao Ke cases manifest as deficiency of both Yin and Qi energies. For example, thirst is an outcome of Yin energy insufficiently balancing Yang energy, as if there is not enough water to cool fire; the heat becomes excessive.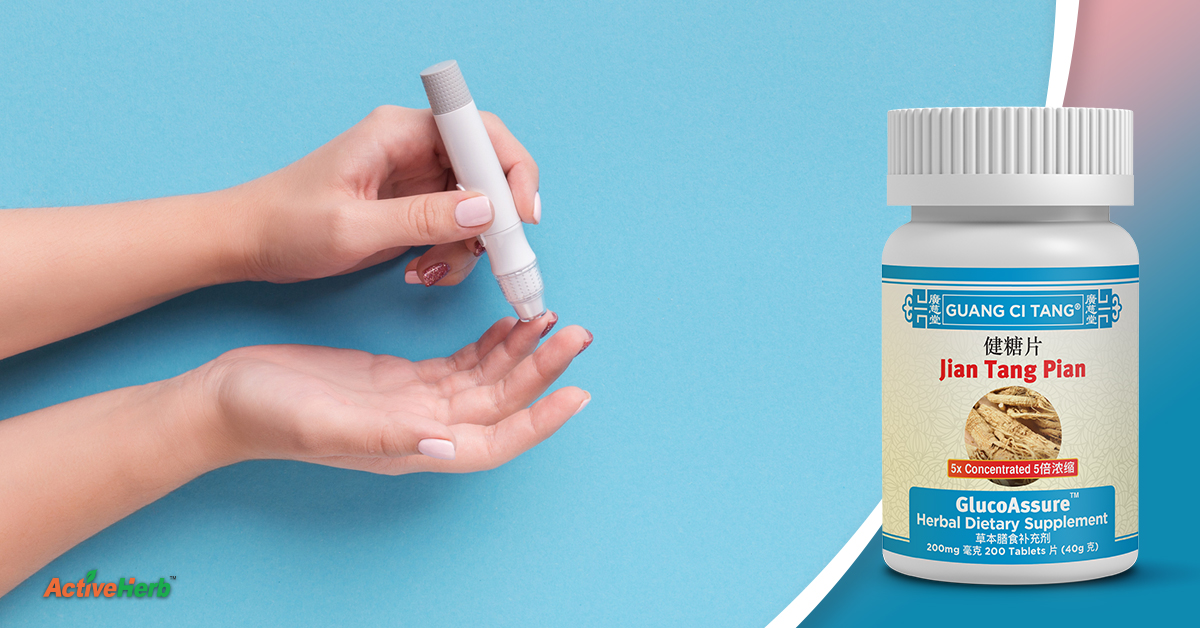 Studies have been carried out to understand the basis of glucose metabolism as it relates to Chinese medicine theory. One common strategy is to nourish Yin, tonify Qi, generate body fluids, and clear heat. GlucoAssure™ is our signature formula that follows this principle and may provide the dietary support to maintain blood sugar levels that are already in a normal range.†
Ren Shen (Ginseng root): As one of the most known Chinese herbs, Ginseng is a powerful Qi tonic. It tonifies Qi and generates fluids.
Huang Qi (Astragalus root): Astragalus is also a very known Chinese herb that tonifies Qi and supports immune function.
Fu Ling (Poria), Bai Zhu (Atractylodes rhizome) and Gan Cao (Licorice root): Poria, Atractylodes, and Licorice strengthen the digestive function and replenish Qi.
Huang Jing (Solomon Seal rhizome): Solomon Seal tonifies the Kidneys, nourishes Yin, and moistens the Lung.
Mai Dong (Ophiopogon tuber): Ophiopogon nourishes Yin, generates fluids, and quenches thirst.
Ge Gen (Kudzu root, Pueraria root): Pueraria generates fluids and quenches thirst.
Wu Wei Zi (Schisandra fruit): Schisandra fruits tonifies Kidneys, nourishes Qi, and generates fluids among other functions.
Huang Lian (Coptis rhizome): Coptis clears heat and relieves toxicity.
Da Huang (Rhubarb): Rhubarb also clears heat and relieves toxicity.
Does research support GlucoAssure?
Many Chinese herbs in GlucoAssure are shown in biomedical studies to support normal glucose metabolism.†
What is the formula composition?
| | | |
| --- | --- | --- |
| Polygonatum rhizome | Polygonatum sibiricum | (Huang Jing) |
| Astragalus root | Astragalus membranaceus | (Huang Qi) |
| Kudzu root | Pueraria lobata | (Ge Gen) |
| Poria sclerotium | Poria cocos | (Fu Ling) |
| Bai-zhu atractylodes rhizome | Atractylodes macrocephala | (Bai Zhu) |
| Asian ginseng root | Panax ginseng | (Ren Shen) |
| Ophiopogon root tuber | Ophiopogon japonicus | (Mai Dong) |
| Schisandra fruit | Schisandra chinensis | (Wu Wei Zi) |
| Coptis rhizome | Coptis chinensis | (Huang Lian) |
| Chinese rhubarb root & rhizome | Rheum officinale | (Da Huang) |
| Chinese licorice root & rhizome | Glycyrrhiza uralensis | (Gan Cao) |
Other ingredients: .
We use as little fillers/binders as possible which together amounts to % of the tablet weight.
Guang Ci Tang
® Jian Tang Pian (GlucoAssure™) 40 grams in 200 mg 200 tablets @ 5:1 strength.
At a true 5:1 concentration, this product represents the most potent form of Jian Tang Pian (Wan) on the market. One tablet is equal to 1 gram of raw herb.
Jian Tang Pian tablets are made with all natural herbs that are tested for authenticity, quality, and potency. A traditional water decoction is prepared with the herbs to reproduce the time-tested action of the formula, and this water decoction is concentrated with our proprietary technology to form a potent extract that is made into easily absorbed tablets, which are remarkably effective, easy to use, and safe. The tablets are produced by Guang Ci Tang
®
in our state of the art cGMP-certified facility and imported in accordance with U.S. FDA guidelines. When you choose Guang Ci Tang
®
products, you are taking advantage of a wonderful fusion of science and tradition that incorporates the highest standards in the field of Chinese medicine today.
Please note that our tablets may appear neutral in finishing and a little brittle. You may observe a tiny bit of fine powder at the bottom of your bottle and occasionally one or a couple of broken tablets after transportation. This is because unlike other manufacturers, our tablets are not coated as part of our effort to minimize the use of excipients and to make them as pure as possible. These tablets can also be easily dissolved in hot water to serve as tea.
Pure. Potent. Proven.
True 5:1 concentration
Double the strength of regular brands
Minimal fillers and binders
No pharmaceuticals or dyes
Comprehensive lab testing (e.g., heavy metals,etc.)
Made in a cGMP certified facility
Unbeatable value
Safely used in the USA since 1995
Check for an independent US lab test report.
The standard dosage for GlucoAssure™ is 7 tablets each time, taken 3 times daily with or before meals. One bottle lasts users 10 days. The dose may be doubled for a quicker and stronger response as needed. Consult your practitioner for precise dosage recommendations based on body weight and other factors.
GlucoAssure™ is a tonic and therefore it usually takes time before its effects become apparent.
Precaution
Consult your herbalist or physician before use if you are taking other medicines.
Keep out of reach of children.
Side Effects
Jian Tang Pian has been safely used with few adverse effects when it is used as directed.
Allergy Info
GlucoAssure™ is gluten free
Disclaimer:
Product reviews solely reflect the views and opinions expressed by the contributors and not those of ActiveHerb and are provided for informational purposes only. ActiveHerb does not verify or endorse any claims made in these reviews.
Please read the full product reviews disclaimer.
GlucoAssure™ (Jiang Tang Pian)
is rated out of
5
by
15
.
Rated

5

out of

5
by
Awade512
from
Energy, BG and weight are great!
About 4 years ago I stared having issues with after meal blood spikes. I took hundreds of dollars worth of supplements leaving me fealing dependent, stuck with managing the symptoms and broke every month. I knew there was something out there for my particular condition. I tried Yinvive. It worked at lowering my blood sugar but I still had excessive hunger, thirst and put on about 10 lbs, thus my blood sugar came back up. I was afraid to to take GlucoAssure because I have always had a bad experience with licorice. But at this point I was willing to try anything. I started out at a small dose in the morning (less than have the dose recommendend) and was astonished at how well it curved my hunger, thirst and lethargy. I droppped off the 10 lbs and kept my blood sugar in the range I like to keep it. No negative side effects from the licorice.
Date published: 2014-03-05
Rated

5

out of

5
by
rcobbsjr3
from
This product is great
I bought GlucoAssure over two months ago and I took 6 bottles as directed. It did a good job as far as I was concerned. I stop taking it for a month to make sure it worked. Now, I have started back and is on my second bottle. I had my 3 months evaluation (a1c) it was 91. This tell me that GlucoAssure is working or doing what it suppose to. I recommend trying this product to see if it work as good for you as it has for me.
Date published: 2015-05-18
Rated

4

out of

5
by
marcustrini
from
Blood sugar
I have so far used this product for one month and found it keeps my blood sugar within the required range -mornings 106
Date published: 2014-03-28
Rated

5

out of

5
by
Uera S
from
Glucoassure has been helpful for me.
Glucoassure has been helpful for me. I also takes lantus.
Date published: 2010-01-18
Rated

5

out of

5
by
coach1111
from
RELIEF
When I splurge and have a few sweets causing my sugar level to rise I immediately take the recommended dose of GlucoAssure. I can then stabilize my sugar level with 1/2 of recommended dose daily if I do not indulge in sweets.
Date published: 2019-02-24
Rated

5

out of

5
by
BigJon1
from
GluccoAssure ( Jian Tang Pian ) lowers my blood sugar
I have taken GlucoAssure (Jian Tang Pian ) for a little over a month. 7 pills three times a day. I am satisfied with product. It lowers my blood sugar to an acceptable level.
Date published: 2016-04-15
Rated

5

out of

5
by
Ireneb
from
Great Feature!
I got this for my husband 2 months ago. He is on his second bottle and just ordered 4 more. This product is helping his sugar levels. I am glad I got it for him.
Date published: 2018-03-19
Rated

5

out of

5
by
Blossom
from
GlucoAsssure really helps
I'm on my second bottle and my menopausal symptoms have alleviated greatly. I very happy with the aid of chinese herbs. Thank you so much!
Date published: 2017-02-21
I am very sensitive to sweets and carbs, however, I am not diabetic.  My heart rate increases a lot after almost every meal.  Do you suggest GlucoAssure or what product?   Also, gas and bloating after almost every meal.  Suggestions?
Yes. We will suggest you to try GlucoAssure out. Thank you.
Date published: 2016-10-10
glucosasure is out of stock, but I am placing an order and want to know if I can include it, and have it on back order, so I won't have to pay a shipping fee. It seems I cannot do that on the website.