Support Smooth Breathing
†
You could be standing in the most verdant, oxygen-rich rainforest on Earth. But you may still breathe as if you just climbed several floors. You simply like to lay down and rest.
From the perspective of traditional Chinese medicine (TCM), our body is vulnerable to changes in the surrounding environment. Imagine how you may feel if standing in a windy weather for a while. Such external adverse conditions are referred as external evils, or straightforwardly Wind, in TCM. When it happens, airflow in the respiratory tract can be affected. Think of swallowing air in a windy cold weather to your lungs. Breathmooth is a Chinese herbal formula that releases the exterior and supports healthy lung function.
How does Breathmooth work?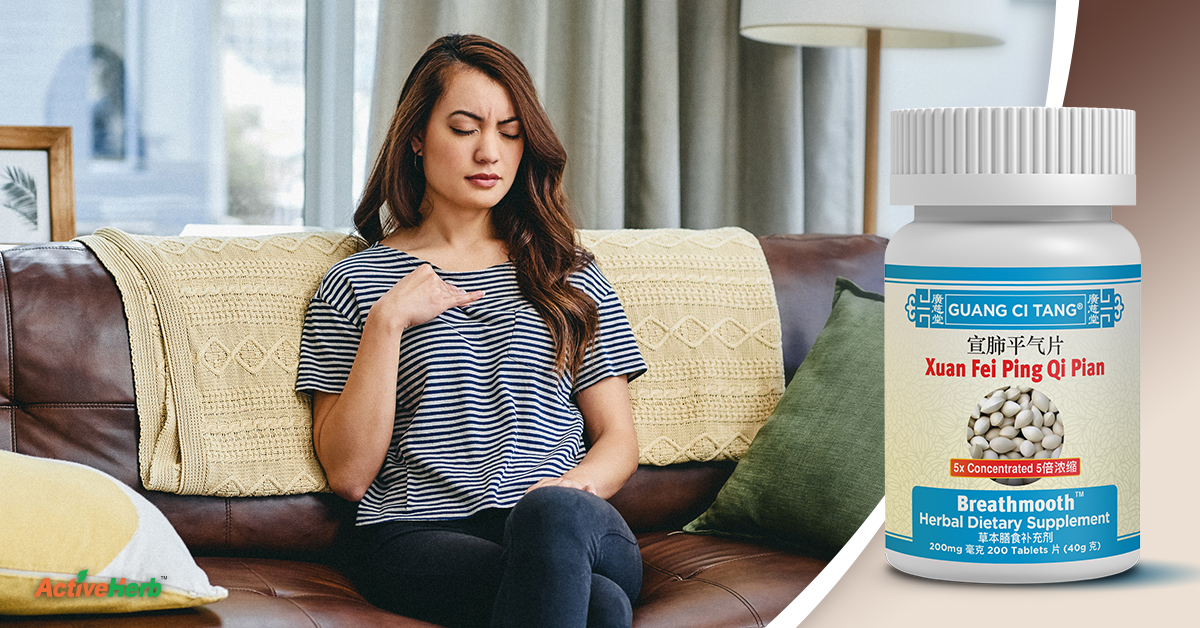 Breathmooth transforms and/or dispels Phlegm as well as Wind. Breathmooth also may offer support because of its ability to diffuse Lung Qi.
Jie Geng (Platycodon Root) ventilates the Lungs and dispels phlegm. Bai Qian (Cynanchum) descends Qi and expels phlegm. Qian Hu (Hogfennel Root) disperses wind, clears heat, directs Qi downward and transforms phlegm. Bai Bu (Stemona Root) moistens the Lungs and moves Qi downward. Jing Jie (Schizonepeta Herb) releases the exterior and disperses wind. Jiang Ban Xia (Pinellia) dries dampness and transforms phlegm. Bei Mu (Thunberg Fritillary Bulb) clears heat and transforms phlegm. Fang Feng (Siler Root) releases the exterior and dispels wind and dismisses dampness.
Sang Bai Pi (Mulberry Root Bark) drains the Lungs and is one of the most commonly used TCM herbs for supporting the airways. Bai Gao (Ginkgo Nut) also is a famous TCM herb for supporting the airways because it astringes the Lungs and expels Phlegm. Zi Su Zi (Perilla seed) also supports the airways by redirecting rebellious Lung Qi downward. In addition, it dissolves phlegm. The last herb in the formula, Ting Li Zi (Lepidium Seed), also supports the respiratory airways by draining the Lungs.
What is the formula composition?
| | | |
| --- | --- | --- |
| Platycodon root | Platycodon grandiflora | (Jie Geng) |
| Perilla fruit | Perilla frutescens | (Zi Su Zi) |
| Cynanchum stauntonii root & rhizome | Cynanchum stauntonii | (Bai Qian) |
| Peucedanum root | Peucedanum praeruptorum | (Qian Hu) |
| Stemona root tuber | Stemona sessilifolia | (Bai Bu) |
| Schizonepeta aboveground parts | Schizonepeta tenuifolia | (Jing Jie) |
| Tartarian aster root | Aster tataricus | (Zi Wan) |
| Ginkgo seed | Ginkgo biloba | (Bai Guo) |
| Lepidium apetalum seed | Lepidium apetalum | (Ting Li Zi) |
| Zhejiang fritillary bulb | Fritillaria thunbergii | (Zhe Bei Mu) |
| Siler root | Saposhnikovia divaricata | (Fang Feng) |
| White mulberry root bark | Morus alba | (Sang Bai Pi) |
Other ingredients: .
We use as little fillers/binders as possible which together amounts to % of the tablet weight.
Guang Ci Tang
® Xuan Fei Ping Qi Pian (Breathmooth™) 40 grams in 200 mg 200 tablets @ 5:1 strength.
At a true 5:1 concentration, this product represents the most potent form of Xuan Fei Ping Qi Pian (Wan) on the market. One tablet is equal to 1 gram of raw herb.
Please note that Guang Ci Tang® Xuan Fei Ping Qi Wan in the pill form, which has the same formulation as the tablet, is discontinued.
Breathmooth™ is a Guang Ci Tang signature formula.
Xuan Fei Ping Qi Pian tablets are made with all natural herbs that are tested for authenticity, quality, and potency. A traditional water decoction is prepared with the herbs to reproduce the time-tested action of the formula, and this water decoction is concentrated with our proprietary technology to form a potent extract that is made into easily absorbed tablets, which are remarkably effective, easy to use, and safe. The tablets are produced by Guang Ci Tang
®
in our state of the art cGMP-certified facility and imported in accordance with U.S. FDA guidelines. When you choose Guang Ci Tang
®
products, you are taking advantage of a wonderful fusion of science and tradition that incorporates the highest standards in the field of Chinese medicine today.
Please note that our tablets may appear neutral in finishing and a little brittle. You may observe a tiny bit of fine powder at the bottom of your bottle and occasionally one or a couple of broken tablets after transportation. This is because unlike other manufacturers, our tablets are not coated as part of our effort to minimize the use of excipients and to make them as pure as possible. These tablets can also be easily dissolved in hot water to serve as tea.
Pure. Potent. Proven.
True 5:1 concentration
Double the strength of regular brands
Minimal fillers and binders
No pharmaceuticals or dyes
Comprehensive lab testing (e.g., heavy metals,etc.)
Made in a cGMP certified facility
Unbeatable value
Safely used in the USA since 1995
Check for an independent US lab test report.
The standard dosage for Breathmooth™ is 6 tablets each time, taken 2 to 3 times daily with or before meals. One bottle lasts users 12 to 17 days. The dose may be doubled for a quicker and stronger response as needed. Consult your practitioner for precise dosage recommendations based on body weight and other factors.
Precaution
Avoid oily, spicy food while taking the product.
Consult your herbalist or physician before use if you are taking other medicines.
Only to be used by children under adult's direction.
Keep out of reach of children.
Side Effects
Xuan Fei Ping Qi Pian (Wan) has been safely used with few adverse effects.
Allergy Info
Xuan Fei Ping Qi Pian (Wan) contains Bai Guo (Ginkgo seed) and is gluten free.
Disclaimer:
Product reviews solely reflect the views and opinions expressed by the contributors and not those of ActiveHerb and are provided for informational purposes only. ActiveHerb does not verify or endorse any claims made in these reviews.
Please read the full product reviews disclaimer.
Breathmooth™ (Ke Chuan Pian)
is rated out of
5
by
12
.
Rated

5

out of

5
by
Heidislp
from
Miracle!
I originally was given this remedy by the acupuncturist I was seeing. It arrested congestion and cough that usually results in bronchitis or pneumonia and weeks of medications and missed work. I use it when I feel I am getting ill with tightness and cough. It may not prevent it 100% of the time but it shorten the time I am sick and relieves the cough and congestion. I have offered it to family and friends and they are amazed at the great results too. I try to always have this along with Cold Signoff and Coughoff in my house!
Date published: 2014-03-24
Rated

5

out of

5
by
Slawek
from
Very good product
I am a TCM practitioner and bought the product for my girlfriend's asthma bronchitis. I must say it works quickly and effectively. I also use NasoPass for her sinusitis problems which actually was one of the the primary causes of her asthma. It works very well as well especially when combined with acupuncture. In addition I recently helped my girlfriend get rid of a spate of egzema rash on the skin by using XiaoFeng Pian. Egzema rash was gone almost completely only after 1 bottle of this product. I recommend the products and will keep using them for sure.
Date published: 2016-02-22
Rated

5

out of

5
by
Ronald P
from
I had bronchitis and asthma since childhood. The product worked very well for me.
I had bronchitis and asthma since childhood. The product worked very well for me. The issue is gone after taking less than one bottle of ke chuan pian.
Date published: 2012-09-17
Rated

5

out of

5
by
betty p
from
Ke Chuan Pian is very helpful for my dad's asthma and cough.
Ke Chuan Pian is very helpful for my dad's asthma and cough. He is 76.
Date published: 2009-03-19
Rated

5

out of

5
by
Wacogirl
from
Asthma Relief
I have been using this product for help with my asthma. As a child I had serious problems with breathing. I take 5 pills twice a day to help with a tight chest and weezing. It did not take me a full bottle to take effect, it helped pretty quick. Great product. I use Lung Vigor as well.
Date published: 2018-12-04
Rated

5

out of

5
by
Mendenhall
from
So far so good...
I have asthma and severe allergies. I've only been taking it for about a month now and theres been quite a few times that I have forgotten to take it, but I still see a difference. I was skeptical at first, but I plan on buying it again.
Date published: 2015-08-16
Rated

5

out of

5
by
Chris71
from
great product
I like all the products so far through active herbs. This helps with the cough I have that just lingers and not a typical cough either. Works great with lung vigor.
Date published: 2018-12-05
Rated

1

out of

5
by
Chaun
from
NOT SATIFIED
I will NOT buy this Ke Chaun Pian again! At least 1/3 of the bottle, the pills are broken in half, quartered, bits and crumbs. Totally NOT satisfied.
Date published: 2018-02-09
Can i take this for mild asthma and dry coughing but no phlegm? thanks
Yes, you may try it and see if it helps. Thank you.
Date published: 2017-10-05
Can children age 1 to 10 consume this product?
Thanks for the question. Yes, children can take the product as well. Please reduce the dose according to the body weight.
Date published: 2017-10-05
will taking Chuan Ke Wan lead to elevation of BP as it contains licorice rt (gan Cao) which causes my bp to go up What percentage of Gan Cao is in the pills
Thank you for your question. Please notice the formula does not contain licorice.
Date published: 2017-10-05
What would be the dosage for a child weighing 58 pounds?
Hi, Thanks for the question. You may take half of the suggested dosage for adults.
Date published: 2016-11-08
Can I use this with te xiao bi min gan?
Yes. We do not see them contradictory. Thank you.
Date published: 2014-03-15