We all know the importance of warmth in the reproductive cycle. For example, the hormone progesterone is known to have a thermogenic effect on the body and is responsible for preparing the endometrium for implantation of the egg after ovulation and fertilization. The importance of harmonizing Yin and Yang for conception cannot be overstated.
Although uterine cold is of course closely linked to Yang deficiency, deficiencies of Kidney Qi, Spleen Qi, blood deficiency and blood stasis are also commonly present where cold in the uterus is predominant. Nuan Gong Yun Zi Pian not only effectively warms the uterus but also tonifies blood without engendering stasis, boosts Kidney Qi, Yin and Yang while soothing the Liver and warming the meridians. This balanced approach makes Nuan Gong Yun Zi Pian an indispensable supplement in supporting fertility.†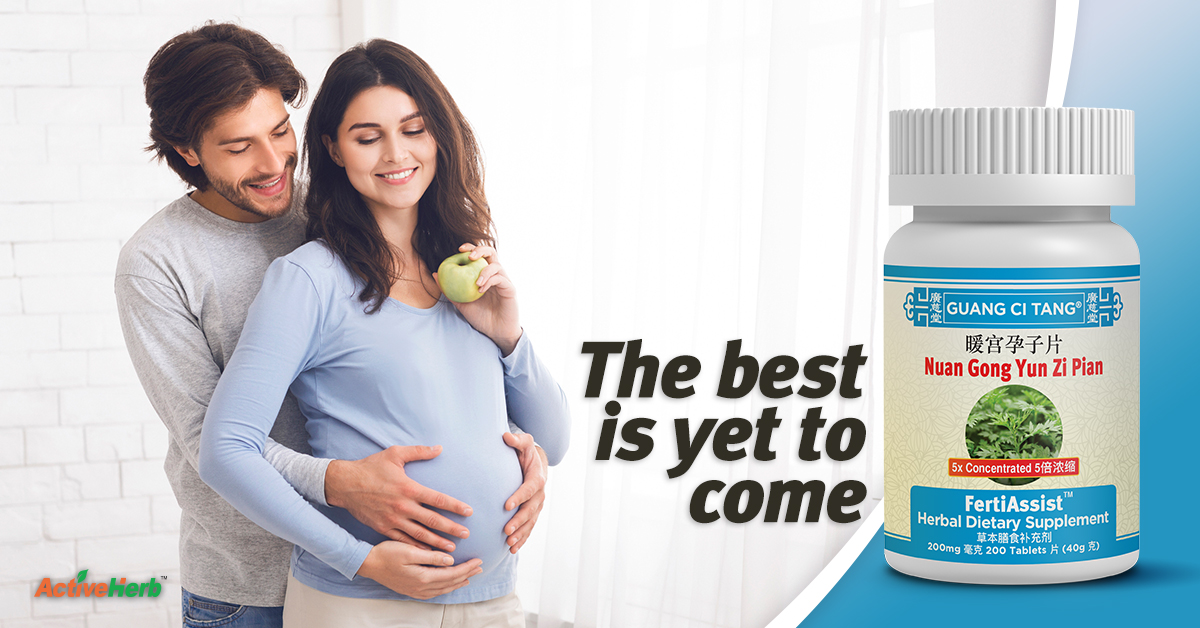 Nuan Gong Yun Zi Pian contains within it the classical formula Si Wu Tang or Four Substance Decoction: Dang Gui (Chinese Angelica root), Bai Shao (white Peony root), Shu Di Huang (processed Rehmannia root) and Chuan Xiong (Szechuan Lovage rhizome). Si Wu Tang is a fundamental formula used in Traditional Chinese Medicine to tonify the blood. Shu Di Huang and Bai Shao strongly nourish the blood and tonify the Liver and Kidneys. Shu Di Huang is said to nourish the Yin of the blood in particular. Powerful tonifying medicinal herbs such as these are known to be cloying in nature and may aggravate or even cause blood stasis, therefore Si Wu Tang also contains the Dui Yao pair (traditional combination) of Dang Gui and Chuan Xiong which nourish the blood while simultaneously dispelling and preventing stasis i.e. moving the blood. Chuan Xiong is said to treat the Qi of the blood, thereby supporting normal movement and preventing stasis. Dang Gui is a particularly important herb in the gynecological applications since it has the unique ability to both nourish and invigorate the blood. Dang Gui is sometimes referred to as the "female ginseng".
The herbs Ai Ye (Mugwort leaf) and Xiang Fu (Cyperus rhizome) are added to Si Wu Tang to specifically address blood deficiency with concurrent cold in the womb. Ai Ye is also known as mugwort or Japanese wormwood and is the herb used in moxibustion therapy because of its warming properties. Ai Ye is considered an emmenagogue, an herb which stimulates and encourages blood flow (circulation) in the pelvis and uterus.
Nuan Gong Yun Zi Pian also contains Bu Gu Zhi (Psoralea fruit), Yin Yang Huo (Horny Goat Weed), Xian Mao (Curculigo rhizome), Rou Gui (Cinnamon bark) and Du Zhong (Eucommia bark), herbs which powerfully warm and tonify Yang, support the Spleen, boost the Yin and Yang of the Kidneys while stabilizing Jing (essence) and warming the meridians.
This is a well balanced and effective formula which is indispensable in supporting female reproductive health in cases of cold and deficiency.
What is the formula composition?
| | | |
| --- | --- | --- |
| Dong quai root | Angelica sinensis | (Dang Gui) |
| Rehmannia cured root tuber | Rehmannia glutinosa | (Shu Di Huang) |
| Chinese peony root without bark | Paeonia lactiflora | (Bai Shao) |
| Psoralea fruit | Psoralea corylifolia | (Bu Gu Zhi) |
| Chinese mugwort leaf | Artemisia argyi | (Ai Ye) |
| Eucommia stem bark | Eucommia ulmoides | (Du Zhong) |
| Cyperus rhizome | Cyperus rotundus | (Xiang Fu) |
| Sichuan lovage rhizome | Ligusticum chuanxiong | (Chuan Xiong) |
| Epimedium aboveground parts | Epimedium koreanum | (Yin Yang Huo) |
| Curculigo rhizome | Curculigo orchioides | (Xian Mao) |
| Cassia bark | Cinnamomum cassia | (Rou Gui) |
Other ingredients: .
We use as little fillers/binders as possible which together amounts to % of the tablet weight.
Guang Ci Tang
® Nuan Gong Yun Zi Pian (FertiAssist™) 40 grams in 200 mg 200 tablets @ 5:1 strength.
At a true 5:1 concentration, this product represents the most potent form of Nuan Gong Yun Zi Pian (Wan) on the market. One tablet is equal to 1 gram of raw herb.
Please note that Guang Ci Tang® Nuan Gong Yun Zi Wan in the pill form, which has the same formulation as the tablet, is discontinued.
FertiAssist™ is a Guang Ci Tang signature formula.
Nuan Gong Yun Zi Pian tablets are made with all natural herbs that are tested for authenticity, quality, and potency. A traditional water decoction is prepared with the herbs to reproduce the time-tested action of the formula, and this water decoction is concentrated with our proprietary technology to form a potent extract that is made into easily absorbed tablets, which are remarkably effective, easy to use, and safe. The tablets are produced by Guang Ci Tang
®
in our state of the art cGMP-certified facility and imported in accordance with U.S. FDA guidelines. When you choose Guang Ci Tang
®
products, you are taking advantage of a wonderful fusion of science and tradition that incorporates the highest standards in the field of Chinese medicine today.
Please note that our tablets may appear neutral in finishing and a little brittle. You may observe a tiny bit of fine powder at the bottom of your bottle and occasionally one or a couple of broken tablets after transportation. This is because unlike other manufacturers, our tablets are not coated as part of our effort to minimize the use of excipients and to make them as pure as possible. These tablets can also be easily dissolved in hot water to serve as tea.
Pure. Potent. Proven.
True 5:1 concentration
Double the strength of regular brands
Minimal fillers and binders
No pharmaceuticals or dyes
Comprehensive lab testing (e.g., heavy metals,etc.)
Made in a cGMP certified facility
Unbeatable value
Safely used in the USA since 1995
Check for an independent US lab test report.
The standard dosage for FertiAssist™ is 6 tablets each time, taken 2 to 3 times daily with or before meals. One bottle lasts users 11 to 17 days.
FertiAssist™ is a mild tonic and therefore it takes time before its effects become apparent. Results may take several months up to one year.
Precaution
Do not use Nuan Gong Yun Zi Pian in conjunction with exterior releasing medicinals.
Not suitable for use if the patient has fever or other heat signs.
Consult your herbalist or physician before use if you are taking other medications or receiving other medical treatments.
Discontinue use if allergic reaction occurs.
Keep out of reach of children.
Side Effects
Nuan Gong Yun Zi Pian has been safely used with few adverse effects when taken as directed.
Warning
1. Not for use during pregnancy.
Allergy Info
FertiAssist™ is gluten free
Disclaimer:
Product reviews solely reflect the views and opinions expressed by the contributors and not those of ActiveHerb and are provided for informational purposes only. ActiveHerb does not verify or endorse any claims made in these reviews.
Please read the full product reviews disclaimer.
FertiAssist™ (Nuan Gong Yun Zi Pian)
is rated out of
5
by
8
.
Rated

5

out of

5
by
Happy chic
from
Total Tonic
The product is high quality and the best price I was able to find. Fast shipping
Date published: 2015-07-21
Rated

5

out of

5
by
patty
from
Guang ci tang. fertility assist
I bougth this like a month ago and I'm very happy myself menstruasion problems resolved.
Date published: 2015-08-18
Rated

5

out of

5
by
miany
from
Stabilizing my menstruation
Switched from other formula when it stopped working - and it turned out this has been working best for my condition. I am one of those women who are still not in menopause but started seeing some irregularity/discomforts associated with monthly periods top on some continuous tendency of my own since childhood. I used to take 2 times a day, and now take 3 times a day as a maximum recommended dosage. I have been taking for about a year and still working well.
Date published: 2018-09-26
Rated

5

out of

5
by
Lourdes
from
Helps improve an irregular menstrual cycle
My teen daughter has used this formula along with the Tonics4 to help her menstrual cycle become more regular. It took about 4-5 months to begin to see a consistent cycle. She took about 18 tablets per day (divided up in two dosages) in the beginning then the amount was lowered as her cycle began to come a little to early. She is now taking 10 per day 5 days per week to keep her cycle at about a 35 day cycle.
Date published: 2019-03-11
Rated

5

out of

5
by
Jam Sandwich
from
Balanced Hormones
I've used this for about a month and have seen major improvement in my estrogen dominance. No more acne, freezing hands/feet, PMS, depression/anxiety, etc... I feel great!
Date published: 2018-12-25
Rated

5

out of

5
by
MsKelley18
from
It works
I'm on my second bottle and this really works!
Date published: 2018-11-05
Rated

5

out of

5
by
sarra
from
great feature
Work well, I am using it for six months now
Date published: 2019-02-16
Rated

5

out of

5
by
Lola
from
FertiAssist is nothing short of a gift
I have struggled with ovulation ovarian cysts for 24 years, when I was 19. I've been to hundreds of doctors who just stick me on the pill as the synthetic hormones solve the issues while adding a bunch more other health problems. I have been hospitalized many times due to cyst rupture and it is the worst pain I have felt in life. Every 14th day of my cycle, without fail, I get a cyst. Sometimes they are not horrendous, but they usually are terrible. They create swelling, cramps in my ovaries and in my bowels, they cause irritability and, of course, make romance impossible. After doing my own research over the years, I (not a trained MD) have concluded that the cause of my cysts is to do with a lack of hormone that triggers the release of the sac that holds an egg, every month. Therefore, it remains connected to the ovary and continues filling with fluid. Because it generally does not release or rupture, I lose out on progesterone all together (and blood tests confirm this). So, not having progesterone means that my menses is off as well. All this to say, I found FertiAssist about 9 months ago and it has changed my life dramatically. I begin taking it on day 5 - 18 of my cycle and my cysts are either nominal in feeling or noticeability or none at all. I can see how this medicine would aid in fertility because it is my issue that is likely responsible for other women struggling to get pregnant. I am grateful!
Date published: 2018-12-19
Hello, this product is good if you have problems to become pregnant and you have a childwish? This is for women and i (man) order normaly the Wu ZIyan Zong pian for getting my wife pragnant.
Yes. Thank you.
Date published: 2016-09-19
can it be used with Jia wei Xiao Yao Pian?
Can you continue taking FertiAssist after ovulation has occurred? My dosis is 5x two times a day. Thanks