The pattern of conditions ProstateSure™ deals with falls under the category of Lin Zheng or Lin Syndrome (淋证) from the perspective of Traditional Chinese Medicine (TCM). Lin is associated with frequent short voidings of urine. Chinese medicine often views the condition as the result of Kidney Qi deficiency.
Qian Lie Shu Pian powerfully tonifies and enriches the Kidneys, clears deficiency heat, drains dampness and support urine flow. Qian Lie Shu Wan is an essential formula for maintaining prostate and urinary health with Traditional Chinese Medicine.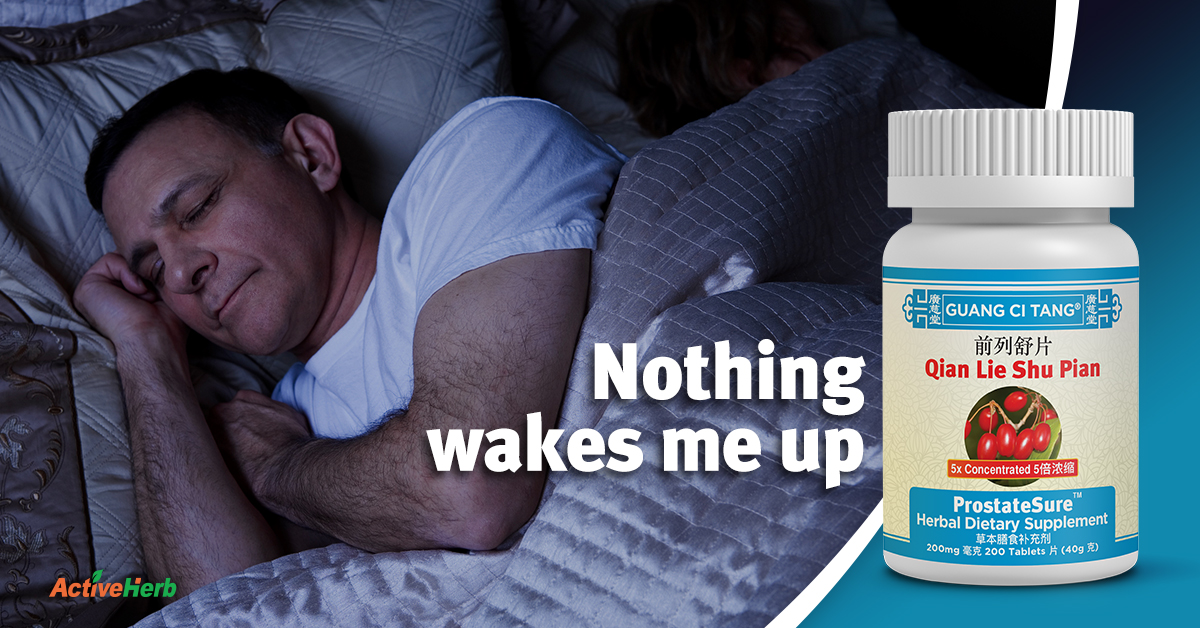 Qian Lie Shu Wan is based on the classical formula Jin Gui Shen Qi Wan, which is composed of 8 herbs that can be divided into two classes of action. The first group of herbs is composed of Shu Di Huang (Rehmannia root), Shan Zhu Yu (Cornus fruit) and Shan Yao (Chinese Yam). Together these herbs tonify the Kidney Yin, enrich and stabilize essence and improve the function of the Spleen. The second group of herbs is composed of Ze Xie (Oriental water plantain), Mu Dan Pi (Peony bark) and Fu Ling (poria). These are draining herbs which clear deficiency heat and drain dampness. This action is assisted by Gui Zhi (Cinnamon twig) and Fu Zi (processed Aconite root), which help promote the transformation of water to eliminate dampness and to restore Kidney Yang's function of governing water and urination.
Qian Lie Shu Wan has the addition of Yi Yi Ren (Job' Tears), Dong Gua Zi (Winter melon seed), Tao Ren (Peach seed) and Cang Zhu (Atractylodes). The addition of this group of herbs to the base formula powerfully increases this formula's emphasis on draining heat and dampness. Yi Yi Ren and Dong Gua Zi strongly support urination, clear heat and expel phlegm and pus. Cang Zhu has a warm nature and a damp-drying effect, which supports the Spleen and balances the cold nature of the other herbs in the formula.
Finally, the formula has the additional herbs Yin Yang Huo (Horny goat weed) and Jiu Cai Zi (Chinese chive seed), which powerfully supplement Yang and strengthen the Kidney. This helps treat the root problem of insufficient Kidney Yang which fails to promote the proper transformation of water and normal urination. Treating the root problem by supplementing the body's Yang helps to stem frequent urination and troublesome complaints such as nighttime urination.
These modifications result in a formula which is well balanced and effective in promoting prostate and urinary health.
What is the formula composition?
| | | |
| --- | --- | --- |
| Rehmannia cured root tuber | Rehmannia glutinosa | (Shu Di Huang) |
| Job's tears seed | Coix lacryma-jobi | (Yi Yi Ren) |
| Winter melon seed | Benincasa hispida | (Dong Gua Zi) |
| Asiatic dogwood fruit without seed | Cornus officinalis | (Shan Zhu Yu) |
| Chinese yam rhizome | Dioscorea oppositifolia | (Shan Yao) |
| Peach seed | Prunus persica | (Tao Ren) |
| Tree peony root bark | Paeonia suffruticosa | (Mu Dan Pi) |
| Asian water plantain rhizome | Alisma orientale | (Ze Xie) |
| Poria sclerotium | Poria cocos | (Fu Ling) |
| Cang-zhu atractylodes rhizome | Atractylodes lancea | (Cang Zhu) |
| Chinese licorice root & rhizome | Glycyrrhiza uralensis | (Gan Cao) |
| Cassia twig | Cinnamomum cassia | (Gui Zhi) |
| Sichuan aconite cured lateral root | Aconitum carmichaelii | (Zhi Fu Zi) |
| Chinese chive seed | Allium tuberosum | (Jiu Cai Zi) |
| Epimedium aboveground parts | Epimedium koreanum | (Yin Yang Huo) |
Other ingredients: .
We use as little fillers/binders as possible which together amounts to % of the tablet weight.
Guang Ci Tang
® Qian Lie Shu Pian (ProstateSure™) 40 grams in 200 mg 200 tablets @ 5:1 strength.
Guang Ci Tang® Qian Lie Shu Wan (ProstateSure™) 40 grams in 200 mg 200 pills @ 5:1 strength.
At a true 5:1 concentration, both products represent the most potent form of Qian Lie Shu Pian (Wan) on the market. One tablet or pill is equal to 1 gram of raw herb. Both tablets and pills have the same formulation.
Qian Lie Shu Pian tablets are made with all natural herbs that are tested for authenticity, quality, and potency. A traditional water decoction is prepared with the herbs to reproduce the time-tested action of the formula, and this water decoction is concentrated with our proprietary technology to form a potent extract that is made into easily absorbed tablets, which are remarkably effective, easy to use, and safe. The tablets are produced by Guang Ci Tang
®
in our state of the art cGMP-certified facility and imported in accordance with U.S. FDA guidelines. When you choose Guang Ci Tang
®
products, you are taking advantage of a wonderful fusion of science and tradition that incorporates the highest standards in the field of Chinese medicine today.
Please note that our tablets may appear neutral in finishing and a little brittle. You may observe a tiny bit of fine powder at the bottom of your bottle and occasionally one or a couple of broken tablets after transportation. This is because unlike other manufacturers, our tablets are not coated as part of our effort to minimize the use of excipients and to make them as pure as possible. These tablets can also be easily dissolved in hot water to serve as tea.
Pure. Potent. Proven.
True 5:1 concentration
Double the strength of regular brands
Minimal fillers and binders
No pharmaceuticals or dyes
Comprehensive lab testing (e.g., heavy metals,etc.)
Made in a cGMP certified facility
Unbeatable value
Safely used in the USA since 1995
Check for an independent US lab test report.
The standard dosage for ProstateSure™ is 6 tablets or pills each time, taken 3 times daily with or before meals. One bottle lasts users 11 days.
The dose may be doubled for a quicker and stronger response as needed. Consult your practitioner for precise dosage recommendations based on body weight and other factors.
ProstateSure™ is a tonic and therefore it usually takes time before its effects become apparent.
Precaution
Consult your herbalist or physician before use if you are taking other medications or receiving other medical treatments.
Discontinue use if allergic reaction occurs.
Keep out of reach of children.
Not for use with concurrent external attack.
Side Effects
Qian Lie Shu Pian (Wan) has been safely used with few adverse effects when it is used as directed.
Warning
1. Not for use during pregnancy.
Allergy Info
Qian Lie Shu Pian (Wan) contains Tao Ren (Peach Kernel) and is gluten free.
Disclaimer:
Product reviews solely reflect the views and opinions expressed by the contributors and not those of ActiveHerb and are provided for informational purposes only. ActiveHerb does not verify or endorse any claims made in these reviews.
Please read the full product reviews disclaimer.
ProstateSure™ (Qian Lie Shu Pian)
is rated out of
5
by
35
.
Rated

5

out of

5
by
Henry A
from
I have found your product to work extremely well and appreciate your providing it at an affordable cost.
I have found your product to work extremely well and appreciate your providing it at an affordable cost. Almost 3 years ago I was diagnosed with chronic prostatitis. After spending a year and a half or so going back and forth to the doctor I came to realize that there was nothing they could do. I decided to seek alternative medicine. I found your web site and ordered Qian Lie Shu Pian. Together with a Saw Palmetto supplement I am now about 90% free of any symptoms. You have given me back my life.
Date published: 2010-05-20
Rated

4

out of

5
by
BooBoo
from
Seems to be a Worthwhile Product
I bought this to improve my kidney yang fuction and help reduce nocturia. In my case it took about two months before the positive effects emerged. Conversely, the effects lasted about two months after I stopped taking the pills. I used the standard dose of six pills three times per day. After a further two months without the pills, I noticed my symptoms getting worse again and reordered. Having only started to take them for a few days, my urine flow is stronger and less frequent. Once I feel the improvement is well established, I will reduce the dose to two times three tablets and use as a supplement. This feels like a good tonifier for the kidneys. It is gentle acting, harmless and seems effective.
Date published: 2016-04-05
Rated

5

out of

5
by
vintonz33
from
Brest supplement for Prostatitis
This is the best prostate formula for chronic prostatitis Ive ever tried I would recommend to any young or older guy with this obnoxious issue that can be overwhelmingly disturbing and can cause depression because no western doctor ever new what to do with me ... they just dont understand or see things the ways TCM sees things, urine flow is great and when you void you void and it also helped with an active sex life no more pain or discomfort in the bladder area ...the only issue I found was a little bit of bloating after the second daily dose but nothing compared to having a prostatitis flare up and even gets rids of burning feet from the prostatitis that doctors go nuts with they can figure it out makes me laugh almost ... Very happy thank you Active herbs for changing my life and btw its time to reorder very soon I almost ran out .
Date published: 2014-03-28
Rated

5

out of

5
by
Chris23
from
Works!
I bought it last fall for my father in law prostate issues. He was first sceptical seeing he was taking another natural product. But after trying this, he reported a faster relief. For months he didn't need to take it, but lately the issue came back, so we ordered this time many bottles so he can have supply for a long period of time. It costs us a lot of money to send it overseas, but it's worth it. Thanks for making such great products available to us.
Date published: 2015-06-19
Rated

5

out of

5
by
Bill H
from
Your Qian Lie Shu Pian is the only product I can find that worked for me in the US.
I am 70 years old and have had urination problem. I had tried various chemical drugs and tried Saw Palmetto as well. None of them worked for me. Your Qian Lie Shu Pian is the only product I can find that worked for me in the US. I have been on it for 2 years. I took 4 tablets 3 times daily.
Date published: 2008-08-01
Rated

5

out of

5
by
george p
from
I used qian lie shu pian for one month from dr. gu. psa reduced from 6.5 to 3.7.
I used qian lie shu pian for one month from dr. gu. psa reduced from 6.5 to 3.7.
Date published: 2008-08-19
Rated

5

out of

5
by
Stuart G
from
Qian Lie Shu Pian works well for my prostate problem.
I have seen Chinese doctors for 12 years. Chinese medicine has completely changed my life for the better. Qian Lie Shu Pian works well for my prostate problem.
Date published: 2011-04-25
Rated

5

out of

5
by
Releived
from
Very Effective
Very effective for better urinary flow. Much better than straight saw pawlmetto!
Date published: 2014-08-06
I have been diagnosed with prostate cancer-ASPN...have been on active surveillance for 3 years..have enlarged prostate..can I use this product..any benefit 4 me?
Sorry we do not know if it is going to work for your case. Thank you.
Date published: 2018-12-11
Is it alright  for a normal person to take qian lie shu pian as supplement on a daily basis ?
Hi, If prostate health is a concern, yes, you may take the product for support on a daily basis. Thank you.
Date published: 2018-09-21
My husband is currently taking prescription drugs to treat this problem, which he does not want to do for a long time, so we are trying this herb out. Should he stop taking the prescription drugs immediately when he starts taking these pills?
No. As it takes time for the action of the herbal formula to kick in, you want to keep taking your prescription at the beginning and see if you can gradually tape it off. Thank you.
Date published: 2016-10-24