Qing Qi Hua Tan Pian powerfully clears heat from the lung and dissolves phlegm. Qing Qi Hua Tan Pian is indicated in cases where internal heat and/or fire have caused Lung fluids to congeal, thereby disrupting the descending of Lung Qi. This results in thick, yellow phlegm that is difficult to spit out.
Internal heat also damages and obstructs the Qi of the middle jiao (the midsection of the body), which inhibits the spleen's transporting and transforming functions. This further contributes to phlegm formation. According to Traditional Chinese Medicine (TCM) theory, phlegm is produced by the Spleen and contained in the Lung. Therefore, it is important for Qing Qi Hua Tan Pian to resolve phlegm affecting both the middle and upper jiao (the upper part of the body).
Qing Qi Hua Tan Pian is used for cases in which the tongue and pulse show signs of heat and phlegm. The tongue will be red with a greasy and yellow coating. The pulse will be rapid and slippery.
Qing Qi Hua Tan Pian is an important classical TCM formula for clearing phlegm-heat from the Lungs.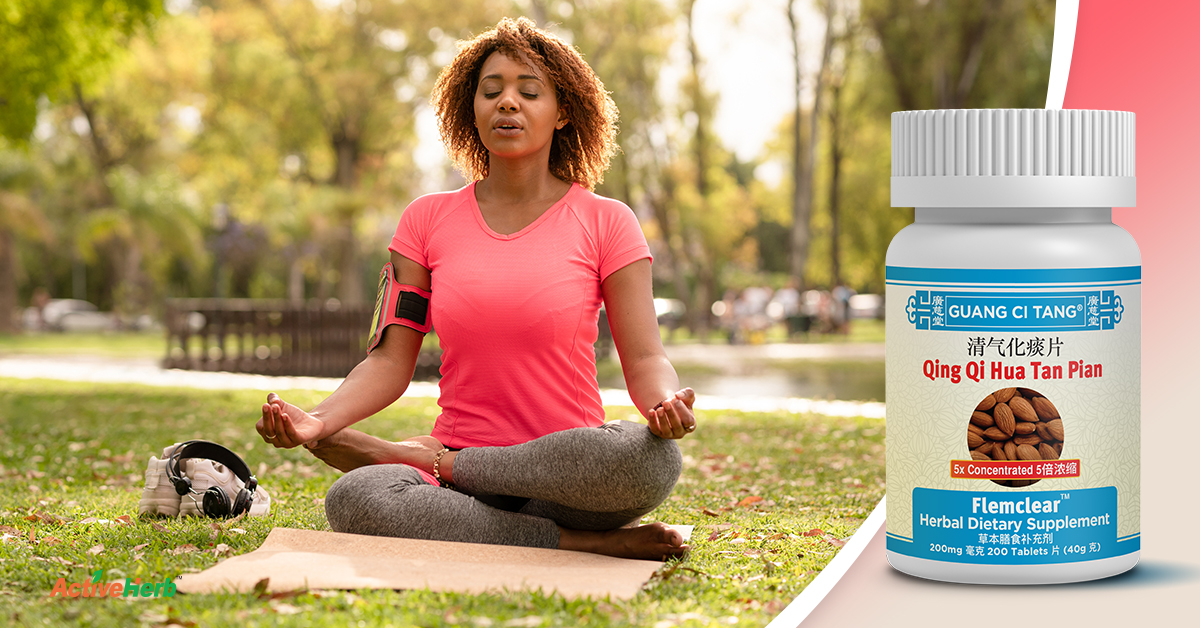 Qing Qi Hua Tan Pian is composed of 8 medicinal herbs which clear heat, transform phlegm, direct Qi downward and calm the respiratory tract.
The chief herb is Dan Nan Xing (Jack-in-the-pulpit tuber mixed with bile). Dan Nan Xing is a powerful phlegm-resolving herb which is used to clear blockage caused by heat and phlegm. Preparation with bile reduces the herb' drying nature. Dan Nan Xing is extremely effective at resolving phlegm and is frequently used in combination with other herbs to support respiratory health.
Deputy herbs Huang Qin (Scutellaria) and Gua Lou Ren (Snake gourd fruit) are bitter, cold substances which drain fire while transforming phlegm. Huang Qin and Gua Lou Ren strongly reinforce the actions of the chief herb Dan Nan Xing.
Zhi Shi (Immature bitter orange) and Chen Pi (Tangerine peel) are combined as assistant herbs to alleviate distension and dissipate phlegm by regulating the Qi mechanism, particularly of the middle jiao. Fu Ling (Poria) and Ban Xia (Pinellia) address the Spleen, which TCM considers to be the source of phlegm.
Ku Xing Ren (Apricot seed) facilitates the flow of Lung Qi downward.
Together, these seven herbs compose a formula that is well-balanced and highly effective at clearing phlegm and supporting respiratory health.
What is the formula composition?
| | | |
| --- | --- | --- |
| Pinellia cured rhizome | Pinellia ternata | (Zhi Ban Xia) |
| Chinese arisaema bile-cured rhizome | Arisaema erubescens | (Dan Nan Xing) |
| Chinese skullcap root | Scutellaria baicalensis | (Huang Qin) |
| Trichosanthes seed | Trichosanthes kirilowii | (Gua Lou Ren) |
| Tangerine dried rind of mature fruit | Citrus reticulata | (Chen Pi) |
| Apricot seed | Prunus armeniaca | (Ku Xing Ren) |
| Bitter orange young fruit | Citrus aurantium | (Zhi Shi) |
| Poria sclerotium | Poria cocos | (Fu Ling) |
Other ingredients: .
We use as little fillers/binders as possible which together amounts to % of the tablet weight.
Guang Ci Tang
® Qing Qi Hua Tan Pian (FlemClear™) 40 grams in 200 mg 200 tablets @ 5:1 strength.
At a true 5:1 concentration, this product represents the most potent form of Qing Qi Hua Tan Pian (Tang/Wan) on the market. One tablet is equal to 1 gram of raw herb.
Please note that Guang Ci Tang® Qing Qi Hua Tan Wan in the pill form, which has the same formulation as the tablet, is discontinued.
Qing Qi Hua Tan Pian tablets are made with all natural herbs that are tested for authenticity, quality, and potency. A traditional water decoction is prepared with the herbs to reproduce the time-tested action of the formula, and this water decoction is concentrated with our proprietary technology to form a potent extract that is made into easily absorbed tablets, which are remarkably effective, easy to use, and safe. The tablets are produced by Guang Ci Tang
®
in our state of the art cGMP-certified facility and imported in accordance with U.S. FDA guidelines. When you choose Guang Ci Tang
®
products, you are taking advantage of a wonderful fusion of science and tradition that incorporates the highest standards in the field of Chinese medicine today.
Please note that our tablets may appear neutral in finishing and a little brittle. You may observe a tiny bit of fine powder at the bottom of your bottle and occasionally one or a couple of broken tablets after transportation. This is because unlike other manufacturers, our tablets are not coated as part of our effort to minimize the use of excipients and to make them as pure as possible. These tablets can also be easily dissolved in hot water to serve as tea.
Pure. Potent. Proven.
True 5:1 concentration
Double the strength of regular brands
Minimal fillers and binders
No pharmaceuticals or dyes
Comprehensive lab testing (e.g., heavy metals,etc.)
Made in a cGMP certified facility
Unbeatable value
Safely used in the USA since 1995
Check for an independent US lab test report.
Take 5 tablets each time, 2 to 3 times daily. One bottle lasts users about 2 to 3 weeks.
The dose may be doubled for a quicker and stronger response as needed (e. g., with heavy body weight).
Precaution
Consult your herbalist or physician before use if you are taking other medications or receiving other medical treatments.
Discontinue use if allergic reaction occurs.
Avoid oily or spicy food while taking this product.
Not suitable for dry cough with little phlegm.
Not suitable for use in cases of digestive disorders.
Keep out of reach of children.
Side Effects
Qing Qi Hua Tan Pian (Wan) has been safely used with few adverse effects.
Warning
1. Not for use during pregnancy.
Allergy Info
Qing Qi Hua Tan Pian (Wan) contains Xing Ren (Almond) and is gluten free.
Disclaimer:
Product reviews solely reflect the views and opinions expressed by the contributors and not those of ActiveHerb and are provided for informational purposes only. ActiveHerb does not verify or endorse any claims made in these reviews.
Please read the full product reviews disclaimer.
FlemClear™ (Qing Qi Hua Tan Pian)
is rated out of
5
by
18
.
Rated

5

out of

5
by
thornton s
from
Flemclear clears my phlegm and lung problem that had lasted for years.
Flemclear clears my phlegm and lung problem that had lasted for years. very satisfied.
Date published: 2010-01-28
Rated

5

out of

5
by
FloridaGal
from
It works and it works fast!
I had thick, yellow mucus and difficulty breathing at night. (I believe I am "retracing"--look up Dr. Lawrence Wilson--from a childhood of recurring bronchitis and I am now recovering my health in my 50s.) After trying several natural remedies from Amazon which didn't work, I decided to try ActiveHerb for the first time. I wasn't overly hopeful, but I ordered Breathsmooth, LungVive and FlemClear. It helped the very first night and I have gotten better and better! After a couple of weeks, my mucus is now white/clear and comes up much easier, and my breathing is almost back to normal. I like the small size of the pills, which are easy to swallow and perhaps help them take effect faster. THANK YOU, ActiveHerb, for your amazing products, high quality and free shipping! You change people's lives!
Date published: 2017-11-06
Rated

5

out of

5
by
Slawek
from
very effective
Hello, this formula is very effective in clearing Phlegm in your body. I have been using this in combination with BiYan formula to get rid of stubborn sinusitis problem with one of my patients. Shows effectiveness immediately and is helpful to clear phlegm in the long run in more chronic cases. I recommend this product.
Date published: 2016-04-15
Rated

5

out of

5
by
The Man
from
Expels Flem.
I bought this product for my father. Instantly he felt the difference. This product does what it is made to do.
Date published: 2016-06-09
Rated

5

out of

5
by
allergykat
from
Avoids bronchitis for me!
When my allergies start to collect mucus in my lungs, I tend to get bronchitis (I have asthma). Since taking this herb as needed. I have not had bronchitis!
Date published: 2016-11-26
Rated

5

out of

5
by
ElissaLeeS
from
Guang Ci Tang® - FlemClear™ (Qing Qi Hua Tan Pian)
I'm happy to give a recommendation for this product - Guang Ci Tang® - FlemClear™ (Qing Qi Hua Tan Pian) My husband has been taking this for 10 years now. He has severe allergy sinus drainage causing terrible coughing, and no amount of prescription or OTC meds, allergy shots, or accupuncture has worked as well as this product. It immediately stops his coughing. The accupuncturist he was seeing had recommended this for him and we are forever thankful that she did.
Date published: 2017-03-07
Rated

4

out of

5
by
dsgale
from
good for the price
It seems to help my lungs when I have a infection
Date published: 2014-11-18
Rated

5

out of

5
by
Jack
from
Very effective
I have a chronic issue of mucous in my lungs due to allergic asthma and take steroids year round. I found this product effective in reducing the quantity, thickness and darkness of color of the mucous. I am on my second bottle and hope to see more results as time goes on. I still need to take steroids but definitely not struggling as much.
Date published: 2015-04-19