Helps Your Uterus Feel Happy!†
Why does one woman have a regular, normal menstrual flow while someone else does not? Is it just pure luck? Is it genetics or based on constitution? Though it might seem like there's no rhyme or reason, traditional Chinese medicine (TCM) offers both a theory and remedy.
Our formula Abdo StasisClear™ is used for the TCM syndrome that's characterized by abdominal discomfort caused by Blood Stasis and Cold. How do you know if you have Blood Stasis and Cold? You may know it if your abdomen experience symptoms such as distention or heaviness that improves when you apply heat and pressure to it, or discomfort in a fixed location that may become worse at night; menstrual flow that may be lasting.
Abdo StasisClear is an all-natural herbal formula containing 12 ingredients. These botanicals may help support the normal uterus function and consequently is often used to support female reproductive health.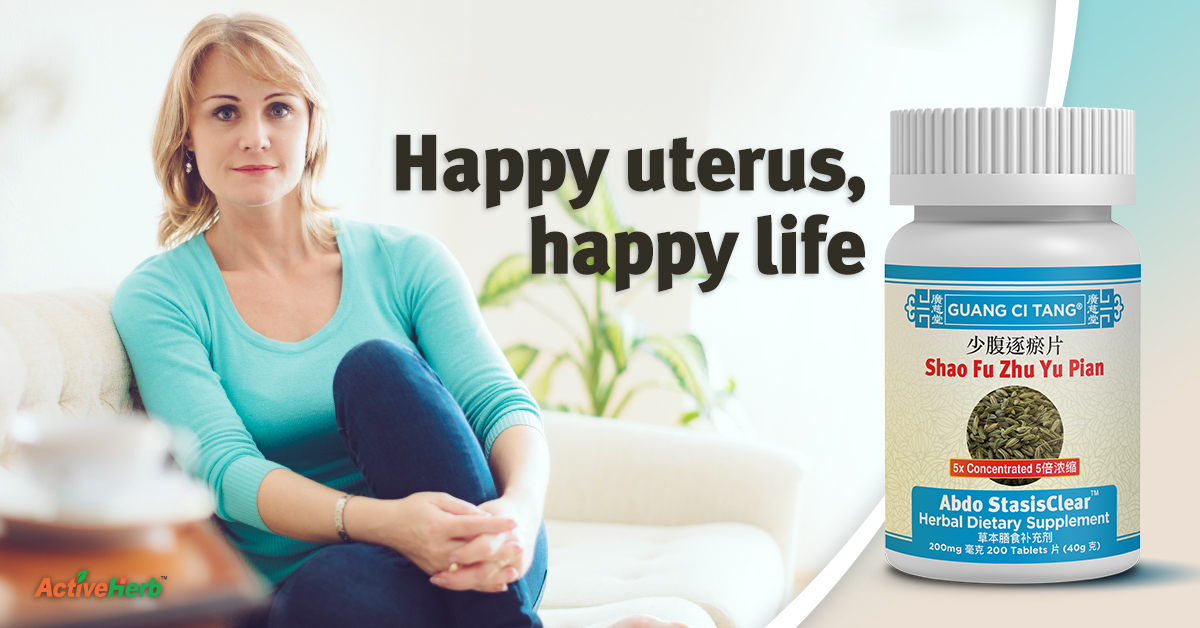 Famous Formula Removes Blood Stasis and Warms The Abdomen†
Through the lens of Chinese medicine, disharmony in mentruation often has simple causes. For instance, eating ice cream or drinking cold beverages is enough to produce disharmony in the paired Spleen-Stomach meridian system. Another external factor that may lead to cramps is exposure to cold and rainy weather.
Although these underlying causes of abdominal discomfort may seem overly simplistic, according to TCM theory, cold foods and cold/damp weather can lead to Qi obstruction and blood stasis in the uterus, which consequently results in discomfort in the uterus.
Abdo StasisClear may help ease the discomfort by warming the uterus, expelling the source of external cold, and promoting blood circulation and Qi flow to resolve blood stasis.
How Does Abdo StasisClear Work?
Abdo StasisClear is based on the ancient formula Shao Fu Zhu Yu Tang with a slight modification.
Dang Gui (Angelica root) is one of the most commonly used Chinese herbs for supporting a normal menstrual cycle because it nourishes and invigorates the blood. Pu Huang (Cattail pollen) disperses blood stasis. Chi Shao (Red peony root) also dispels stasis, while also clearing heat and cooling the blood.
Xiao Hui Xiang (Fennel fruit) warms the interior and expels cold. It also may help alleviate abdominal discomfort by regulating Qi and harmonizing the middle burner.
Rou Gui (Cinnamon bark) disperses cold and invigorates the blood and unblocks the Channels. Gan Jiang (Dried ginger) warms the middle and disperses cold and unblocks the Channels. Yan Hu Suo (Corydalis root) invigorates the blood and promotes movement of Qi.
Mo Yao (Myrrh) invigorates the blood and disperses stasis. Chuan Xiong (Lovage root) is yet another herb in this formula that invigorates the blood and moves Qi. It also expels wind. Xiang Fu (Cyperus rhizome) promotes Qi movement and supports a normal menstrual cycle.
Both San Leng (Bur Reed tuber) and E Zhu (Zedoary rhizome) both break up blood stasis and move Qi.
What is the formula composition?
| | | |
| --- | --- | --- |
| Dong quai root | Angelica sinensis | (Dang Gui) |
| Cattail pollen | Typha angustifolia | (Pu Huang) |
| Chinese peony root with bark | Paeonia lactiflora | (Chi Shao) |
| Fennel fruit | Foeniculum vulgare | (Xiao Hui Xiang) |
| Cassia bark | Cinnamomum cassia | (Rou Gui) |
| Corydalis yanhusuo tuber | Corydalis yanhusuo | (Yan Hu Suo) |
| Myrrh oleo-gum-resin | Commiphora myrrha | (Mo Yao) |
| Sichuan lovage rhizome | Ligusticum chuanxiong | (Chuan Xiong) |
| Cyperus rhizome | Cyperus rotundus | (Xiang Fu) |
| Sparganium rhizome | Sparganium stoloniferum | (San Leng) |
| Zedoary rhizome | Curcuma zedoaria | (E Zhu) |
| Ginger dried rhizome | Zingiber officinale | (Gan Jiang) |
Other ingredients: .
We use as little fillers/binders as possible which together amounts to % of the tablet weight.
Guang Ci Tang
® Shao Fu Zhu Yu Pian (Abdo StasisClear™) 40 grams in 200 mg 200 tablets @ 5:1 strength.
At a true 5:1 concentration, this product represents the most potent form of Shao Fu Zhu Yu Pian (Wan) on the market. One tablet is equal to 1 gram of raw herb.
Please note that Guang Ci Tang® Shao Fu Zhu Yu Wan in the pill form, which has the same formulation as the tablet, is discontinued.
Shao Fu Zhu Yu Pian tablets are made with all natural herbs that are tested for authenticity, quality, and potency. A traditional water decoction is prepared with the herbs to reproduce the time-tested action of the formula, and this water decoction is concentrated with our proprietary technology to form a potent extract that is made into easily absorbed tablets, which are remarkably effective, easy to use, and safe. The tablets are produced by Guang Ci Tang
®
in our state of the art cGMP-certified facility and imported in accordance with U.S. FDA guidelines. When you choose Guang Ci Tang
®
products, you are taking advantage of a wonderful fusion of science and tradition that incorporates the highest standards in the field of Chinese medicine today.
Please note that our tablets may appear neutral in finishing and a little brittle. You may observe a tiny bit of fine powder at the bottom of your bottle and occasionally one or a couple of broken tablets after transportation. This is because unlike other manufacturers, our tablets are not coated as part of our effort to minimize the use of excipients and to make them as pure as possible. These tablets can also be easily dissolved in hot water to serve as tea.
Pure. Potent. Proven.
True 5:1 concentration
Double the strength of regular brands
Minimal fillers and binders
No pharmaceuticals or dyes
Comprehensive lab testing (e.g., heavy metals,etc.)
Made in a cGMP certified facility
Unbeatable value
Safely used in the USA since 1995
Check for an independent US lab test report.
The standard dosage for Abdo StasisClear™ is 6 tablets each time, taken 2 to 3 times daily with or before meals. One bottle lasts users 11 to 17 days. The dose may be doubled for a quicker and stronger response as needed. Consult your practitioner for precise dosage recommendations based on body weight and other factors.
Abdo StasisClear™ has a mild action and therefore it usually takes time before its effects become apparent.
Precaution
Avoid chilly, cold food.
Do not use it together with Ginseng.
Do not use it if you have cold.
Not recommended for use if there is excessive menstruation bleeding.
Consult your herbalist or physician before use if you are taking other medicines.
If any adverse symptom occurs, discontinue use.
Keep out of reach of children.
Side Effects
Shao Fu Zhu Yu Pian (Wan) has been safely used with few adverse effects.
Warning
1. Not for use during pregnancy.
Allergy Info
Abdo StasisClear™ is gluten free
Disclaimer:
Product reviews solely reflect the views and opinions expressed by the contributors and not those of ActiveHerb and are provided for informational purposes only. ActiveHerb does not verify or endorse any claims made in these reviews.
Please read the full product reviews disclaimer.
Abdo StasisClear™ (Shao Fu Zhu Yu Pian)
is rated out of
5
by
6
.
Rated

5

out of

5
by
Granolagirl
from
It works
Good product. You need to take it for awhile (for me - 6 months) before you see results. I went from serious cramping, clotting and heavy cycles to a normal cycle like I was 16 again. Unfortunately, I stopped taking it on the advice of an acupuncturist, because she said since I no longer had symptoms of stasis I no longer needed the herbs. BIG MISTAKE! Back to square one again. Hope it doesn't take another 6 months to feel good again.
Date published: 2014-07-16
Rated

5

out of

5
by
ENEM
from
Helps with Endometriosis
Here is my story: About 20 years ago, I was diagnosed with Endometriosis as a result of my having been on "the pill". Unfortunately, pharmaceutical companies are not honest enough to communicate to women that the pill causes Endometriosis in about 1 out of 3 women. So I was in severe pain during my periods as well as when having intercourse. I underwent a laparoscopy, was prescribed "yellow hormones" that suppressed my period for 6 months, but nothing helped as well as this product. I was given this chinese herb from an accupuncturist in San Francisco that barely spoke english. To this day, I don't know what is in this stuff nor do I know any potential side effects, except that it thins my blood when I take it. So 20 years ago, I was told to take 3x2 pills per day for several months. I don't remember how many months, but I think I was told to take it for 6, but ended up stopping after 4 or 5, not sure anymore, sorry. This solved the pain problem for many, many years until recently. I am now 43 and just ordered this stuff from ActiveHerb. It was somewhat difficult to find, but the ordering process and shipping was super simple & fast. I just took it for a month now, and the pain has severely lessened already. Though I reduced it to 2 per day, because when I was on 6 per day I noticed that when I cut myself the wound wouldn't close for like an hour and I didn't like that. I am not a doctor or anything like it. But I would like to suggest to anyone who reads this NEVER, and I mean NEVER to take the pill. But if it is too late and you already have a similar problem, please give this try, it has helped me and I am immensely grateful to having found this over the counter herb. Good luck! Nadine
Date published: 2014-11-03
Rated

5

out of

5
by
cst29
from
Excellent product!
I've been using this for a year, asking relatives to purchase from Amazon and I finally had to make my own Active Herb account because this product works miracles for me. I've been living with endometrial cysts since 2016 and my ultrasound results showed significant decrease in size this year. I'm so thankful for this product!
Date published: 2018-12-30
Rated

4

out of

5
by
Ldiva
from
Works well
I took this for over 2 months and it helped with pain but caused me to have 2 periods in a month. I dont take it evreyday i only take it when im on my period.
Date published: 2017-05-14
Rated

5

out of

5
by
Yann
from
Great product, ship fast!
Great product, ship fast!
Date published: 2014-03-11
Rated

3

out of

5
by
Snake
from
Feel better
I feel better after taking this. I have less sharp pains in my abdomen.
Date published: 2018-11-29
Please tell me the difference between Shao Fu Zhu Yu, Shao Fu Zhu Yu Pian, and Shao Fu Zhu Tang?
Thanks for your question. Only Shao Fu Zhu Yu Pian is the full name the others are only an incomplete name of the formula.
Date published: 2017-10-20
I'm sorry I'm a bit confused.The standard daily dosage is 3-2 times daily, 6 tablets per time. Is my understanding correct? Thank you so much
Hi, Thanks for the question. Yes, you are right. The dose is 6 tab each time, 2 to 3 times a day.
Date published: 2017-04-27
Helped pain of extreme hard spasms of intestines in 2 days age 64 for the Endometriosis suffering alas I also have some infection of something that makes my muscles mush and NO bear down muscle in order to have or push out gas/bum etc Any sugestions?