Sheng Mai Yin (Sheng Mai San) is a powerful tonic formula that addresses deficiency of Lung Qi (vital energy) and Yin (fluids). Heavy breathing after exercise, a weak pulse, sweating without exertion, and a dry or possibly red tongue are the typical signs. Profuse sweating in the hot weather and sports activities, for example, could lead to depletion of the Yin fluids in a short period of time. Conversely, spontaneous sweating or night sweating due to Qi deficiency may gradually deplete the fluids and further diminish to the Lung Qi, resulting in loss of strength and heavy breathing.
Due to the depletion of Yin fluids, a relative excess of Yang may result in heat signs. Short temper, pounding and restlessness may be seen in such cases.
Sheng Mai Pian is an elegantly balanced formula consisting of just 3 Chinese herbs. It replenishes both Qi and Yin energies, generates bodily fluids, and supports the physical strength.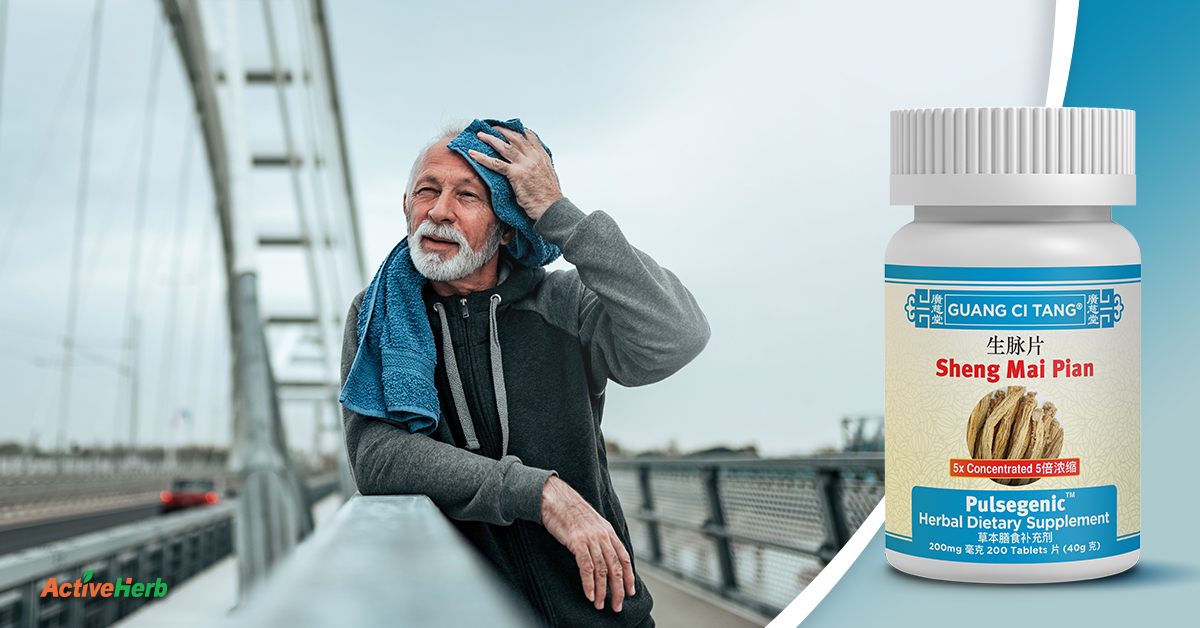 The chief herb is Dang Shen (Codonopsis) or Ren Shen (Ginseng) which both are famous and powerful Qi tonic herbs. Dang Shen is often used as a Ginseng substitute for its similar action, but is also milder and more affordable. Dang Shen tonifies the Qi of the Spleen and Lungs, restoring vital energy and also tonifies Blood. It also promotes the generation of fluids and stops sweating.
Mai Dong or Mai Men Dong (Ophiopogon) is a deputy herb in this formula which has several functions. Mai Dong nourishes Yin and moistens the Lungs while clearing heat from the Heart and reducing irritability. Pairing Mai Dong with Ren Shen gives Sheng Mai Yin a very strong ability to generate fluids.
Wu Wei Zi (Schisandra) is an astringent herb that is used to stop sweating by containing Lung Qi. When the Lung Qi is weak, it is often unable to control the pores, allowing spontaneous sweating at any time of day or night, with or without exertion. Wu Wei Zi also generated body fluids, in harmony with Ren Shen and Mai Dong.
What is the formula composition?
| | | |
| --- | --- | --- |
| Codonopsis root | Codonopsis pilosula | (Dang Shen) |
| Ophiopogon root tuber | Ophiopogon japonicus | (Mai Dong) |
| Schisandra fruit | Schisandra chinensis | (Wu Wei Zi) |
Other ingredients: .
We use as little fillers/binders as possible which together amounts to % of the tablet weight.
Guang Ci Tang
® Sheng Mai Pian (Pulsegenic™) 40 grams in 200 mg 200 tablets @ 5:1 strength.
At a true 5:1 concentration, this product represents the most potent form of Sheng Mai Pian (Wan) on the market. One tablet is equal to 1 gram of raw herb.
Please note that Guang Ci Tang® Sheng Mai Wan in the pill form, which has the same formulation as the tablet, is discontinued.
Sheng Mai Pian tablets are made with all natural herbs that are tested for authenticity, quality, and potency. A traditional water decoction is prepared with the herbs to reproduce the time-tested action of the formula, and this water decoction is concentrated with our proprietary technology to form a potent extract that is made into easily absorbed tablets, which are remarkably effective, easy to use, and safe. The tablets are produced by Guang Ci Tang
®
in our state of the art cGMP-certified facility and imported in accordance with U.S. FDA guidelines. When you choose Guang Ci Tang
®
products, you are taking advantage of a wonderful fusion of science and tradition that incorporates the highest standards in the field of Chinese medicine today.
Please note that our tablets may appear neutral in finishing and a little brittle. You may observe a tiny bit of fine powder at the bottom of your bottle and occasionally one or a couple of broken tablets after transportation. This is because unlike other manufacturers, our tablets are not coated as part of our effort to minimize the use of excipients and to make them as pure as possible. These tablets can also be easily dissolved in hot water to serve as tea.
Pure. Potent. Proven.
True 5:1 concentration
Double the strength of regular brands
Minimal fillers and binders
No pharmaceuticals or dyes
Comprehensive lab testing (e.g., heavy metals,etc.)
Made in a cGMP certified facility
Unbeatable value
Safely used in the USA since 1995
Check for an independent US lab test report.
The standard dosage for Pulsegenic™ is 5 tablets each time, taken 2 to 3 times daily with or before meals. One bottle lasts users 14 to 20 days. The dose may be doubled for a quicker and stronger response as needed. Consult your practitioner for precise dosage recommendations based on body weight and other factors.
Pulsegenic™ is a tonic and therefore it usually takes time before its effects become apparent.
Precaution
Consult your herbalist or physician before use if you are taking other medications or receiving other medical treatments.
Discontinue use if allergic reaction occurs.
Keep out of reach of children.
Use with caution in cases presenting with fever.
Side Effects
Sheng Mai Pian (Wan) has been safely used with few adverse effects when it is used as directed.
Warning
1. Not for use during pregnancy.
Allergy Info
Pulsegenic™ is gluten free
Disclaimer:
Product reviews solely reflect the views and opinions expressed by the contributors and not those of ActiveHerb and are provided for informational purposes only. ActiveHerb does not verify or endorse any claims made in these reviews.
Please read the full product reviews disclaimer.
Pulsegenic™ (Sheng Mai Pian)
is rated out of
5
by
6
.
Rated

3

out of

5
by
Marc
from
Undecided
I bought 6 bottles, intending on giving this a true test. I could not finish a week with it and sent it back. There were no side effects, but there was not a comfort level to continue. Maybe later.
Date published: 2015-11-15
Rated

5

out of

5
by
Beckyla
from
it works for me
I ordered Shang Mai Pian thinking it was Shang Mie Yen. Not knowing the difference if any between them, I've been very happy with this product and reordered it. I have atrial fibrillation, and the herbs seem to settle the erratic heartbeat when it gets rowdy.
Date published: 2015-12-17
Rated

5

out of

5
by
Anonymous
from
我觉得它是必不可少的神药
我今年71岁,20年前出现耳鸣,头晕的症状,找了当时中国最好的医院看了,结论是脑部供血不足,给了一些微型阿司匹林,扩张血管的药物,可是不但没有效果,反而造成更大的问题,甚至走路都困难。无法可想之下,只有看中医,结果一名老中医给我推荐了生脉饮,我服用以后,效果很好,耳鸣和头晕一扫而光。起先我还怀疑生脉饮是否有如此明显的作用。但是一经停药,症状又继续出现。我在美国定居,购买大陆的药物不是很方便,再加上运费等等,价格也不便宜。后来我在网上找到广慈堂的生脉片,效果是有过之而无不及,价格也算合理能够承担。非常感谢厂家为广大患者着想,研发出这么好的药物。我的电邮是yumingl@yahoo.com。欢迎大家和我分享。
Date published: 2016-12-10
Rated

5

out of

5
by
Weiwei
from
Great medicine, good quality!
Very fast shipping, during new year holiday, I received my order within 3 days! This medicine is working well for me and this is my third time to order it, good quality! Will come back to order more for sure!
Date published: 2019-01-05
Rated

4

out of

5
by
workaholic
from
regulate & slow down heartbeat
After 2 bottles following doctor's order, my pulse was down from 96 to 79. It also improves palpitations. The only drawback, for me personally, is weight gaining due to the ginseng ingredient.
Date published: 2019-03-07
how long do i have to take it before i see results?