LiverSoothe™ is appropriate for the TCM conditions in which liver Qi is suppressed. When the liver Qi is unable to course freely, heat signs develop and move upward.
Primary signs of liver suppression with heat and stasis include short temper, stomach discomfort, rib-side discomfort, fullness of the chest, and a bitter taste in the mouth. The tongue will be red, especially on the sides and there may be a yellow coating. The pulse will be rapid and wiry.
This is a modern Chinese formulation based on the classical formula Jin Ling Zi San. Shu Gan Wan is more focused on alleviating discomfort.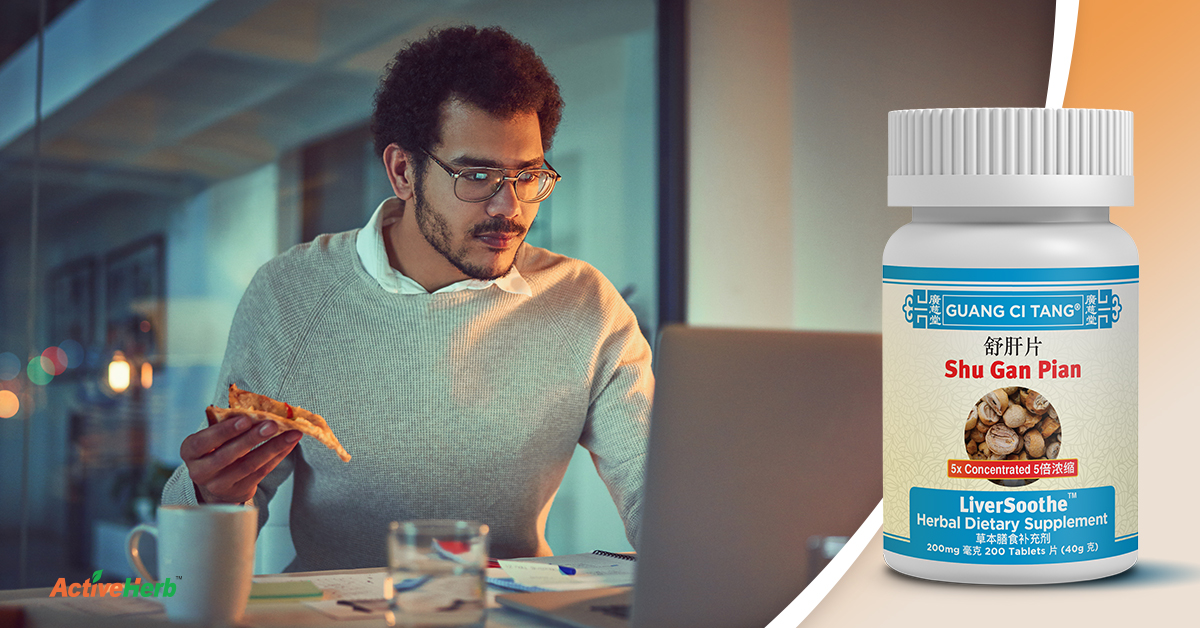 Shu Gan Pian (LiverSoothe™) is composed of twelve medicinal herbs which course the liver Qi, move blood, clear heat and harmonize the stomach.
Chuan Lian Zi (Sichuan Chinaberry fruit) is an important Qi regulating herb. Here, it is paired with Yan Hu Suo (Cordyalis) and Xiang Fu (Cyperus rhizome), both of which are also effective Qi moving herbs. This combination is especially effective for relieving rib-side abdominal discomfort resulting from Qi suppression. Xiang Fu has been studied in particular for the use of gastrointestinal discomforts due to Qi stagnation. Bai Shao (white Peony) is included to soften the liver and also relax muscles.
Mu Xiang (Aucklandia root), Hou Po (Magnolia cortex) and Sha Ren (Cardamon seed) are combined with Xiang Fu here to harmonize the liver and stomach and restore appetite. Dou Kou Ren (Amomum seed), in conjunction with Sha Ren and Hou Po dissolves dampness and strengthens the stomach. Chen Pi (Tangerine peel) and Fu Ling (Poria) further help to eliminate dampness, strengthen the middle and promote proper movement of Qi.
Zhi Qiao (Bitter Orange fruit) and Pian Jiang Huang (Curcuma wenyujin) move Qi and blood.
What is the formula composition?
| | | |
| --- | --- | --- |
| Melia fruit | Melia toosendan | (Chuan Lian Zi) |
| Chinese peony root without bark | Paeonia lactiflora | (Bai Shao) |
| Corydalis yanhusuo tuber | Corydalis yanhusuo | (Yan Hu Suo) |
| Curcuma wenyujin sliced rhizome | Curcuma wenyujin | (Pian Jiang Huang) |
| Bitter orange nearly mature fruit | Citrus aurantium | (Zhi Qiao) |
| Poria sclerotium | Poria cocos | (Fu Ling) |
| Costus root | Saussurea costus | (Mu Xiang) |
| Cyperus rhizome | Cyperus rotundus | (Xiang Fu) |
| Tangerine dried rind of mature fruit | Citrus reticulata | (Chen Pi) |
| Chinese amomum fruit | Amomum villosum | (Sha Ren) |
| Round cardamom fruit | Amomum compactum | (Dou Kou Ren) |
| Magnolia bark | Magnolia officinalis | (Hou Po) |
Other ingredients: .
We use as little fillers/binders as possible which together amounts to % of the tablet weight.
Guang Ci Tang
® Shu Gan Pian (LiverSoothe™) 40 grams in 200 mg 200 tablets @ 5:1 strength.
At a true 5:1 concentration, this product represents the most potent form of Shu Gan Pian (Wan) on the market. One tablet is equal to 1 gram of raw herb.
Please note that Guang Ci Tang® Shu Gan Wan in the pill form, which has the same formulation as the tablet, is discontinued.
Shu Gan Pian tablets are made with all natural herbs that are tested for authenticity, quality, and potency. A traditional water decoction is prepared with the herbs to reproduce the time-tested action of the formula, and this water decoction is concentrated with our proprietary technology to form a potent extract that is made into easily absorbed tablets, which are remarkably effective, easy to use, and safe. The tablets are produced by Guang Ci Tang
®
in our state of the art cGMP-certified facility and imported in accordance with U.S. FDA guidelines. When you choose Guang Ci Tang
®
products, you are taking advantage of a wonderful fusion of science and tradition that incorporates the highest standards in the field of Chinese medicine today.
Please note that our tablets may appear neutral in finishing and a little brittle. You may observe a tiny bit of fine powder at the bottom of your bottle and occasionally one or a couple of broken tablets after transportation. This is because unlike other manufacturers, our tablets are not coated as part of our effort to minimize the use of excipients and to make them as pure as possible. These tablets can also be easily dissolved in hot water to serve as tea.
Pure. Potent. Proven.
True 5:1 concentration
Double the strength of regular brands
Minimal fillers and binders
No pharmaceuticals or dyes
Comprehensive lab testing (e.g., heavy metals,etc.)
Made in a cGMP certified facility
Unbeatable value
Safely used in the USA since 1995
Check for an independent US lab test report.
The standard dosage for LiverSoothe™ is 4 tablets each time, taken 2 to 3 times daily with or before meals. One bottle lasts users 16 to 25 days.
The dose may be doubled for a quicker and stronger response as needed. Consult your practitioner for precise dosage recommendations based on body weight and other factors.
LiverSoothe™ is a tonic and therefore it usually takes time before its effects become apparent.
Precaution
Consult your herbalist or physician before use if you are taking other medications or receiving other medical treatments.
Discontinue use if allergic reaction occurs.
Keep out of reach of children.
Avoid cold, oily and difficult to digest food for best results.
Not suitable for use if symptoms include dry mouth, thirst or dry stool.
Side Effects
Shu Gan Pian (Wan) has been safely used with few adverse effects.
Warning
1. Not for use during pregnancy.
Allergy Info
LiverSoothe™ is gluten free
Disclaimer:
Product reviews solely reflect the views and opinions expressed by the contributors and not those of ActiveHerb and are provided for informational purposes only. ActiveHerb does not verify or endorse any claims made in these reviews.
Please read the full product reviews disclaimer.
LiverSoothe™ (Shu Gan Pian)
is rated out of
5
by
10
.
Rated

5

out of

5
by
CindiS
from
Can't do without it.
I've been using this remedy for a number of years now. In the years since I had gastric bypass surgery I have developed some stomach problems, the one that bothers me most is in the evening if I have supper too late, my stomach just shuts down and won't digest. This is very painful. I used to just take this for nausea, then found that it actually makes my stomach empty out. It usually takes just 15 minutes. Really amazing! I keep some in the house at all times because I never know when I'll need it. Oh, it's helpful for nausea, too. I highly recommend it.
Date published: 2016-02-26
Rated

5

out of

5
by
David2015
from
Great product
I bought it a few weeks ago and started to take it. I can feel my body is relaxed more and more. I really like this product.
Date published: 2015-08-24
Rated

4

out of

5
by
Wisconsinite
from
Noticeable improvement
Good product, noticed an improvement with bowel regularity and consistency. Also noticed more energy and well-being.
Date published: 2015-06-24
Rated

5

out of

5
by
Laksmi
from
Very fast!
The product comes to Latvia very fast. Thank u!
Date published: 2016-04-25
Rated

5

out of

5
by
Linda
from
Works Well!
Shu Gan Wan has helped my stomach issues and has kept me in balance.
Date published: 2014-08-21
Rated

4

out of

5
by
AC28607
from
Blood Pressure Help
Added this my blood pressure regimen. Took a good two weeks to feel the effects but once my body adapted it worked great. Really helps quell inflammation and balance out my digestive system.
Date published: 2017-11-15
Rated

5

out of

5
by
Ingrid
from
Great!
I bought this a month ago and am so happy that I did.
Date published: 2016-02-16
Rated

4

out of

5
by
AliseLV
from
It did what I expected
It has solved the problem so far (while I continue using it). I hope the effect is going to last also afterwards.
Date published: 2015-09-30
Can I take LiverSoothe with EaseTonic?
Hi, It should not be a problem. Thanks.
Date published: 2016-10-06
Can I combine this formula with Jian Pi Wan?