Many women, especially young women, experience menstrual cramps. Menstrual cramps in the lower abdomen or back usually start one or two days before menstrual flow, and last through the first two days of the period.
From traditional Chinese medicine (TCM)'s point of view, menstrual cramps are related to cold accumulation in the lower abdomen. This can be caused by eating too much ice cream during menstruation, or getting wet and cold in rainy weather. This results in Qi stagnation and Blood stasis in the uterus and subsequently menstrual cramps.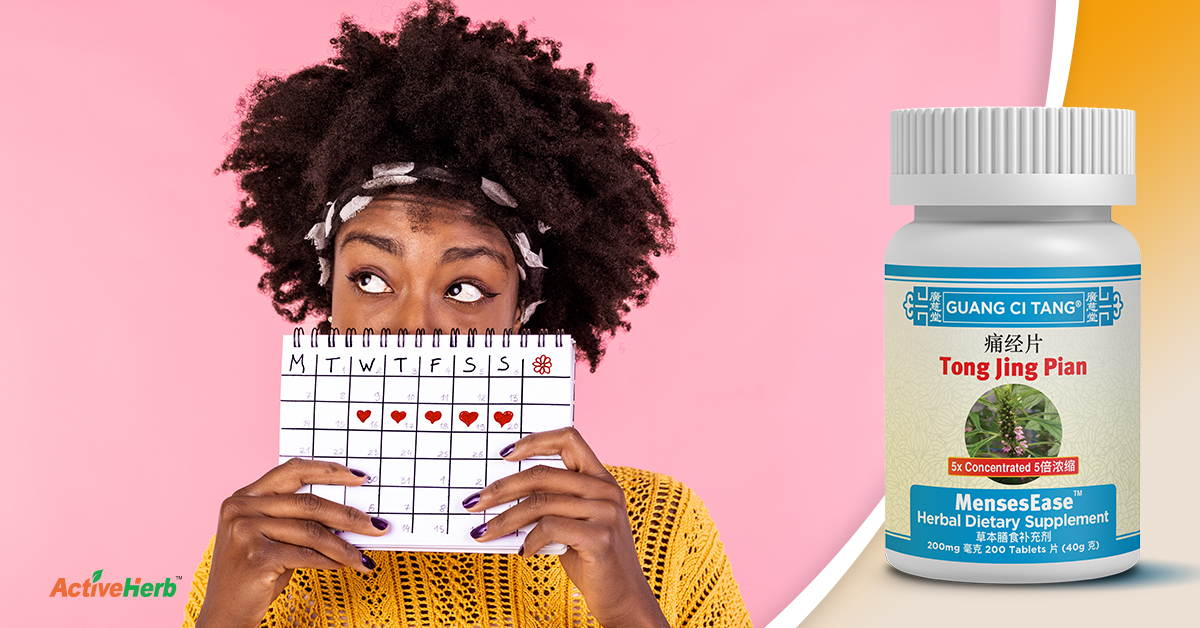 Therefore, a main approach of TCM to menstrual cramp is to warm the uterus to expel the cold, while invigorating blood and Qi flow to remove blood stasis.
MensesEase™ is a Chinese herbal medicine formulated in the principle of TCM to maintain a smooth menstruation. MensesEase is indicated in China Pharmacopoeia for invigorating blood, expelling cold, alleviating cramps, and supporting a normal menstrual cycle.† MensesEase mainly consists of the following Chinese herbs.
Dang Gui (Angelica sinensis root) is the best known and most commonly used Chinese herb in gynecological applications. The medicinal herb both nourishes and activates the blood and regulates menses.
Bai Shao (Poeny root) nourishes the blood, harmonizes the liver and relaxes muscles.†
Chuan Xiong (Szechuan Lovage rhizome) is a unique Chinese herb that both invigorates the Blood and moves Qi. It expels wind and relieves discomfort.†
Shu Di Huang (prepared Rehmannia root) nourishes the Yin energy and tonifies the blood.
Yan Hu Suo (Corydalis rhizome) invigorates the Blood, moves Qi, and alleviates discomfort.
Yi Mu Cao (Chinese Motherwort herb) is an important Chinese herb for gynecological applications. It invigorates Blood, supports a normal menstrual cycle.†
Chong Wei Zi (Chinese Motherwort fruit) invigorates Blood and supports a normal menstrual cycle as Chinese Motherwort herb.
Xiang Fu (Cyperi rhizome) soothes liver and moves Qi, supports a normal menstrual cycle and relieves disomfort.†
Hong Hua (Safflower) is known to promote blood circulation and resolve blood stasis.†
Rou Gui (Cinnamon bark) is well known for warming Kidneys and expelling cold in TCM. It also invigorates blood.†
Pao Jiang (Roasted Ginger) is commonly used to warm the stomach and disperse cold. It also warms menses and stops bleeding in TCM.†
Dan Shen (Salvia root) is a famous Chinese herb for promoting blood circulation and removing blood stasis.
What is the formula composition?
| | | |
| --- | --- | --- |
| Chinese motherwort aboveground parts | Leonurus japonicus | (Yi Mu Cao) |
| Rehmannia cured root tuber | Rehmannia glutinosa | (Shu Di Huang) |
| Dong quai root | Angelica sinensis | (Dang Gui) |
| Cyperus rhizome | Cyperus rotundus | (Xiang Fu) |
| Chinese hawthorn fruit | Crataegus pillnatijida | (Shan Zha) |
| Chinese salvia root & rhizome | Salvia miltiorrhiza | (Dan Shen) |
| Chinese peony root without bark | Paeonia lactiflora | (Bai Shao) |
| Corydalis yanhusuo tuber | Corydalis yanhusuo | (Yan Hu Suo) |
| Sichuan lovage rhizome | Ligusticum chuanxiong | (Chuan Xiong) |
| Chinese motherwort fruit | Leonurus japonicus | (Chong Wei Zi) |
| Safflower flower | Carthamus tinctorius | (Hong Hua) |
| Costus root | Saussurea costus | (Mu Xiang) |
| Tangerine dried rind of green fruit | Citrus reticulata | (Qing Pi) |
| Ginger prepared rhizome | Zingiber officinale | (Pao Jiang) |
| Cassia bark | Cinnamomum cassia | (Rou Gui) |
Other ingredients: .
We use as little fillers/binders as possible which together amounts to % of the tablet weight.
Guang Ci Tang
® Tong Jing Pian (MensesEase™) 40 grams in 200 mg 200 tablets @ 5:1 strength.
At a true 5:1 concentration, this product represents the most potent form of Tong Jing Pian (Wan) on the market. One tablet is equal to 1 gram of raw herb.
Please note that Guang Ci Tang® Tong Jing Wan in the pill form, which has the same formulation as the tablet, is discontinued.
Tong Jing Pian tablets are made with all natural herbs that are tested for authenticity, quality, and potency. A traditional water decoction is prepared with the herbs to reproduce the time-tested action of the formula, and this water decoction is concentrated with our proprietary technology to form a potent extract that is made into easily absorbed tablets, which are remarkably effective, easy to use, and safe. The tablets are produced by Guang Ci Tang
®
in our state of the art cGMP-certified facility and imported in accordance with U.S. FDA guidelines. When you choose Guang Ci Tang
®
products, you are taking advantage of a wonderful fusion of science and tradition that incorporates the highest standards in the field of Chinese medicine today.
Please note that our tablets may appear neutral in finishing and a little brittle. You may observe a tiny bit of fine powder at the bottom of your bottle and occasionally one or a couple of broken tablets after transportation. This is because unlike other manufacturers, our tablets are not coated as part of our effort to minimize the use of excipients and to make them as pure as possible. These tablets can also be easily dissolved in hot water to serve as tea.
Pure. Potent. Proven.
True 5:1 concentration
Double the strength of regular brands
Minimal fillers and binders
No pharmaceuticals or dyes
Comprehensive lab testing (e.g., heavy metals,etc.)
Made in a cGMP certified facility
Unbeatable value
Safely used in the USA since 1995
Check for an independent US lab test report.
The standard dosage for MensesEase™ is 7 tablets each time, taken 2 to 3 times daily with or before meals. One bottle lasts users 10 to 14 days.
The dose may be doubled for a quicker and stronger response as needed. Consult your practitioner for precise dosage recommendations based on body weight and other factors.
MensesEase™ may be taken starting 5 days before the onset of menses and lasting till 2 days into menses. Repeat the regimen for the second and third menstrual cycle. Alternatively, it may be taken continuously during the whole menstrual cycle.
Precaution
For best result, avoid cold food like ice cream during menses.
For best result, avoid taking cold medicines at the same time.
For best result, avoid taking ginseng at the same time.
Not suitable if menses is heavy at the onset.
Consult your herbalist or physician before use if you are taking other medicines.
Keep out of reach of children.
Side Effects
MensesEase has been safely used with few adverse effects when taken as directed.
Warning
1. Not for use during pregnancy.
Allergy Info
MensesEase™ is gluten free
Disclaimer:
Product reviews solely reflect the views and opinions expressed by the contributors and not those of ActiveHerb and are provided for informational purposes only. ActiveHerb does not verify or endorse any claims made in these reviews.
Please read the full product reviews disclaimer.
MensesEase™ (Tong Jing Pian)
is rated out of
5
by
10
.
Rated

5

out of

5
by
Cody
from
These herbs help
Exactly what I wanted.
Date published: 2014-11-05
Rated

5

out of

5
by
kio1986
from
finally found something that works
for years I've suffered with painful periods to the point i couldn't go to work/events and am confined to a bed for 2 days. I ordered this since I'm always trying to find THE supplement to help me with the pain that comes every month. especially the first 2 sometimes 3 days of the period. where im irritable, bloated, loose bowels and painful cramps. well so far so good day #2 and started taking them a few days before too and am shocked how little ibuprofen I've needed this time. Also less bleeding and clots. this is the miracle i've been looking for. i will continue to use this forever and also will try the warm menses as well.
Date published: 2019-03-25
Rated

5

out of

5
by
MMMM
from
It really works!
For the past 4 months my period was lasting three weeks. I tried using maca root for the past year and it worked at first to regulate my period but then it stopped working. I've used other herbs from here for my dogs which seemed to work, so I decided to try this. Within the first week it started to work and regulate my period. I did start off on a lower dosage I take 5 tablets twice a day. I definitely recommend this product to anyone having an issue with their period/menestral cycle.
Date published: 2016-10-01
Rated

5

out of

5
by
C3PO
from
LIFE CHANGING
I was diagnosed with endometriosis as a teenager and given hormonal birth control by western doctors. When the BC failed to ease my symptoms, I took BC for months at a time without letting myself have a period because having a period was absolutely debilitating. As I got older, I realized that BC was essentially poison and that messing with your hormones is incredibly dangerous /has left me with a bunch of other health problems. Then I found Tong Jing and it was nothing short of life changing. For the first time in my life, I can have a period and not be doubled over in pain with cramps. Where midol takes about an hour to relieve some of my symptoms, Tong Jing works in about 12 minutes to basically eradicate my pain. I am very grateful to have found it and will even be giving it out as Christmas gifts this year!!
Date published: 2018-11-19
Rated

5

out of

5
by
Kaien
from
It works well for me
It works very well for me. Now I felt less pain and better blood flow. Thx.
Date published: 2016-05-12
Rated

5

out of

5
by
Lola
from
Helps with PMS and cramps
I start MensesEase a day or so before I expect my period. I have noticed it soothes cramps very well -- I don't need ibuprofen anymore and I was popping many during my cycle before, which caused many other issues like constipation. I use this intentionally, three times a day recommended dose and I keep the bottle with me, in case I need an additional smaller dose but so far, I haven't needed it.
Date published: 2019-02-10
Rated

5

out of

5
by
PAIN FREE
from
Surprised me!
I bought this thinking it would be like every other herbal or homeopathic remedy promising relief from menstrual cramps,but didn't deliver the promise, so I set the Tylenol and ibuprofen next to my bed. ..but it worked! Cramps did not appear, and after 3 years of searching for a real product that really worked I finally found it! !
Date published: 2016-01-15
Rated

4

out of

5
by
Slawek
from
Works very well
I recommended this product for my girlfriend. She was sceptical at first, but gave it a try before monthly pain started to give her discomfort. It worked well especially with a slight increase in standard dosage. She stopped using a strong pharmaceutical for her menses pain. I recommend it for sure.
Date published: 2016-07-29