Wen Dan Tang is specially formulated for disharmony between gallbladder and stomach and the resulting phlegm heat. In traditional Chinese medicine (TCM), the harmony between the gallbladder and stomach ensures the Qi energy flows smoothly and their proper function. If disharmony between the gallbladder and stomach occurs, Qi is blocked in flow and may be transformed into "phlegm" (Please notice the concept of "phlegm" in TCM is not identical to but broader than phlegm used in our common term) and generates heat.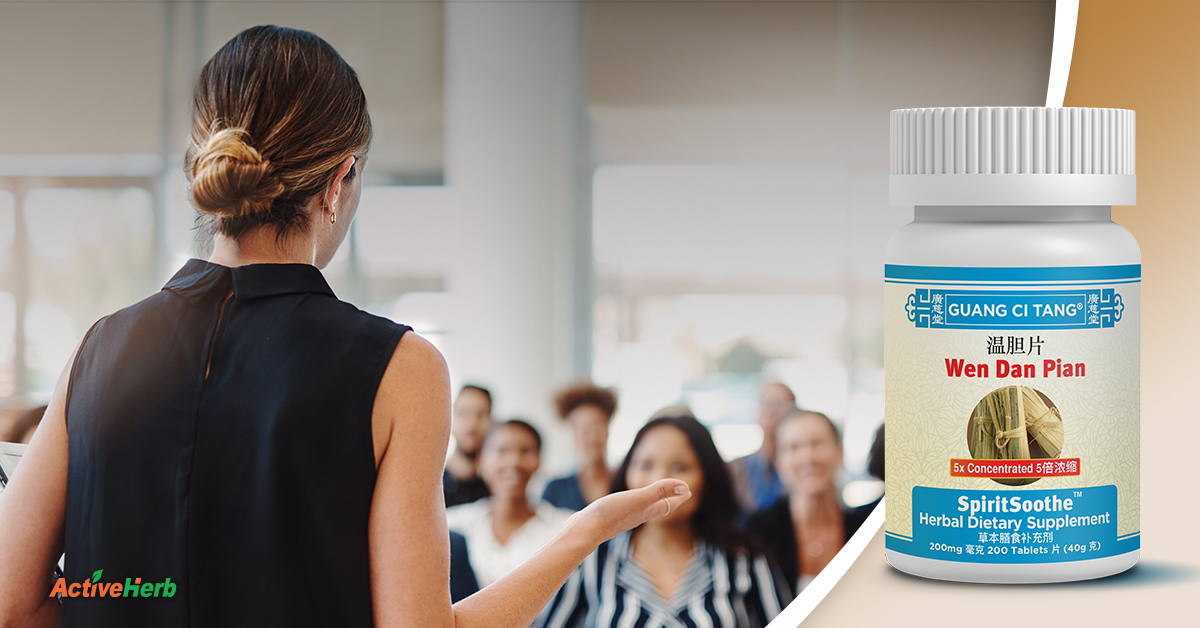 As Gallbladder is the source of courage in TCM, the phlegm heat may cause fright and fear, restlessness, dreaminess and uneasiness. The flow of the rebellious Qi in stomach may cause stomach upset.
Wen Dan Pian clears phlegm and heat, regulates Qi, harmonizes the gallbladder and the stomach, and calms the Spirit.† The Chinese medicine is most suitable for use when the phlegm-heat manifests as both in the form of mental stress mentioned above and digestive discomforts.
What is the formula composition?
| | | |
| --- | --- | --- |
| Pinellia cured rhizome | Pinellia ternata | (Zhi Ban Xia) |
| Henon bamboo inner stem | Phyllostachys nigra | (Zhu Ru) |
| Bitter orange young fruit | Citrus aurantium | (Zhi Shi) |
| Tangerine dried rind of mature fruit | Citrus reticulata | (Chen Pi) |
| Poria sclerotium | Poria cocos | (Fu Ling) |
| Chinese licorice root & rhizome | Glycyrrhiza uralensis | (Gan Cao) |
| Ginger fresh rhizome | Zingiber officinale | (Sheng Jiang) |
| Jujube fruit | Ziziphus jujuba | (Da Zao) |
Other ingredients: .
We use as little fillers/binders as possible which together amounts to % of the tablet weight.
Guang Ci Tang
® Wen Dan Pian (SpiritSoothe™) 40 grams in 200 mg 200 tablets @ 5:1 strength.
At a true 5:1 concentration, this product represents the most potent form of Wen Dan Pian (Wan/Tang) on the market. One tablet is equal to 1 gram of raw herb.
Wen Dan Pian tablets are made with all natural herbs that are tested for authenticity, quality, and potency. A traditional water decoction is prepared with the herbs to reproduce the time-tested action of the formula, and this water decoction is concentrated with our proprietary technology to form a potent extract that is made into easily absorbed tablets, which are remarkably effective, easy to use, and safe. The tablets are produced by Guang Ci Tang
®
in our state of the art cGMP-certified facility and imported in accordance with U.S. FDA guidelines. When you choose Guang Ci Tang
®
products, you are taking advantage of a wonderful fusion of science and tradition that incorporates the highest standards in the field of Chinese medicine today.
Please note that our tablets may appear neutral in finishing and a little brittle. You may observe a tiny bit of fine powder at the bottom of your bottle and occasionally one or a couple of broken tablets after transportation. This is because unlike other manufacturers, our tablets are not coated as part of our effort to minimize the use of excipients and to make them as pure as possible. These tablets can also be easily dissolved in hot water to serve as tea.
Pure. Potent. Proven.
True 5:1 concentration
Double the strength of regular brands
Minimal fillers and binders
No pharmaceuticals or dyes
Comprehensive lab testing (e.g., heavy metals,etc.)
Made in a cGMP certified facility
Unbeatable value
Safely used in the USA since 1995
Check for an independent US lab test report.
The standard dosage for SpiritSoothe™ is 5 tablets each time, taken 2 to 3 times daily with or before meals. One bottle lasts users 14 to 21 days.
The dose may be doubled for a quicker and stronger response as needed. Consult your practitioner for precise dosage recommendations based on body weight and other factors.
SpiritSoothe™ has a mild action and therefore it usually takes time before its effects become apparent.
Precaution
Consult your herbalist or physician before use if you are taking other medicines.
Keep out of reach of children.
Side Effects
Wen Dan Pian has been safely used with few adverse effects when it is used as directed.
Allergy Info
SpiritSoothe™ is gluten free
Disclaimer:
Product reviews solely reflect the views and opinions expressed by the contributors and not those of ActiveHerb and are provided for informational purposes only. ActiveHerb does not verify or endorse any claims made in these reviews.
Please read the full product reviews disclaimer.
SpiritSoothe™ (Wen Dan Pian)
is rated out of
5
by
8
.
Rated

5

out of

5
by
GALfl
from
Works Great!
This product really helped my gall bladder issues! Didn't take long to work and really made me feel better! It also helped me to feel calmer at bedtime for better sleep; still woke up a few times but slept much deeper.
Date published: 2015-06-29
Rated

5

out of

5
by
Greyhare
from
Hormone help
I bought this a month ago and use it for hormone fluctuations. My mood can really tank at times and so it is very useful for leveling it off and keeping me feeling calm.
Date published: 2015-08-12
Rated

4

out of

5
by
Parapsychologist
from
Calmng and soothing
My acupuncturist recommended this formula to alleviate excess heat and burning and I've found it helpful with this condition.
Date published: 2014-03-16
Rated

5

out of

5
by
WillmH
from
They all Work
All of the Active Herb formulas work for me, and I've taken in my estimation about 10 different ones. The only question is what do I really need at any given moment, and that's not as easy as one would think, but I believe that I've figured it out. Bottom line- these herbal formulas work every time when taking the right ones for whatever issue is present.
Date published: 2018-09-18
Rated

5

out of

5
by
Anonymous
from
Excellent!
I found ActiveHerb website after buying Chinese herbs from my accupuncturist. Very satisfied with the quality, ease of purchasing and speedy delivery. I have placed 3 separate orders already and will continue to do so as these herbs are God sent and they will make a difference in your life.
Date published: 2018-12-27
Rated

5

out of

5
by
6fingers
from
Works well!
I took it for about 6 weeks before I noticed results. However, after taking for 6 weeks wondering, my pain seemed to disappear all at once. Great product, just takes awhile at the recommended dosage.
Date published: 2018-09-25
Rated

5

out of

5
by
Foxygirl
from
I love ActiveHerb
Spirit Soothe, Neuro Soithe, Sleepeace, Liver Soothe, Constipass. I praise Chinese herbs and send gratitude to ActiveHerb for delivering product quickly with FREE SHIPPING. Awesome
Date published: 2019-02-20
Rated

5

out of

5
by
Weiwei
from
Very good!
Fast shipping, good medicine!
Date published: 2019-01-02