Supports A Normal Menstrual Cycle and Enhances Beauty
†
It's almost that time of the month you dread. A dozen times a year, or more, your quality of life plummets, all because of your cycle. But it's not just your emotional and physical state that can suffer. So, too, may your beauty, intimacy and self esteem.
According to TCM theory, there's a direct correlation between menses and overall women's wellness. Healthy, radiant skin is only possible with a regular cycle. Indeed, many women with irregular menses look pale and gaunt and have rough skin, as well as other characteristics. Also, irregular cycles may cause dryness in the vagina as well as low sex drive.
To achieve a regular menses, some women rely on estrogen supplementation. An herbal alternative is our traditional Chinese medicine (TCM) formula, WarmMenses™. WarmMenses may support your normal cycle and normal uterine function. By doing so, it encourages internal conditions for more youthful and healthy-looking skin.
Famous Traditional Formula Warms Menses and Nourishes Blood
Wen Jing Tang, the Chinese name of this herbal formula, dates back several centuries. It's the main prescription in TCM for the cold type menstrual condition, symptoms of which include: cold sensation and discomfort in the lower abdomen; early or late menses; mild flow in the uterus; spotting between cycles.
Women with this TCM syndrome typically appear at least slightly malnourished with pale face; have low energy and are physically weak. Secondary characteristics include dry mouth and lips, and dry palms that easily crack. Other areas of the skin may also be dry and rough.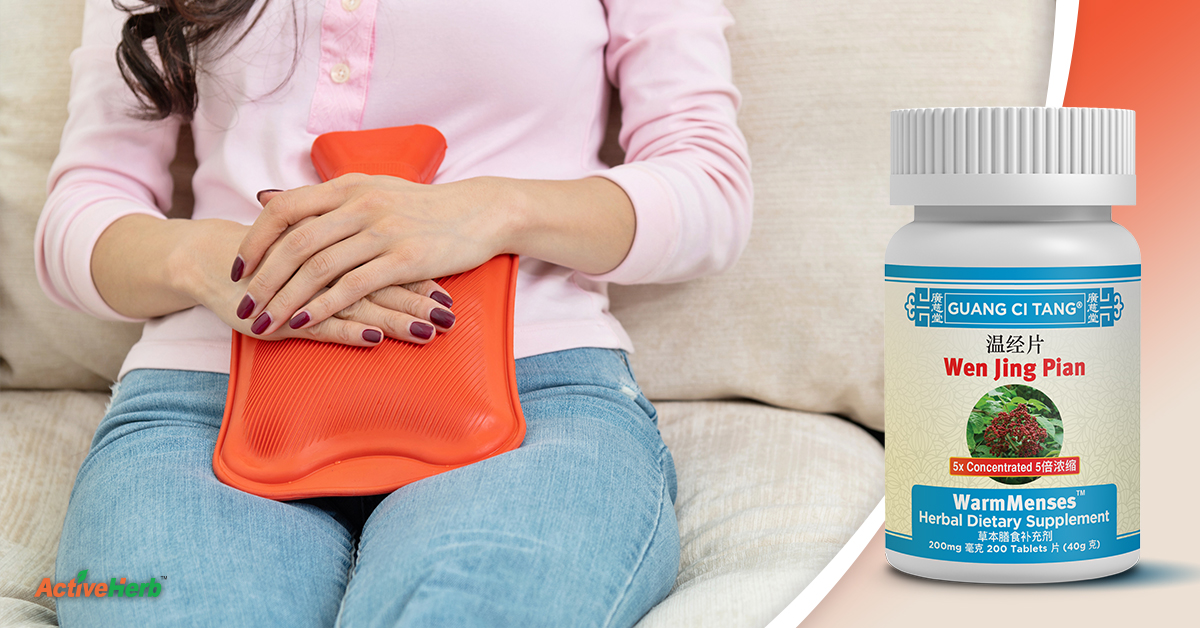 How does WarmMenses Work?
WarmMenses warms the meridians, expels cold, nourishes blood and removes Blood stasis.
Wu Zhu Yu (Evodia Fruit) and Rou Gui (Cinnamon bark) both warm the channels and dispel cold to promote blood circulation. Dang Gui (Chinese Angelica Root), Chuan Xiong (Sichuan Lovage Root) and Bai Shao (Peony Root) invigorate the Blood, eliminate Blood stasis and nourish the Blood to support a normal menstrual cycle.
E Jiao (Donkey Hide Gelatin), Mu Dan Pi (Moutan Cortex) and Mai Men Dong (Ophiopogon Tuber) nourish the Blood and Yin, and remove Blood stasis.
Gan Cao (Licorice root) tonifies the Middle Burner and strengthens the Spleen to enrich the source of Qi and Blood. Dang Shen (Codonopsis Root) also tonifies the Middle Burner and strengthens Spleen, as well as augments Qi.
Gan Jiang (Dried Ginger Root) warms the Stomach to promote the production of Blood and Qi.
WarmMenses also includes other herbs to enhance the original formula function. Zhi Fu Zi (Processed Aconite Root), is a warming herb, as it disperses cold and dampness. Huang Qi (Astragalus Root) and Bai Zhu (Atractylodes Rhizome) are Qi-strengthening herbs.
Yu Jin (Curcuma Root), Xiang Fu (Cyperus Rhizome) and Hou Po (Magnolia Bark) all promote Qi movement.
What is the formula composition?
| | | |
| --- | --- | --- |
| Evodia unripe fruit | Tetradium ruticarpum | (Wu Zhu Yi) |
| Ophiopogon root tuber | Ophiopogon japonicus | (Mai Dong) |
| Astragalus root | Astragalus membranaceus | (Huang Qi) |
| Dong quai root | Angelica sinensis | (Dang Gui) |
| Sichuan lovage rhizome | Ligusticum chuanxiong | (Chuan Xiong) |
| Chinese peony root without bark | Paeonia lactiflora | (Bai Shao) |
| Donkey-hide gelatin | | (E Jiao) |
| Cassia bark | Cinnamomum cassia | (Rou Gui) |
| Tree peony root bark | Paeonia suffruticosa | (Mu Dan Pi) |
| Ginger dried rhizome | Zingiber officinale | (Gan Jiang) |
| Codonopsis root | Codonopsis pilosula | (Dang Shen) |
| Chinese licorice honey-roasted root & rhizome | Glycyrrhiza uralensis | (Zhi Gan Cao) |
| Bai-zhu atractylodes rhizome | Atractylodes macrocephala | (Bai Zhu) |
| Turmeric root tuber | Curcuma longa | (Yu Jin) |
| Magnolia bark | Magnolia officinalis | (Hou Po) |
| Cyperus rhizome | Cyperus rotundus | (Xiang Fu) |
| Sichuan aconite cured lateral root | Aconitum carmichaelii | (Zhi Fu Zi) |
Other ingredients: .
We use as little fillers/binders as possible which together amounts to % of the tablet weight.
Guang Ci Tang
® Wen Jing Pian (WarmMenses™) 40 grams in 200 mg 200 tablets @ 5:1 strength.
At a true 5:1 concentration, this product represents the most potent form of Wen Jing Pian (Wan/Tang) on the market. One tablet is equal to 1 gram of raw herb.
Please note that Guang Ci Tang® Wen Jing Wan in the pill form, which has the same formulation as the tablet, is discontinued.
Wen Jing Pian tablets are made with all natural herbs that are tested for authenticity, quality, and potency. A traditional water decoction is prepared with the herbs to reproduce the time-tested action of the formula, and this water decoction is concentrated with our proprietary technology to form a potent extract that is made into easily absorbed tablets, which are remarkably effective, easy to use, and safe. The tablets are produced by Guang Ci Tang
®
in our state of the art cGMP-certified facility and imported in accordance with U.S. FDA guidelines. When you choose Guang Ci Tang
®
products, you are taking advantage of a wonderful fusion of science and tradition that incorporates the highest standards in the field of Chinese medicine today.
Please note that our tablets may appear neutral in finishing and a little brittle. You may observe a tiny bit of fine powder at the bottom of your bottle and occasionally one or a couple of broken tablets after transportation. This is because unlike other manufacturers, our tablets are not coated as part of our effort to minimize the use of excipients and to make them as pure as possible. These tablets can also be easily dissolved in hot water to serve as tea.
Pure. Potent. Proven.
True 5:1 concentration
Double the strength of regular brands
Minimal fillers and binders
No pharmaceuticals or dyes
Comprehensive lab testing (e.g., heavy metals,etc.)
Made in a cGMP certified facility
Unbeatable value
Safely used in the USA since 1995
Check for an independent US lab test report.
The standard dosage for WarmMenses™ is 7 tablets each time, taken 2 to 3 times daily with or before meals. One bottle lasts users 10 to 14 days. The dose may be doubled for a quicker and stronger response as needed. Consult your practitioner for precise dosage recommendations based on body weight and other factors.
WarmMenses™ has a mild action and therefore it usually takes time before its effects become apparent.
Precaution
The formula is warming and not suitable for use if you have a hot sensation of your whole body.
Not suitable to use it if the menses is heavy.
Avoid cold food.
Not recommended to use it when you have a cold.
Consult your herbalist or physician before use if you are taking other medicines.
Keep out of reach of children.
Side Effects
Wen Jing Pian (Wan) has been safely used with few adverse effects.
Warning
1. Not for use during pregnancy.
Allergy Info
WarmMenses™ is gluten free
Disclaimer:
Product reviews solely reflect the views and opinions expressed by the contributors and not those of ActiveHerb and are provided for informational purposes only. ActiveHerb does not verify or endorse any claims made in these reviews.
Please read the full product reviews disclaimer.
WarmMenses™ (Wen Jing Pian)
is rated out of
5
by
4
.
Rated

5

out of

5
by
Lola
from
Life saver!
After 2 decades of hormonal issues and more recently GI issues, I gave up on western medicine and put my faith in TCM. I've done my homework and figured out the root of my hormonal issues symptoms of which include horrible PMS, sometimes PMDD and ovulation cysts that have hospitalized me from rupturing. WarmMenses along with other herbs at various stages of my cycle, are proving to be a key component in balancing my hormones after all these years. Whole foods diet and exercise are the other two pieces. I am not exaggerating to say Active Herbs medicines are saving my life, my marriage and improving the quality of my life exponentially. I am so grateful!
Date published: 2018-10-30
Rated

5

out of

5
by
miany
from
No Pain, less blood, clean start/finish of period!
I've been taking Nuan Gong Yun Zi Pian and Gui Zhi Fu LIng Pian to help with my hormonal issues specifically menstruation, fibroids, and circulations. They at least made overall symptoms better but occasionally I started having the PMS pain and a few days of dripping beginning/ending of each period resulting in longer bleeding days. Also my fibroids did not change in sizes over three years, which are positive, but I was hoping some shrinking. I just finished my first bottle of Wen Jing Pian, and I am happy to report that my latest period had a clean start and ending without almost no PMS - I was actually off-guarded when it started because I always expected a pain as a sign!. Blood flow this time was much less, I just ordered another bottle and see how it goes with next cycle. So far, so good. I am thrilled.
Date published: 2019-02-20
Rated

5

out of

5
by
Anonymous
from
Great product!!
I bought this product to help deal with painful periods and it is a life-saver!!
Date published: 2018-11-13
Rated

5

out of

5
by
LaLa
from
Really Works
I love this product!!
Date published: 2019-03-03
Is it safe to combine this product with GyneAssure or Feminclean? 
Thanks for the question. It should be fine to take them together.
Date published: 2018-08-24