Help Maintain Healthy Water Metabolism
†
How wonderful it would be to relieve yourself unobstructed, like a powerful fire hose. Has it been years since you've had a powerful urination? Does it seem like your body feels like a full reservoir, retaining water and making you feel heavy?
When your body doesn't metabolize water efficiently, small blood vessels leak excess fluid into tissues, causing uncomfortable water retention. The inability of the body to metabolize and eliminate water is, at best, a nuisance that leads to weight gain, and, at worst, has more severe consequence. Thankfully, there is an all-natural remedy to support normal water metabolism and maintain water balance in the body.
Ancient TCM Formula Addresses Root Cause of Water Retention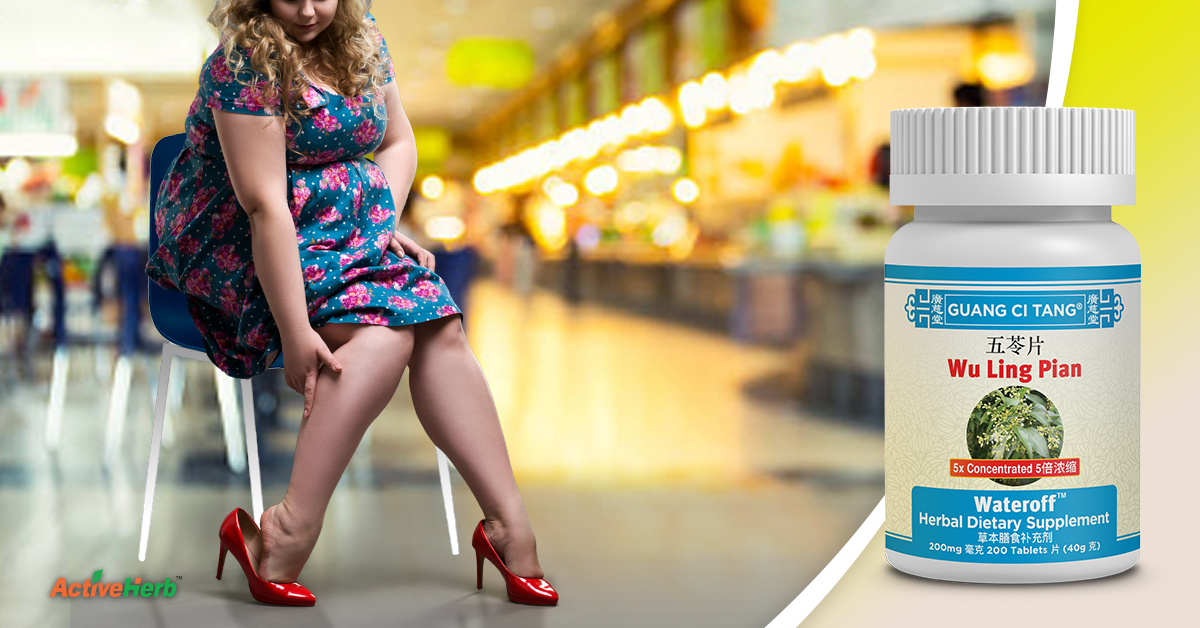 Wateroff™ is based on the classic formula, invented a thousand years ago, Wu Ling San. This all-natural botanical-sourced blend of five traditional Chinese medicine (TCM) herbs addresses the root cause of water accumulation and dampness in the interior, which is manifested as decreased urine output, water retention, and loose stools.
In some people, water retention causes unhealthy weight gain, and in more severe cases, it may manifest as sunken skin upon contact on the limbs and face. Even in this situation of water retention, Wateroff™ may be used to excrete extra water from the body, thus supporting a healthy body weight.
The water retention pattern Wateroff™ addresses is due to the failure of the bladder to disperse water accumulation. This water accumulation is a result of weakness in Spleen function and Yang (the warming property of the body), according to TCM theory. When this water retention pattern is present, physical characteristics may manifest as pale in the face, white tongue coating, and a floating and rapid pulse.
How Does Wateroff™ Work?
This dietary TCM herbal supplement supports urine flow and removes dampness. Additionally, it warms the Yang. In the formula, Fu Ling (Poria), Zhu Ling (Polyporus), Ze Xie (Water Plantain Rhizome), and Bai Zhu (Atractylodes Rhizome) all have a function in moving water and draining dampness. Together, they act synergistically in removing excess fluids from the body.
Fu Ling (Poria) and Bai Zhu (Atractylodes Rhizome) both also work to strengthen the Spleen.
And finally, Gui Zhi (Cinnamon Twig) warms Yang and thus provides the needed warming effect to dissipate water in the body. It also promotes sweating.
What is the formula composition?
| | | |
| --- | --- | --- |
| Asian water plantain rhizome | Alisma orientale | (Ze Xie) |
| Zhu ling sclerotium | Polyporus umbellatus | (Zhu Ling) |
| Poria sclerotium | Poria cocos | (Fu Ling) |
| Bai-zhu atractylodes rhizome | Atractylodes macrocephala | (Bai Zhu) |
| Cassia twig | Cinnamomum cassia | (Gui Zhi) |
Other ingredients: .
We use as little fillers/binders as possible which together amounts to % of the tablet weight.
Guang Ci Tang
® Wu Ling Pian (Wateroff™) 40 grams in 200 mg 200 tablets @ 5:1 strength.
At a true 5:1 concentration, this product represents the most potent form of Wu Ling Pian (Wan/San) on the market. One tablet is equal to 1 gram of raw herb.
Please note that Guang Ci Tang® Wu Ling Wan in the pill form, which has the same formulation as the tablet, is discontinued.
Wu Ling Pian (Wan) tablets are made with all natural herbs that are tested for authenticity, quality, and potency. A traditional water decoction is prepared with the herbs to reproduce the time-tested action of the formula, and this water decoction is concentrated with our proprietary technology to form a potent extract that is made into easily absorbed tablets, which are remarkably effective, easy to use, and safe. The tablets are produced by Guang Ci Tang
®
in our state of the art cGMP-certified facility and imported in accordance with U.S. FDA guidelines. When you choose Guang Ci Tang
®
products, you are taking advantage of a wonderful fusion of science and tradition that incorporates the highest standards in the field of Chinese medicine today.
Please note that our tablets may appear neutral in finishing and a little brittle. You may observe a tiny bit of fine powder at the bottom of your bottle and occasionally one or a couple of broken tablets after transportation. This is because unlike other manufacturers, our tablets are not coated as part of our effort to minimize the use of excipients and to make them as pure as possible. These tablets can also be easily dissolved in hot water to serve as tea.
Pure. Potent. Proven.
True 5:1 concentration
Double the strength of regular brands
Minimal fillers and binders
No pharmaceuticals or dyes
Comprehensive lab testing (e.g., heavy metals,etc.)
Made in a cGMP certified facility
Unbeatable value
Safely used in the USA since 1995
Check for an independent US lab
test report
.
The standard dosage for Wateroff™ is 6 tablets each time, taken 2 to 3 times daily with or before meals. One bottle lasts 11 to 17 days. The dose may be doubled for a quicker and stronger response as needed. Consult your practitioner for precise dosage recommendations based on body weight and other factors.
Wateroff™ has a mild action and therefore it usually takes time before its effects become apparent.
Precaution
Use with caution during pregnancy.
Do not use for a prolonged period as it drains excess fluids from the body.
Keep out of reach of children.
Side Effects
Wu Ling Pian (Wan) has been safely used with few adverse effects when used as directed.
Allergy Info
Wateroff™ is gluten free
Disclaimer:
Product reviews solely reflect the views and opinions expressed by the contributors and not those of ActiveHerb and are provided for informational purposes only. ActiveHerb does not verify or endorse any claims made in these reviews.
Please read the full product reviews disclaimer.
Wateroff™ (Wu Ling Pian)
is rated out of
5
by
6
.
Rated

5

out of

5
by
Paintingcap
from
It's a great product.
I enjoyed the product
Date published: 2015-11-10
Rated

5

out of

5
by
Marco
from
Finished morning puffy faces!
I used to take amlodipine for help with water eliminating! When I saw the presentation of water off pills I order it! Yes the elimination of water is more natural all day instead of part of other day! For the first time the swollen face I had every morning is gone . My mind is free and alert again!
Date published: 2017-05-09
Rated

5

out of

5
by
Chinadoll69
from
Works Great
I bought these 2 months ago because I had fluid in my ears which sometimes gave me headaches and this REALLY works. I would feel something in my ears so I would take less than the recommended dosage and it works like it says. I am buying more.
Date published: 2018-09-25
Rated

5

out of

5
by
Mimi 2231
from
Great product
It works well when my ankles get a little swollen. Doctors were unable to offer anything when it was really bad, but this with exercise and acupuncture did the trick.
Date published: 2018-12-21
Rated

5

out of

5
by
Mircea
from
Very good!
Bought it for my father and he is very happy! His feet are not swollen anymore and he says he's got more energy.
Date published: 2018-10-14
Rated

1

out of

5
by
Sally
from
No works at all!
I do not feel good with these pills. No works at all. Waste of money. I do not recommend !
Date published: 2017-05-03