Ban Xia Xie Xin Tang was created by the great ancient Chinese doctor Zhang Zhongjing about 1800 years ago to treat the "Pi syndrome" (痞症) marked by the focal distention or fullness in the stomach, along with various stomach discomforts. Such an array of signs is a display of coincident chills and heat. In the term of traditional Chinese medicine (TCM), the Pi syndrome is considered as a disharmony between the stomach and the spleen that results in the disturbance in the flow of the Qi energy both upwards and downwards in the stomach.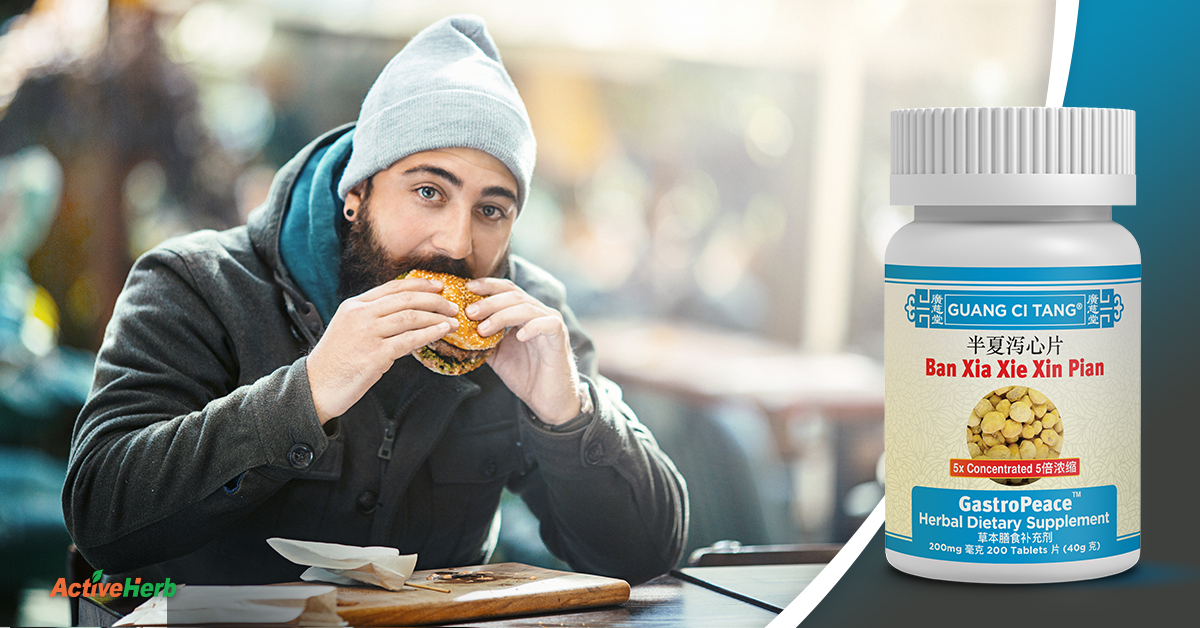 Ban Xia Xie Xin Tang is formulated to harmonize the stomach and descend the rebellious Qi. In the formula, Zhi Ban Xia (Pinellia Rhizome) is the chief herb that harmonizes the stomach, moves down the Qi, and stops vomiting. Huang Qin (Scutellaria root) and Huang Lian (Coptis rhizome) disperse the heat with their cold and bitter property. Dang Shen (Codonopsis root) and Gan Cao (Licorice root) nourish the spleen and promote the central Qi.
What is the formula composition?
| | | |
| --- | --- | --- |
| Pinellia cured rhizome | Pinellia ternata | (Zhi Ban Xia) |
| Chinese skullcap root | Scutellaria baicalensis | (Huang Qin) |
| Codonopsis root | Codonopsis pilosula | (Dang Shen) |
| Chinese licorice root & rhizome | Glycyrrhiza uralensis | (Gan Cao) |
| Ginger dried rhizome | Zingiber officinale | (Gan Jiang) |
| Coptis rhizome | Coptis chinensis | (Huang Lian) |
| Jujube fruit | Ziziphus jujuba | (Da Zao) |
Other ingredients: .
We use as little fillers/binders as possible which together amounts to % of the tablet weight.
Guang Ci Tang
® Ban Xia Xie Xin Pian (Gastropeace™) 40 grams in 200 mg 200 tablets @ 5:1 strength.
At a true 5:1 concentration, this product represents the most potent form of Ban Xia Xie Xin Pian (Tang/Wan) on the market. One tablet is equal to 1 gram of raw herb.
Please note that Guang Ci Tang® Ban Xia Xie Xin Wan in the pill form, which has the same formulation as the tablet, is discontinued.
Ban Xia Xie Xin Pian tablets are made with all natural herbs that are tested for authenticity, quality, and potency. A traditional water decoction is prepared with the herbs to reproduce the time-tested action of the formula, and this water decoction is concentrated with our proprietary technology to form a potent extract that is made into easily absorbed tablets, which are remarkably effective, easy to use, and safe. The tablets are produced by Guang Ci Tang
®
in our state of the art cGMP-certified facility and imported in accordance with U.S. FDA guidelines. When you choose Guang Ci Tang
®
products, you are taking advantage of a wonderful fusion of science and tradition that incorporates the highest standards in the field of Chinese medicine today.
Please note that our tablets may appear neutral in finishing and a little brittle. You may observe a tiny bit of fine powder at the bottom of your bottle and occasionally one or a couple of broken tablets after transportation. This is because unlike other manufacturers, our tablets are not coated as part of our effort to minimize the use of excipients and to make them as pure as possible. These tablets can also be easily dissolved in hot water to serve as tea.
Pure. Potent. Proven.
True 5:1 concentration
Double the strength of regular brands
Minimal fillers and binders
No pharmaceuticals or dyes
Comprehensive lab testing (e.g., heavy metals,etc.)
Made in a cGMP certified facility
Unbeatable value
Safely used in the USA since 1995
Check for an independent US lab test report.
Take 5 tablets each time, 2 to 3 times daily. One bottle lasts users about 2 to 3 weeks.
The dose may be doubled for a quicker and stronger response as needed. Consult your practitioner for precise dosage recommendations based on body weight and other factors.
Precaution
Consult your herbalist or physician before use if you are taking other medicines.
Keep out of reach of children.
Side Effects
Ban Xia Xie Xin Pian (Wan) has been safely used with few adverse effects when used as directed.
Allergy Info
Gastropeace™ is gluten free
Disclaimer:
Product reviews solely reflect the views and opinions expressed by the contributors and not those of ActiveHerb and are provided for informational purposes only. ActiveHerb does not verify or endorse any claims made in these reviews.
Please read the full product reviews disclaimer.
GastroPeace™ (Ban Xia Xie Xin Pian)
is rated out of
5
by
13
.
Rated

5

out of

5
by
graham
from
My acupuncturist recommended.
My acupuncturist had me on 5 pills twice a day for ongoing stomach aches in conjunction with treatment I was getting from my g.p. I like having them in the house for those occasions my stomach decides to act up. They work well for me to calm my stomach down.
Date published: 2014-10-14
Rated

5

out of

5
by
Texana4
from
Wonderful Relief
I am just about to finish the second bottle of GastroPeace and I am amazed at the stomach relief I am feeling. Starting out I was pretty careful with what I ate but as time went on I was less careful but still do watch what I eat. However, today I was shopping in another town and ate in a sandwich place. Before GastroPeace I would have been miserable. I highly recommend this product and will continue to use it. At this stage I know my stomach needs to improve further. I have been taking five tablets 3 times per day but on occasion have added another dose. I consider the price very reasonable.
Date published: 2017-05-10
Rated

5

out of

5
by
Lucy
from
Great blend
I've been using this product for three years, for acid reflux and I am very happy with the results
Date published: 2014-03-12
Rated

5

out of

5
by
Tina
from
Freedom from pain!
I discovered GastroPeace about 1 year ago. It's the best product I've ever used for my ulcer pain and discomfort. I won't be without it.
Date published: 2014-10-31
Rated

5

out of

5
by
gastro
from
great very gude
i am so happy help for bacteria .
Date published: 2014-03-26
Rated

5

out of

5
by
Risa
from
Great product for someone who always feel heavy in stomach
I've taken this for many years, and if I don't take this for a while, I feel so heavy in my stomach. According to my acupuncturist, I have too much liquid in my stomach and doesn't flow. It prevents my body from digesting foods properly. This supplement helps my body to digest better. This is the only medicine which works for my stomach.
Date published: 2015-06-07
Rated

4

out of

5
by
apple
from
Good product!
I have chronic stomach pain due to gastric. The symptom has been greatly reduced since I have taken this medicine three months ago. This product really helped.
Date published: 2014-12-04
Rated

5

out of

5
by
ShelleyP
from
Helpful for various stomach upsets.
I like this product. I've had stomach pains and upsets intermittently for a long time, and the GastroPeace is quite helpful. I don't use it regularly every day and mainly take it as needed. If I'm having issues with stomach pain, I may take about 6 pills, 2 or 3 times a day. I am definitely having less issues with my stomach than I was a few months ago.
Date published: 2018-12-08