Supports Joint Mobility and Function
†
Imagine waking up every day with a youthful spring in your step. It's as if the discomfort in your knees, pelvis or other joints in your body are from a lifetime ago. External conditions such as weather, especially cold and dampness no longer bother you like before.
If you're looking for an all-natural, non-invasive solution to alleviating discomfort, KneeKinder may help.
If cold, damp weather hinders your range of motion, or if you experience other symptoms of meridian obstruction, such as numbness, KneeKinder was formulated for these concerns.
Signature Formula Drives Out Wind-Cold-Dampness
†
In traditional Chinese medicine (TCM) theory, Bi syndrome refers to the obstruction of Qi and Blood in the meridians. This obstruction is due to the invasion of external forces, particularly: wind, cold and dampness (you can think of them in terms of weather conditions).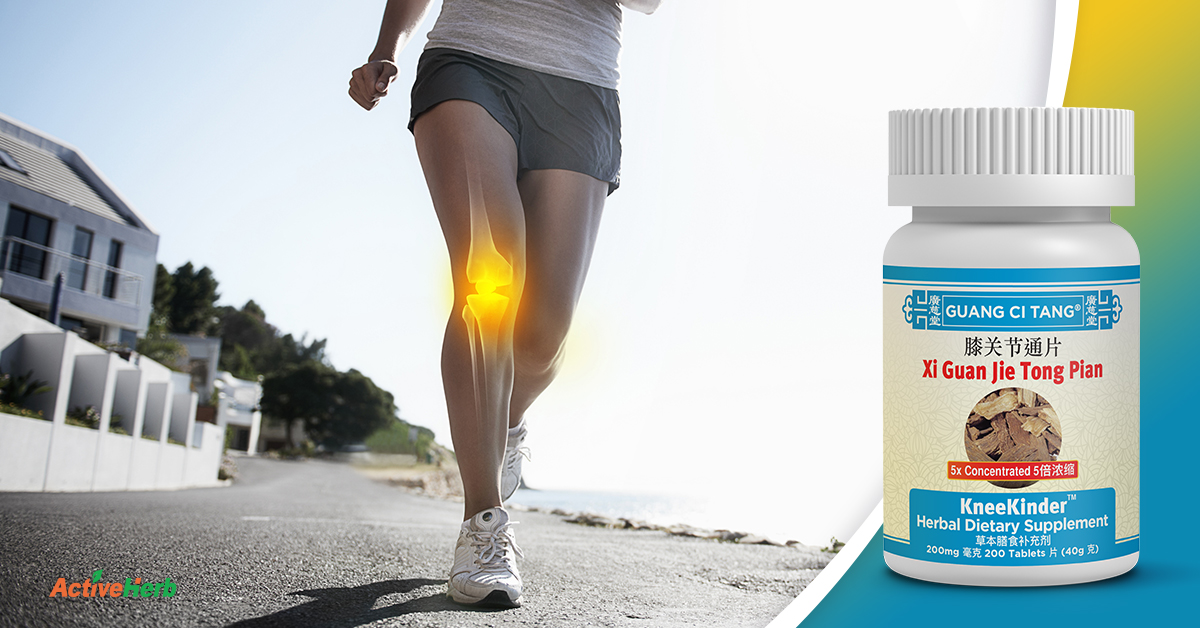 If you have soreness or stiffness of the knees and loin, or limited movement or numbness of the legs and feet, or spasm of the hands and feet, these are indications of Bi syndrome.
KneeKinder is based on the classic formula, San Bi Tang (literally: "Three Obstruction Decoction"), which is highly regarded for resolving meridian obstruction caused by wind, cold and dampness.
But that's not all KneeKinder does. This is a truly unique formula due to its addition of 9 tonic herbs. The result is not only a formula that clears external factors, but one that also strengthens your system internally. The tonic herbs support Qi and Blood, resulting in more energy and increased circulation delivered to your joints.
Lots of other formulas also resolve Bi syndrome. However, after an invasion of cold, wind and dampness, your Qi and Blood become deficient. That's why we have included tonic herbs.
In terms of diagnosis patterns, pulse may present as weak, wiry, and thin; tongue appears pale with a white coat.
How does KneeKinder work?
The 9 tonifying herbs in KneeKinder are the same as those in TotalTonic. They are Huang Qi (Astragalus Root), Fu Ling (Poria), Gan Cao (Licorice Root), and Dang Shen (Codonopsis Root); all of which augment Qi. The following four herbs invigorate or nourish the blood: Dang Gui (Chinese Angelica Root); Bai Shao (White Peony Root); Sheng Di Huang (Rehmannia Root); Chuan Xiong (Szechuan Lovage Rhizome), which also moves Qi and expels wind; and Rou Gui (Cinnamon Bark), which also disperses cold.
The 8 herbs that clear wind-cold-damp obstruction are: Du Zhong (Eucommia Bark) and Xu Duan (Teasel Root), both of which strengthens sinews and bones; Chuan Niu Xi (Cyathula Root), which dispels stasis, unblocks the Channels, and invigorates the joints. Qin Jiao (Largeleaf Gentian Root), which disperses wind-damp and alleviates obstruction; Du Huo (Pubescent Angelica Root), which dispels wind and removes dampness, unblocks the Channels and alleviates discomfort; Gan Jiang (Dried Ginger), which is warm and disperses cold, unblocks the Channels, and dries dampness. Fang Feng (Siler Root), which dispels wind and removes dampness; Pian Jiang Huang (Turmeric Rhizome), which breaks up blood stasis and moves Qi.
What is the formula composition?
| | | |
| --- | --- | --- |
| Sichuan teasel root | Dipsacus asper | (Xu Duan) |
| Eucommia stem bark | Eucommia ulmoides | (Du Zhong) |
| Siler root | Saposhnikovia divaricata | (Fang Feng) |
| Cassia bark | Cinnamomum cassia | (Rou Gui Xin) |
| Codonopsis root | Codonopsis pilosula | (Dang Shen) |
| Poria sclerotium | Poria cocos | (Fu Ling) |
| Dong quai root | Angelica sinensis | (Dang Gui) |
| Chinese peony root without bark | Paeonia lactiflora | (Bai Shao) |
| Astragalus root | Astragalus membranaceus | (Huang Qi) |
| Cyathula root | Cyathula officinalis | (Chuan Niu Xi) |
| Chinese licorice root & rhizome | Glycyrrhiza uralensis | (Gan Cao) |
| Large leaf gentian root | Gentiana macrophylla | (Qin Jiao) |
| Rehmannia root tuber | Rehmannia glutinosa | (Di Huang) |
| Sichuan lovage rhizome | Ligusticum chuanxiong | (Chuan Xiong) |
| Pubescent angelica root | Angelica pubescens | (Du Huo) |
| Ginger dried rhizome | Zingiber officinale | (Gan Jiang) |
| Curcuma wenyujin sliced rhizome | Curcuma wenyujin | (Pian Jiang Huang) |
Other ingredients: .
We use as little fillers/binders as possible which together amounts to % of the tablet weight.
Guang Ci Tang
® Xi Guan Jie Tong Pian (KneeKinder™) 40 grams in 200 mg 200 tablets @ 5:1 strength.
At a true 5:1 concentration, this product represents the most potent form of Xi Guan Jie Tong Pian (Wan) on the market. One tablet is equal to 1 gram of raw herb.
Please note that Guang Ci Tang® Xi Guan Jie Tong Wan in the pill form, which has the same formulation as the tablet, is discontinued.
KneeKinder™ is a Guang Ci Tang signature formula.
Xi Guan Jie Tong Pian tablets are made with all natural herbs that are tested for authenticity, quality, and potency. A traditional water decoction is prepared with the herbs to reproduce the time-tested action of the formula, and this water decoction is concentrated with our proprietary technology to form a potent extract that is made into easily absorbed tablets, which are remarkably effective, easy to use, and safe. The tablets are produced by Guang Ci Tang
®
in our state of the art cGMP-certified facility and imported in accordance with U.S. FDA guidelines. When you choose Guang Ci Tang
®
products, you are taking advantage of a wonderful fusion of science and tradition that incorporates the highest standards in the field of Chinese medicine today.
Please note that our tablets may appear neutral in finishing and a little brittle. You may observe a tiny bit of fine powder at the bottom of your bottle and occasionally one or a couple of broken tablets after transportation. This is because unlike other manufacturers, our tablets are not coated as part of our effort to minimize the use of excipients and to make them as pure as possible. These tablets can also be easily dissolved in hot water to serve as tea.
Pure. Potent. Proven.
True 5:1 concentration
Double the strength of regular brands
Minimal fillers and binders
No pharmaceuticals or dyes
Comprehensive lab testing (e.g., heavy metals,etc.)
Made in a cGMP certified facility
Unbeatable value
Safely used in the USA since 1995
Check for an independent US lab test report.
The standard dosage for KneeKinder™ is 7 tablets each time, taken 2 to 3 times daily with or before meals. One bottle lasts users 10 to 14 days. The dose may be doubled for a quicker and stronger response as needed. Consult your practitioner for precise dosage recommendations based on body weight and other factors.
KneeKinder™ has a mild action and therefore it usually takes time before its effects become apparent.
Precaution
Consult your herbalist or physician before use if you are taking other medicines.
Keep out of reach of children.
Side Effects
Xi Guan Jie Tong Pian (Wan) has been safely used with few adverse effects when used as directed.
Allergy Info
KneeKinder™ is gluten free
Disclaimer:
Product reviews solely reflect the views and opinions expressed by the contributors and not those of ActiveHerb and are provided for informational purposes only. ActiveHerb does not verify or endorse any claims made in these reviews.
Please read the full product reviews disclaimer.
KneeKinder™ (Xi Guan Jie Xiao Tong Pian)
is rated out of
5
by
8
.
Rated

5

out of

5
by
Kenny S
from
Knee Kinder
18 months ago I was having difficulty with my left knee - very difficult to get up and walk. I first went to an orthopedic doctor - not a surgeon - and all he did was recommend exercises and return several weeks later. I did not return, but rather I chose to see an acupuncturist. In the course of treatment he recommended some Chinese herbs. My knee got better. As I ended treatment I investigated for Chinese herbs to address knee concerns. I found Knee Kinder at ActiveHerb. I have used them - not in full strength - but as a maintenance. I have not had any recurring issues with my knee. I am very happy to have found ActiveHerb as a supplier for my supplements. Ken S. in New Mexico
Date published: 2016-02-02
Rated

5

out of

5
by
Darlene
from
Lessened knee pain
I have been taking KneeKinder for about a year now. I dance Tahitian and Zumba 6 days a week. At 59 years old that's a lot of stress on my knees. Doing the quick turns would make my knees have momentary sharp pains and dull aches for most of the time. Since I have been taking KneeKinder I rarely experience any pain in my knees. I will continue to take the KneeKinder twice daily so I can fullfill my love of dancing.
Date published: 2014-10-03
Rated

5

out of

5
by
Truth whisperer
from
My joints feel normal again.
I'm very pleased with the pain relief I get from taking this product. It works better than Motrin but it does take a couple of weeks before you may notice a difference.
Date published: 2014-11-16
Rated

4

out of

5
by
Lumpsum
from
Good and precise .
I have seen some improvement with my knees and I have just started using this vitamin. ( two weeks ) .
Date published: 2015-10-04
Rated

5

out of

5
by
jokat
from
My knee pain vanished
after this product was introduced to me by my acupuncturist. I then discovered by accident that she was jacking up the price 75% and was thrilled to find it on-line. I'm can play tennis and run with no pain whatsoever.
Date published: 2018-01-06
Rated

4

out of

5
by
lynx
from
good product line
easy to swallow, I actually like the taste, and I hope that it does indeed help heal my knee meniscus tear, but as of yet it is too soon to tell.
Date published: 2019-02-22
Rated

5

out of

5
by
Claire
from
Good result!
As an acupuncturist, I will recommend this product to the patients who suffer from knee pain, ankle pain or foot pain. It shows good results!
Date published: 2018-09-25
Rated

5

out of

5
by
Patty A
from
Easy to remember!
My patient is doing so much better walking since I ordered this for her. She is much more mobile and less pain
Date published: 2018-12-17