From the perspective of traditional Chinese medicine (TCM), Xue Fu Zhu Yu Pian promotes circulation of blood and Liver Qi to support a feeling of physical well-being. It is particularly well suited for blood stasis which affects the upper body (above the diaphragm). Blood stasis is a TCM concept used to describe the sluggish nature of blood circulation, similar to still water in a pond, either due to buildup in the walls of vessels or a slower speed of circulation. Blood stasis is often observed in conditions related to poor blood circulation. Chronic blood stasis and Qi stagnation tend to lead to heat and eventually fire, which may result in additional signs such as heart pounding, short temper, poor sleep, or what is known as "5 center heat," a sensation of heat in the palms, soles of the feet and chest.
The tongue and pulse will reflect the underlying blood and Qi stasis. The tongue may be dark red or dusky and have dark spots, particularly on the sides. The lips may even be purplish. The pulse will be tight and wiry or choppy.
Xue Fu Zhu Yu Pian effectively regulates the movement of Liver Qi and powerfully dispels blood stasis. Xue Fu Zhu Yu Pian is composed of 11 Chinese herbs. It is essentially a combination of Si Ni San (Frigid Extremities Powder) and Tao Hong Si Wu Tang (Four-Substance with Safflower and Peach Pit Decoction).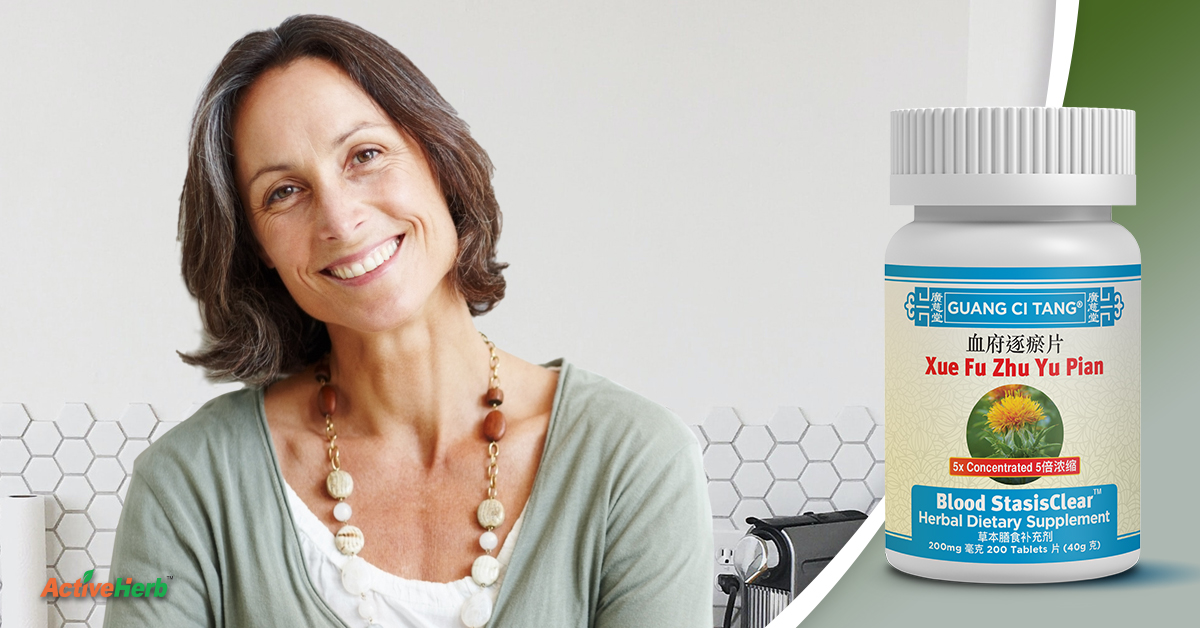 The chief herbs of this formula are substances which profoundly invigorate blood: Tao Ren (Peach seed), Hong Hua (Safflower) and Chuan Xiong (Sichuan Lovage root). These herbs support circulation and relieve discomfort, particularly in the upper body. Deputy herbs Dang Gui (Angelica Sinensis) and Chi Shao (Red Peony root) also invigorate blood and alleviate discomfort, but their action is strongest in the lower body. Similarly, Niu Xi (Achyranthes) encourages the downward movement of blood. Niu Xi is a potent blood-mover and supports normal menstrual cycles. In such cases, Niu Xi is often combined with Dang Gui and Tao Ren, as it is here.
Sheng Di Huang (Rehmanniae root) cools the blood and clears heat and works with Dang Gui to protect the body's Yin and nourish the blood. Chai Hu (Bupleurum) is a flag-ship Chinese herb for regulating Liver Qi. Here, it is used in combination with Jie Geng (Platycodon root) and Zhi Qiao (Bitter Orange) to relieve constraint in the chest and promote the free movement of Qi, which of course promotes the free movement of blood. The use of Chai Hu (which has an up-bearing nature) with Nui Xi (which has a down-bearing nature) helps this formula to restore proper balance and movement of Qi and blood throughout the body.
Gan Cao (Licorice root) harmonizes the actions of the other 10 herbs.
What is the formula composition?
| | | |
| --- | --- | --- |
| Peach seed | Prunus persica | (Tao Ren) |
| Safflower flower | Carthamus tinctorius | (Hong Hua) |
| Dong quai root | Angelica sinensis | (Dang Gui) |
| Rehmannia root tuber | Rehmannia glutinosa | (Di Huang) |
| Achyranthes root | Achyranthes bidentata | (Niu Xi) |
| Chinese peony root with bark | Paeonia lactiflora | (Chi Shao) |
| Bitter orange nearly mature fruit | Citrus aurantium | (Zhi Qiao) |
| Sichuan lovage rhizome | Ligusticum chuanxiong | (Chuan Xiong) |
| Platycodon root | Platycodon grandiflora | (Jie Geng) |
| Bupleurum root | Bupleurum chinense | (Chai Hu) |
| Chinese licorice root & rhizome | Glycyrrhiza uralensis | (Gan Cao) |
Other ingredients: .
We use as little fillers/binders as possible which together amounts to % of the tablet weight.
Guang Ci Tang
® Xue Fu Zhu Yu Pian (Blood Stasisclear™) 40 grams in 200 mg 200 tablets @ 5:1 strength.
At a true 5:1 concentration, this product represents the most potent form of Xue Fu Zhu Yu Pian (Tang/Wan) on the market. One tablet is equal to 1 gram of raw herb.
Please note that Guang Ci Tang® Xue Fu Zhu Yu Wan in the pill form, which has the same formulation as the tablet, is discontinued.
Xue Fu Zhu Yu Pian tablets are made with all natural herbs that are tested for authenticity, quality, and potency. A traditional water decoction is prepared with the herbs to reproduce the time-tested action of the formula, and this water decoction is concentrated with our proprietary technology to form a potent extract that is made into easily absorbed tablets, which are remarkably effective, easy to use, and safe. The tablets are produced by Guang Ci Tang
®
in our state of the art cGMP-certified facility and imported in accordance with U.S. FDA guidelines. When you choose Guang Ci Tang
®
products, you are taking advantage of a wonderful fusion of science and tradition that incorporates the highest standards in the field of Chinese medicine today.
Please note that our tablets may appear neutral in finishing and a little brittle. You may observe a tiny bit of fine powder at the bottom of your bottle and occasionally one or a couple of broken tablets after transportation. This is because unlike other manufacturers, our tablets are not coated as part of our effort to minimize the use of excipients and to make them as pure as possible. These tablets can also be easily dissolved in hot water to serve as tea.
Pure. Potent. Proven.
True 5:1 concentration
Double the strength of regular brands
Minimal fillers and binders
No pharmaceuticals or dyes
Comprehensive lab testing (e.g., heavy metals,etc.)
Made in a cGMP certified facility
Unbeatable value
Safely used in the USA since 1995
Check for an independent US lab test report.
The standard dosage for Blood Stasisclear™ is 6 tablets each time, taken 2 to 3 times daily with or before meals. One bottle lasts users 11 to 17 days. The dose may be doubled for a quicker and stronger response as needed. Consult your practitioner for precise dosage recommendations based on body weight and other factors.
Blood Stasisclear™ has a mild action and therefore it usually takes time before its effects become apparent.
Precaution
Not for use with excessive menstrual flow or any hemorrhagic disorder.
Consult your herbalist or physician before use if you are taking other medications or receiving other medical treatments.
Discontinue use if allergic reaction occurs.
Keep out of reach of children.
Side Effects
Xue Fu Zhu Yu Pian (Wan) has been safely used with few adverse effects.
Warning
1. Not for use during pregnancy.
Allergy Info
Xue Fu Zhu Yu Pian (Wan) contains Tao Ren (Peach Kernel) and is gluten free.
Disclaimer:
Product reviews solely reflect the views and opinions expressed by the contributors and not those of ActiveHerb and are provided for informational purposes only. ActiveHerb does not verify or endorse any claims made in these reviews.
Please read the full product reviews disclaimer.
Blood StasisClear™ (Xue Fu Zhu Yu Pian)
is rated out of
5
by
20
.
Rated

5

out of

5
by
leohija
from
Life Changing Supplement
I started taking this supplement a month ago, and it has been so life enhancing. Discovered it in a round-about way, and researched it and it's availability before buying/trying. This site has it the most reasonably priced of the some half dozen sites I checked. I wanted to try it as 1] I go herbal/natural all the way, 2] I was having anxiety, irritability, and insomnia issues my other supplements were not addressing very well, and 3] I trust ancient wisdom, but am not always well-versed in it. I was becoming increasingly impatient with my family, and anxious in my work environment. Being post menopausal helped NOTHING!!! So, I tried Blood Stasis Clear at the 6xtabs 3xday for about 10 days, then went to the lower dose of 6xtabs 2xday for maintenance. Now- no anxiety attacks on awakening [previously they were a 7 or 8 /10], mostly sleeping through the night- and the odd one I do not re: hot weather or whatever, no racing thoughts, and much relaxation. My hubby first noticed a couple of weeks ago, commenting on how my facial skin looked better. Then that my energy was improved, and "Dear, you are not as crabby." Yay! My friend/beautician noticed today, when I went for a cut and nails, "you look younger. what's up?" I told her, and sent her the links to try it for herself. I no longer feel like a clenched fist inside my skin, but like a more relaxed hand. I still have my issues to work on, but now I have the energy and clarity to feel at peace, and good in my skin. My husband, a stroke survivor, asked to take it, and now he is sleeping better, and is less needy for my attention. My girl dog even takes it- she has severe anxiety and nervousness issues- much improved, only have to call her 1 or 2 times now, not scream her name repeatedly to come in. I not only would recommend this product, I have mentioned it to many co-workers, printing out the info from the site, and giving a friend a bottle to try. I have not felt this calm an focused in years.
Date published: 2014-09-10
Rated

5

out of

5
by
Mclowjack
from
Great product
Was taking Coumadin for two blood clots. After two weeks the clots still were the same size. Ordered this product and three weeks later the ultrasound revealed the clots were gone.
Date published: 2017-04-04
Rated

5

out of

5
by
cshony
from
Thank you Active Herb!
I continue to give this formula to my dog who has an enlarged heart. It has saved her life! I love all the detailed information on the website and the customer service is great as they will help you with questions about the formulas or your condition. Thank you also, for the beautiful calender you included in my last order!
Date published: 2016-02-14
Rated

5

out of

5
by
DeeDee
from
Does help!
I have tmj/facial neuralgia pain and this helps. Used in conjuction with other remedies ---ice----moist heat---analgesic cream----moderate use of nsaids. Try it--it can't hurt!
Date published: 2015-08-17
Rated

4

out of

5
by
PetVet
from
Makes a difference!
I found out about this herb on Pubmed reading an article about its anti cancer properties. Since I was diagnosed with a brain mass 1 year ago and have been recovering from surgery to remove it, I have still had headaches that persisted. I definitely think the herb has helped to reduce them, though they are not completely gone. I also have thyroid disease and it has helped to warm me up a little.
Date published: 2017-07-10
Rated

5

out of

5
by
Alex Z
from
Would not be without it!
I love this formula! My acupuncturist originally prescribed it in powdered form to treat ongoing acne and chronic uterine cramping during my period, but I have had just as much success with Active Herb's tablet form. It not only cleared up my skin completely, it also takes the edge off my PMS, grounding/stabilizing me emotionally before and during my cycle. So grateful for this medicine and would recommend it to anyone with similar issues!! Thank you Active Herb -- you definitely have a new loyal customer!
Date published: 2017-02-05
Rated

5

out of

5
by
humbyrd
from
repair problem
DVT is a serious problem that this product is helping to repair. Read Active Herbs blog snd thanks to those who write them.
Date published: 2015-12-13
Rated

5

out of

5
by
Cody
from
Excellent product!
This herb concoction helps me sleep better and I wake up in a good mood.
Date published: 2014-12-16
I have a ulcer on my left nipple, I'm fairly sure I have cancer. I am ordering tumor clear, but was wondering if Xue Fu Zhu Yu would help as well. I noticed it has dong quie (sp?) and I'm told this is bad because it makes estrogen?  Thanks
Ulcer is not cancer. Please see a doctor if you suspect it that way. Thank you.
Date published: 2018-12-11
What is this herb good for