In Traditional Chinese Medicine (TCM), Jin Kui Shen Qi Pian can replenish Yang due to the Yang insufficiency of the kidney. The kidney is the innate foundation of all organs with respect to the Yin-Yang principles, Qi essence etc. When the kidney is diminished functionally, other organs suffer as a result. Thus it is vitally important to maintain the Kidney in a good state. This explains why many symptoms seemingly unrelated to the Kidney may be relieved by restoring the Kidney Yin-Yang.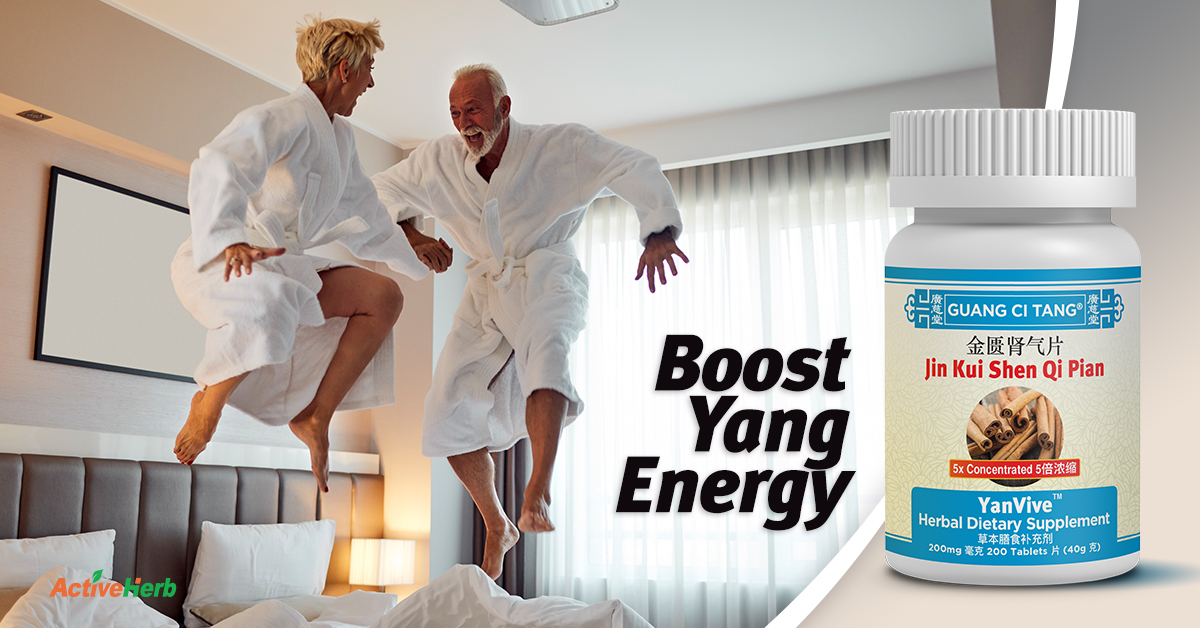 In TCM, a diminished Yang manifests as weakness in the lower back, a cold feeling of the body, poor male performance etc. YanVive is composed of Yin-promoting YinVive and additional herbs that promote Yang. YanVive is designated in China Pharmacopoeia for Yang insufficiency of Kidney, weakness and soreness of the loins and the knees, cold feeling in the limbs, and frequent urination. Published and unpublished human clinical studies have supported the use of YanVive in numerous applications. In many cases, YanVive can be applied to the same symptoms as YinVive. Whether YanVive or YinVive is used depends on whether the signs of Yin or Yang deficiency is present. Highlighted below are some instances in which YanVive may be used.
• Lower back weakness due to the Kidney Yang deficiency, which may manifest as weakness and soreness of the waist and legs, cold in the limbs or even the whole body, a pale complexion and tiredness. These are often complaints for people, especially professionals who spend hours in front of a computer each day and who are middle-aged.
• Sexual wellness. In the case of Kidney Yang deficiency, one may experience poor male performance. The low back feels weak the next day and it takes longer to achieve a follow-up erection.
What is the formula composition?
| | | |
| --- | --- | --- |
| Rehmannia cured root tuber | Rehmannia glutinosa | (Shu Di Huang) |
| Asiatic dogwood fruit without seed | Cornus officinalis | (Shan Zhu Yu) |
| Chinese yam rhizome | Dioscorea oppositifolia | (Shan Yao) |
| Tree peony root bark | Paeonia suffruticosa | (Mu Dan Pi) |
| Poria sclerotium | Poria cocos | (Fu Ling) |
| Asian water plantain rhizome | Alisma orientale | (Ze Xie) |
| Cassia bark | Cinnamomum cassia | (Rou Gui) |
| Sichuan aconite cured lateral root | Aconitum carmichaelii | (Zhi Fu Zi) |
| Achyranthes root | Achyranthes bidentata | (Niu Xi) |
| Fo-ti cured root tuber | Polygonum multiflorum | (Zhi He Shou Wu) |
| Lycium fruit | Lycium barbarum | (Gou Qi Zi) |
| Schisandra fruit | Schisandra chinensis | (Wu Wei Zi) |
Other ingredients: .
We use as little fillers/binders as possible which together amounts to % of the tablet weight.
Guang Ci Tang
® Jin Kui Shen Qi Pian (YanVive™) 40 grams in 200 mg 200 tablets @ 5:1 strength.
Guang Ci Tang® Jin Kui Shen Qi Wan (YanVive™) 40 grams in 200 mg 200 pills @ 5:1 strength.
At a true 5:1 concentration, both products represent the most potent form of Jin Kui Shen Qi Pian (Tang/Wan) on the market. One tablet or pill is equal to 1 gram of raw herb. Both tablets and pills have the same formulation.
Jin Kui Shen Qi Pian tablets are made with all natural herbs that are tested for authenticity, quality, and potency. A traditional water decoction is prepared with the herbs to reproduce the time-tested action of the formula, and this water decoction is concentrated with our proprietary technology to form a potent extract that is made into easily absorbed tablets, which are remarkably effective, easy to use, and safe. The tablets are produced by Guang Ci Tang
®
in our state of the art cGMP-certified facility and imported in accordance with U.S. FDA guidelines. When you choose Guang Ci Tang
®
products, you are taking advantage of a wonderful fusion of science and tradition that incorporates the highest standards in the field of Chinese medicine today.
Please note that our tablets may appear neutral in finishing and a little brittle. You may observe a tiny bit of fine powder at the bottom of your bottle and occasionally one or a couple of broken tablets after transportation. This is because unlike other manufacturers, our tablets are not coated as part of our effort to minimize the use of excipients and to make them as pure as possible. These tablets can also be easily dissolved in hot water to serve as tea.
Pure. Potent. Proven.
True 5:1 concentration
Double the strength of regular brands
Minimal fillers and binders
No pharmaceuticals or dyes
Comprehensive lab testing (e.g., heavy metals,etc.)
Made in a cGMP certified facility
Unbeatable value
Safely used in the USA since 1995
Check for an independent US lab test report.
The standard dosage for YanVive™ is 6 tablets or pills each time, taken 2 to 3 times daily with or before meals. One bottle lasts users 2 to 3 weeks.
YanVive™ is a mild tonic and therefore it takes time before its effects become apparent.
Precaution
Do not use it if dry mouth, thirst, or dry stool exists.
Consult your herbalist or physician before use if you are taking other medicines.
If any adverse symptom occurs like appetite loss, discontinue use.
Keep out of reach of children.
Differentiation in Usage
YanVive™ is closely related to
YinVive
™ in formulation and applications. YanVive is suitable for people who feel cold in the legs and whose face is pale, signs of Yang insufficiency. If no such signs are observed, YinVive is suggested for use. Depending on Yin-Yang signs, YanVive and YinVive may be alternatively used.
Side Effects
YanVive has been safely used by with few adverse effects when taken as directed.
Warning
1. Not for use during pregnancy.
Allergy Info
YanVive™ is gluten free
Disclaimer:
Product reviews solely reflect the views and opinions expressed by the contributors and not those of ActiveHerb and are provided for informational purposes only. ActiveHerb does not verify or endorse any claims made in these reviews.
Please read the full product reviews disclaimer.
YanVive™ (Jin Kui Shen Qi Pian)
is rated out of
5
by
21
.
Rated

5

out of

5
by
ZenRuth
from
Resolved My Thyroid Issues!
A couple of years ago my blood tests for thyroid function were not in the target ranges, and my doctor declared that I had Hashimoto's thyroiditis. After trying Western prescription treatments and experiencing severe side effects, I tried taking YanVive. Every test since then has been completely normal. My Western doctor shakes her head and says, "just keep doing whatever it is that you're doing." I no longer get cold as easily and don't get as tired as often. I take 3 pills, three times a day (I am hypersensitive) and have done so for over two years now.
Date published: 2018-11-05
Rated

5

out of

5
by
PersonaForte
from
Love this Connection!!
I'm a TCM student & Native American healer, so fortunate to have found this website! I purchased this medication to assist with a 14yr old boy with bed wetting along with moxi a few points. It was successful while he was consistent taking it & treatments, I do believe we could beat this issues with consistency, however it's on him to want the cure to work, lazy... Great herbs!!
Date published: 2015-08-01
Rated

5

out of

5
by
Alan B
from
YanVive worked very well that I have to reduce the dose.
YanVive worked very well that I have to reduce the dose. otherwise feels sweating all night
Date published: 2010-12-07
Rated

5

out of

5
by
IQLee
from
Helps with Low Energy
My wife's doctor suspects she has hypothyroidism. Her symptoms included low energy level, brain fog, and switching between feeling cold and occasional hot flashes. Anytime she sat still for more than three minutes she fell asleep regardless of how much sleep she had the night before. Her doctor wanted to put her on hormone therapy. But my wife wants to avoid pharmaceuticals if possible. So a friend recommended this product about a year ago and it has been helping with her low energy level and brain fog. Within a week of taking YanVive my wife started to see the results. The hot flashes are still persistent, which another product that we don't know about yet might help. But for the fatigue, YanVive has been very helpful.
Date published: 2018-12-25
Rated

5

out of

5
by
Bill S
from
I really liked our products like yanvive.
I really liked our products like yanvive. I used it for prostate enlargement. I tried other brands. They work ok but not as good as yanvive.
Date published: 2010-06-15
Rated

5

out of

5
by
Slawek
from
Very good
The formula is very effective. Among other formulas I bought it for asthma bronchitis as a support. It increased the energy level and helped to cough up phlegm in cold asthma. I recommend it.
Date published: 2017-01-28
Rated

4

out of

5
by
Labsurd
from
Satisfactory
I ordered capsules and was delivered tablets. No problem, I grind them in the mortar and pestle to achieve powder. Delivery was prompt and product is achieving desired results. Thank you very much!
Date published: 2014-11-08
Rated

5

out of

5
by
ramonc
from
Great product
Excellent product, Recomend A++
Date published: 2015-03-24
I am looking to correct my erectile dysfunction what do you recommend I take? I don't want to double up on the same things
Thank you for your question. Jin Kui Shen Qi Pian certainly helps. You may also want to check out You Gui Pian (www.activeherb.com/yougui/) and Youngain (http://www.activeherb.com/youngain/) which are stronger in restoring Kidney Yan deficiency. For a review on ED, please read more at http://www.activeherb.com/ed.
Date published: 2016-10-17
I have low thyroid is this good
Yes, YanVive could be helpful for low thyroid.
Date published: 2017-01-27
Hello, can you take these if you are also on the Birth Control Pill? Does it have any interactions with the BCP? or lower the strength of the pill, or any of your formulas. Many thanks and look forward to your response. Cheers
hello i am 31 years of age i have been suffering from premature ejaculation and errectile dysfunciton for two years now. I have been told that a her called bai shao is useful is this correct ? how long does it take for impact ?