Zhen Zhu An Chuang Pian formula is particularly suited to cases that are characterized by noncystic acne, abundant pimples, blackheads or bumps associated with adolescence. It is suitable for a range of skin issues that manifest in itching, redness, and fit into the pattern that Chinese medicine ascribes to heat and/or dampness.
According to traditional Chinese medicine (TCM), the skin is associated with the lung and body fluids, and noncystic acne is often associated with heat and dampness. The redness is related to heat, and the tendency to present with a greasy complexion and pustules is associated with dampness. Zhen Zhu An Chuang Pian is made up of natural Chinese herbs that deals with the root cause by clearing heat and eliminating dampness from the skin.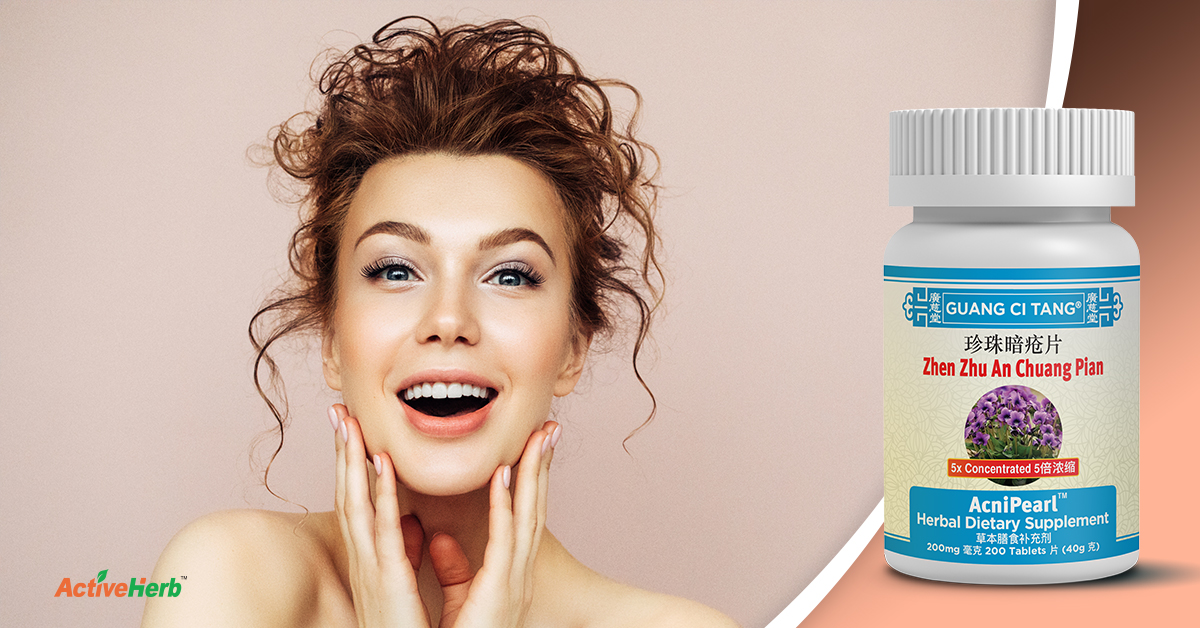 Zhen Zhu, true pearl, is one of Chinese medicine's most famous agents for improving the facial complexion, and it is often incorporated into skin and beauty products. Pearl clears heat and brightens the skin while improving the skin's tone and texture. When taken internally, it also improves the skin at the deepest possible level.
Pu Gong Ying (Dandelion), Jin Yin Hua (Honeysuckle flower), Ye Ju Hua (Wild Chrysanthemum flower), Zi Hua Di Ding (Violet), and Tian Kui Zi (Semiaquilegia root) are all herbs that are found together in the classical formula Wu Wei Xiao Du Yin (Five Ingredient Toxin-Dispersing Beverage). These herbs clear heat and resolve toxins, and they are particularly suited to skin conditions that manifest with redness and/or signs of damp-heat.
Chi Shao (Red Peony), Mu Dan Pi (Moutan cortex), and Dan Shen (Salvia root) are cooling herbs that move the blood, and together they clear deep-lying heat from the channels of the face. Dan Shen also improves the circulation of blood into the body's tiny capillaries to nourish the skin.
Di Fu Zi (Kochia fruit) helps the other herbs to target the skin, and it clears dampness and heat from the skin. Bei Sha Shen (Glehnia root) nourishes the lung yin, which helps the skin to stay lustrous and nourished.
What is the formula composition?
| | | |
| --- | --- | --- |
| Tokyo violet whole plant | Viola yedoensis | (Zi Hua Di Ding) |
| Dandelion whole plant | Taraxacum sinicum | (Pu Gong Ying) |
| Semiaquilegia adoxoides root | Semiaquilegia adoxoides | (Tian Kui Zi) |
| Wild chrysanthemum flower | Chrysanthemum indicum | (Ye Ju Hua) |
| Summer cypress fruit | Kochia scoparia | (Di Fu Zi) |
| Japanese honeysuckle flower bud | Lonicera japonica | (Jin Yin Hua) |
| Forsythia fruit | Forsythia suspensa | (Lian Qiao) |
| Chinese peony root with bark | Paeonia lactiflora | (Chi Shao) |
| Tree peony root bark | Paeonia suffruticosa | (Mu Dan Pi) |
| Chinese salvia root & rhizome | Salvia miltiorrhiza | (Dan Shen) |
| Glehnia root | Glehnia littoralis | (Bei Sha Shen) |
| Pearl | | (Zhen Zhu) |
Other ingredients: .
We use as little fillers/binders as possible which together amounts to % of the tablet weight.
Guang Ci Tang
® Zhen Zhu An Chuang Pian (AcniPearl™) 40 grams in 200 mg 200 tablets @ 5:1 strength.
At a true 5:1 concentration, this product represents the most potent form of Zhen Zhu An Chuang Pian (Wan) on the market. One tablet is equal to 1 gram of raw herb.
Please note that Guang Ci Tang® Zhen Zhu An Chuang Wan in the pill form, which has the same formulation as the tablet, is discontinued.
AcniPearl™ is a Guang Ci Tang signature formula.
Zhen Zhu An Chuang Pian tablets are made with all natural herbs that are tested for authenticity, quality, and potency. A traditional water decoction is prepared with the herbs to reproduce the time-tested action of the formula, and this water decoction is concentrated with our proprietary technology to form a potent extract that is made into easily absorbed tablets, which are remarkably effective, easy to use, and safe. The tablets are produced by Guang Ci Tang
®
in our state of the art cGMP-certified facility and imported in accordance with U.S. FDA guidelines. When you choose Guang Ci Tang
®
products, you are taking advantage of a wonderful fusion of science and tradition that incorporates the highest standards in the field of Chinese medicine today.
Please note that our tablets may appear neutral in finishing and a little brittle. You may observe a tiny bit of fine powder at the bottom of your bottle and occasionally one or a couple of broken tablets after transportation. This is because unlike other manufacturers, our tablets are not coated as part of our effort to minimize the use of excipients and to make them as pure as possible. These tablets can also be easily dissolved in hot water to serve as tea.
Pure. Potent. Proven.
True 5:1 concentration
Double the strength of regular brands
Minimal fillers and binders
No pharmaceuticals or dyes
Comprehensive lab testing (e.g., heavy metals,etc.)
Made in a cGMP certified facility
Unbeatable value
Safely used in the USA since 1995
Check for an independent US lab test report.
The standard dosage for AcniPearl™ is 6 tablets each time, taken 2 to 3 times daily with or before meals. One bottle lasts users 11 to 17 days.
The dose may be doubled for a quicker and stronger response as needed. Consult your practitioner for precise dosage recommendations based on body weight and other factors.
AcniPearl™ has a mild action and therefore it takes time before its effects become apparent.
Precaution
Avoid alcohol, cigarettes, and excessively greasy or spicy foods in order to achieve the best results.
Consult your herbalist or physician before use if you are taking medications or using other medical treatments.
Consult your herbalist or physician before use for children or the elderly, or for those with underlying diseases.
Discontinue use if allergic reaction occurs.
Use with caution if you have loose stools, low appetite or chronic digestive weakness.
Keep out of reach of children.
Side Effects
Zhen Zhu An Chuang Pian has been safely used with few adverse effects or contraindications.
Warning
1. Not for use during pregnancy.
Allergy Info
AcniPearl™ is gluten free
Disclaimer:
Product reviews solely reflect the views and opinions expressed by the contributors and not those of ActiveHerb and are provided for informational purposes only. ActiveHerb does not verify or endorse any claims made in these reviews.
Please read the full product reviews disclaimer.
AcniPearl™ (Zhen Zhu An Chuang Pian)
is rated out of
5
by
24
.
Rated

5

out of

5
by
labrat42
from
Healing Properties!
For a very moderate and very annoying case of acne: 1. Results become apparent in about a month, but you may see improvement after one week 2. You may still have acne, but it will heal much faster 3. For women - take it through at least one cycle 4. If you take any other Active Herb, you may decrease dosage to three tablets three times a day and still see results 5. If you use topical products, continue using them. Especially moisturizers, as AcniPearl may dry out the acne, and all remedies that remove spots on your skin. I use a Hyaluronic Acid serum with vitamin C and the Neutrogena acne stress control remedies.
Date published: 2015-08-15
Rated

5

out of

5
by
Becka
from
My Miracle!
I can't remember a time in my life where my skin has been clear. I have suffered from acne for 23 yrs. As an adult this is frustrating. I have spent hundreds on various treatments, including accutane and laser therapy. I am on my third bottle of this product and I can't believe the difference already. My back and chest acne are gone. My face is still healing but I have not had a cystic pimple since I have been taking this. I am still getting small zits once in awhile but my face is no longer covered with them every morning. I can't wait to see how I my skin will be after three more bottles. I will take this forever if I have to.
Date published: 2015-06-01
Rated

5

out of

5
by
juliaaaa
from
The only thing that has helped me
I love this product. I did not have great results over night but after taking them for about 3/4 months now I can tell that my acne has improved by 80/90%. The only thing that has helped me before was accupuncture in combination with chinese herbal tea. However I had to quit after a few weeks because of the high cost. The results of that threatment have lasted for about a year. However I saw my acne gradually coming back. That is why I started taking these and I can now see that my acne is getting less and less with every cycle. I have positive hopes that my acne might finally completely clear up because of these! :) Also no side-effects at all!!!! Perfect remedy for my moderate acne that has been really hard to get rid off.
Date published: 2015-12-02
Rated

4

out of

5
by
Glori
from
I love it it helps me
I have problematic deep acne-it really helps clear it and the sensitivity and swelling-I cannot say there is anything like this and I need to order more -I have Lupus and the acne is bacterial due to my immune system and being in Missouri, from California,-I just has been worse--I found the right thing!-hope it helps you all.
Date published: 2014-04-19
Rated

5

out of

5
by
Johnny
from
god send me a gift
im 6 feets male, take 8 tablets per time , 3 times a day, almost clear up acne for one week, may order 2 more.
Date published: 2015-09-16
Rated

5

out of

5
by
tarahealt
from
A future life of beautiful Skin
This product is a real cure from Acne, not only I have not have one single pimple in many months, but I notice how soft my skin feels and how smaller my pores look . I believe it is important to clean our skin from the inside out and this formula is absolutely perfect to accomplish this To all the girl out there fighting acne or just wanting a better skin, try AcniPearl ..It really works!
Date published: 2014-03-15
Rated

5

out of

5
by
Browne
from
I'm Pleased.
I purchase the product to treat pimples. I began to see improved changes while on the use of my third bottle of this product.. My skin began to clear up nicely. Black marks are clearing up as well. Though pimples are still showing up, I believe it will get better as I continue the use of the product and more so cut down on oily, sweet and junk foods. Unfortunately I ran out of the product and was without for a week but I have received my new supply. I usually take six tablets twice daily. I do love this product. It does what it says - check it out.
Date published: 2016-01-27
Rated

5

out of

5
by
BBrownOrg
from
Great for pimples on teenage humans! :)
I have two teenage children who have developed acne issues. Unfortunately for them their only recourse has been to use zit cover-up cream. I recall how embarrassing it was to have pimples growing up and I hoped this formula would help. About halfway through a single bottle using the recommended dose their skin started to clear up. After a bottle and a half their acne was gone and they felt so much better and more confident. AcnePearl really works! I wish I would have known about this 30 years ago!
Date published: 2018-11-20
Would it be a problem to take this medication with the "Skin Wind Clear" tablet as well?
It should be fine to combine but may better to try one first. Thank you.
Date published: 2018-12-11
Would someone with a nut allergy react to this product in any way? Any of these herbs from the same families as tree nuts?
Hi, The product does not contain any tree nut. Thank you.
Date published: 2018-09-03
I have breakouts of acne on my back,  will this help? 
Hi, Thanks for the question. It should help the back as well.
Date published: 2016-11-08
Can I take AcniPearl in combination with Ease Tonic Plus for acne and bad menstrual periods?