The pattern of conditions Sciaticlear™ deals with are known as Bi Syndrome or Obstruction in Traditional Chinese Medicine (TCM). Bi Syndrome is caused by Wind, Dampness, Cold or Heat which obstruct the channels, result in stagnation of Qi and/or blood. Sciaticlear™ is best suited for cold-damp type Bi Syndrome which often presents with numbness or muscle weakness spreading from the low back, hip, thighs to the legs.
Zuo Gu Shen Jing Tong Pian works by dredging the meridians and removing obstructions from the channels while relaxing the tendons and muscles, strengthening the bones and tonifying the Kidneys. Zuo Gu Shen Jing Tong Pian also dispels Cold and Damp. From the perspective of TCM, proper bone development depends on the strength of the Kidney system. Zuo Gu Shen Jing Tong Pian's action of tonifying the Kidneys improves overall vitality and resilience.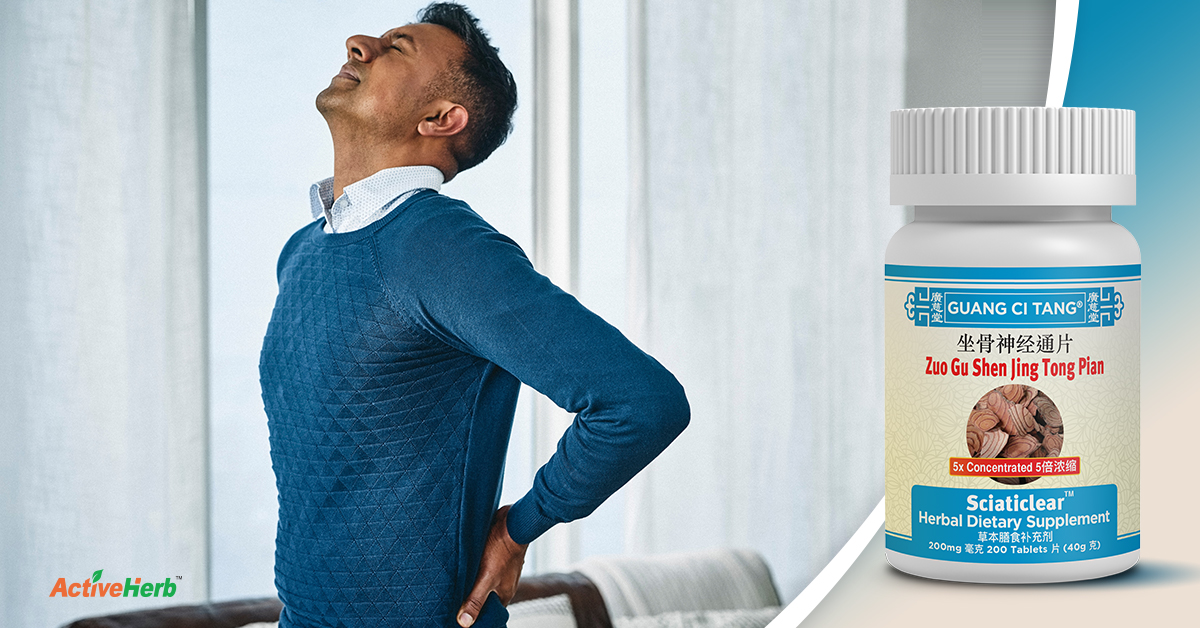 Sciaticlear™ is a proprietary blend of eleven Chinese herbs that have a powerful ability to dispel stasis and clear obstructions from the channels. The herbs can be divided into 3 groups according to their functions.
The first group of herbs invigorates Qi and Blood to remove stasis. This group includes the chief herbs of this formula which are Ru Xiang (Boswellia) and Mo Yao (Myrrh). Together, Ru Xiang and Mo Yao strongly invigorate the blood. Yan Hu Suo (Corydalis root) and Chuan Xiong (Szechuan Lovage rhizome) also activate Qi and Blood in the body. Jiang Huang (Turmeric) similarly relieves blood stasis and opens the channel pathways. Also included is Ba Ji Tian (Morinda) which is used to strengthen the sinews and bones and supplement the Liver and Kidney.
The second group of herbs address wind-dampness, open the meridians and relax the muscles and sinews. Xi Xian Cao (Siegesbeckia) and Wei Ling Xian (Clematis root) are used together especially for this purpose. Shen Jin Cao (Lycopodium) also dispels damp, relaxes the tendons and sinews and opens the channels.
The final group of herbs tonify blood and also relieve discomfort. Ji Xue Teng (Spatholobis stem) not only activates and tonifies the blood but also relaxes the tendons and opens the channels. Shu Di Huang (processed Rehmannia root) tonifies the Kidneys which play an important role in maintaining bone and joint health, especially in the lower back and legs. Shu Di Huang is an important tonifying herb used to nourish blood and Yin.
What is the formula composition?
| | | |
| --- | --- | --- |
| Spatholobus stem | Spatholobus suberectus | (Ji Xue Teng) |
| Morinda root | Morinda officinalis | (Ba Ji Tian) |
| Siegesbeckia orientalis aboveground parts | Siegesbeckia orientalis | (Xi Xian Cao) |
| Rehmannia cured root tuber | Rehmannia glutinosa | (Shu Di Huang) |
| Corydalis yanhusuo tuber | Corydalis yanhusuo | (Yan Hu Suo) |
| Chinese clematis root & rhizome | Clematis chinensis | (Wei Ling Xian) |
| Turmeric rhizome | Curcuma longa | (Jiang Huang) |
| Lycopodium japonicum whole plant | Lycopodium japonicum | (Shen Jin Cao) |
| Frankincense oleo-gum-resin | Boswellia carterii | (Ru Xiang) |
| Myrrh oleo-gum-resin | Commiphora myrrha | (Mo Yao) |
| Sichuan lovage rhizome | Ligusticum chuanxiong | (Chuan Xiong) |
Other ingredients: .
We use as little fillers/binders as possible which together amounts to % of the tablet weight.
Guang Ci Tang
® Zuo Gu Shen Jing Tong Pian (Sciaticlear™) 40 grams in 200 mg 200 tablets @ 5:1 strength.
Guang Ci Tang® Zuo Gu Shen Jing Tong Wan (Sciaticlear™) 40 grams in 200 mg 200 pills @ 5:1 strength.
At a true 5:1 concentration, both products represent the most potent form of Zuo Gu Shen Jing Tong Pian (Wan) on the market. One tablet or pill is equal to 1 gram of raw herb. Both tablets and pills have the same formulation.
Sciaticlear™ is a Guang Ci Tang signature formula.
Zuo Gu Shen Jing Tong Pian tablets are made with all natural herbs that are tested for authenticity, quality, and potency. A traditional water decoction is prepared with the herbs to reproduce the time-tested action of the formula, and this water decoction is concentrated with our proprietary technology to form a potent extract that is made into easily absorbed tablets, which are remarkably effective, easy to use, and safe. The tablets are produced by Guang Ci Tang
®
in our state of the art cGMP-certified facility and imported in accordance with U.S. FDA guidelines. When you choose Guang Ci Tang
®
products, you are taking advantage of a wonderful fusion of science and tradition that incorporates the highest standards in the field of Chinese medicine today.
Please note that our tablets may appear neutral in finishing and a little brittle. You may observe a tiny bit of fine powder at the bottom of your bottle and occasionally one or a couple of broken tablets after transportation. This is because unlike other manufacturers, our tablets are not coated as part of our effort to minimize the use of excipients and to make them as pure as possible. These tablets can also be easily dissolved in hot water to serve as tea.
Pure. Potent. Proven.
True 5:1 concentration
Double the strength of regular brands
Minimal fillers and binders
No pharmaceuticals or dyes
Comprehensive lab testing (e.g., heavy metals,etc.)
Made in a cGMP certified facility
Unbeatable value
Safely used in the USA since 1995
Check for an independent US lab test report.
The standard dosage for Sciaticlear™ is 6 tablets or pills each time, taken 2 to 3 times daily. One bottle lasts users about 11 to 17 days.
The dose may be doubled for a quicker and stronger response as needed. Consult your practitioner for precise dosage recommendations based on body weight and other factors.
Precaution
Consult your herbalist or physician before use if you are taking other medications or receiving other medical treatments.
Discontinue use if allergic reaction occurs.
Keep out of reach of children.
Side Effects
Zuo Gu Shen Jing Tong Pian (Wan) has been safely used with few adverse effects.
Warning
1. Not for use during pregnancy.
Allergy Info
Sciaticlear™ is gluten free
Disclaimer:
Product reviews solely reflect the views and opinions expressed by the contributors and not those of ActiveHerb and are provided for informational purposes only. ActiveHerb does not verify or endorse any claims made in these reviews.
Please read the full product reviews disclaimer.
Sciaticlear™ (Zuo Gu Shen Jing Tong Pian)
is rated out of
5
by
24
.
Rated

5

out of

5
by
ValerieK
from
Love Sciaticlear!
I was told by doctors and chiropractors alike that there is nothing to be done about nerve pain except surgery. After a year of expensive chiropractic care, I was still crippled with pain. My pain was unbearable, I felt as if someone had taken a hot poker and stabbed me in my lower abdomen and upper thigh. I'd had enough of chiropractic care, so I quit and went to an Acupuncturist. He gave me TCM pills to go along with acupuncture. But he charged a pretty penny for them. So I searched online and found them here for less than half the price he'd charged me for them. They work! I love Sciaticlear, it helped change my life. I now walk, dance, exercise, and swim again. Things I was told I'd never do again. These really do work on nerve pain!
Date published: 2014-03-12
Rated

3

out of

5
by
MCHO
from
Did Not Work Quite Well For Me
I have had sciatica for over a year. The pain is at 3-4 level out of 10 but it still bothers me plus the numbness in my leg is annoying. I tried Liu Wei Di Huang Wan (same as YinVive but made by another Chinese company) for a week and the pain was miraculously gone. Then I started to take Sciaticlear. After two bottles, I did not feel a huge relief. My pain may have gotten a little better. But it did not work as well as YinVive. I was hoping Sciaticlear would cure the numbness in my leg. But it did not unfortunately. Maybe I need to take more bottles as other suggested. But now I am going to try something else - maxibustion (Ai Jiu).
Date published: 2018-05-19
Rated

5

out of

5
by
happycamper
from
Fast and effective with no side effects
Sciaticlear really works on the sciatic nerve. I have 45 year old serious injury to my right leg sciatic nerve. Luckily no significant pain for decades until I had serious slip and fall down my stairs Feb 2016, re-traumatizing the right leg. Wow. The pain was mind-snapping, almost unendurable since then. Other herbs & OTC NSAIDs didn't touch it. ActiveHerb Sep newsletter offered Sciaticlear. I bought it and the Yan Hu Suo Rhizome granules of the active ingredient in Sciatclear and PRESTO...Honestly, I felt relief within 1/2 hour and could finally sleep through the night. It's one month I've been taking these two ActiveHerb products and products still working, just taking suggested dosages. I am so relieved to be sleeping mally & to be free of that hideous pain. It's like a miracle.
Date published: 2016-10-08
Rated

5

out of

5
by
Kristi
from
I Swear This Is Magic
Around 6 months ago my back started to get really bad. It started with spasms and by the end of the month I could barely walk, sit, stand or lay down because of my sciatica. I went to a TCM acupuncturist and she gave me these specific pills. Before I was even done with the bottle, I felt better than I had in 6 months. Mind you I wasn't even going to the acupuncturist anymore - I was only taking these. Now I don't go to her at all. I just take 6 of these, 3 times a day and it instantly takes away any cramping, sciatica pain, back aches and whatever else. These are by far and wide magic pills. Between taking these and a gel I take, I feel like a brand new person.
Date published: 2018-09-09
Rated

4

out of

5
by
goddess
from
Feeling better already
I love that this company has every ailment known listed. I found something for my sciatic pain that really seems to be helping me. I am able to walk more and longer than I have in a long time. I have only been using the product for a month and I do feel better already. I would recommend this product. I only gave it a 4 star because I haven't taken it long enough to get the full benefits of using it. Otherwise it would definitely been a 5 star
Date published: 2015-09-25
Rated

5

out of

5
by
Mon21tec
from
Real Results
I have had back and leg pain due to sciatica for the last 2 years. I have had chiropractor appointments which have made the pain tolerable. This product has worked excellently, it took a while to fully work although I no longer have pain in my back and my legs. This is without having to see a chiropractor for routine adjustments. I have even felt less discomfort with my arthritic shoulder. Great product.
Date published: 2014-10-29
Rated

5

out of

5
by
Victoria W
from
I was given one bottle of Sciaticlear by an acupuncturist when I visited washington
I was given one bottle of Sciaticlear by an acupuncturist when I visited washington and had a sciatica episode. It really helped. I am on and off it and use the product when it hurts.
Date published: 2013-01-30
Rated

5

out of

5
by
dmedic72
from
great for sciatic type pain
I ordered it for my partner who had been suffering from sciatic like pain for over a year. It turns out he has a pars defect/fracture in his lumbar spine. Since starting the Sciaticlear, he reports a significant decrease in pain. Even after a 12 hour shift in the ER, he doesn't come home in tears. He'll still require surgery but it is not a pressing issue anymore.
Date published: 2014-09-03