In Traditional Chinese Medicine (TCM), Zuo Gui Pian reinforces the kidney and nourishes Yin of the Yin-Yang principles. Yin and Yang are the opposing principles that depend on each other for existence within any subject as a whole, such as female and male for mankind, dark and light for a complete day, negative and positive for numbers. A robust interaction and balance of Yin-Yang forms the basis of a good health. The kidney is the innate foundation of all organs with respect to the Yin-Yang principles, Qi essence etc.
Zuo Gui Wan is indicated in China Pharmacopoeia for the Yin deficiency of the kidney, which may be presented as weakness of the loins and the knees; sweating; lassitude; dry mouth, typically in association with aging.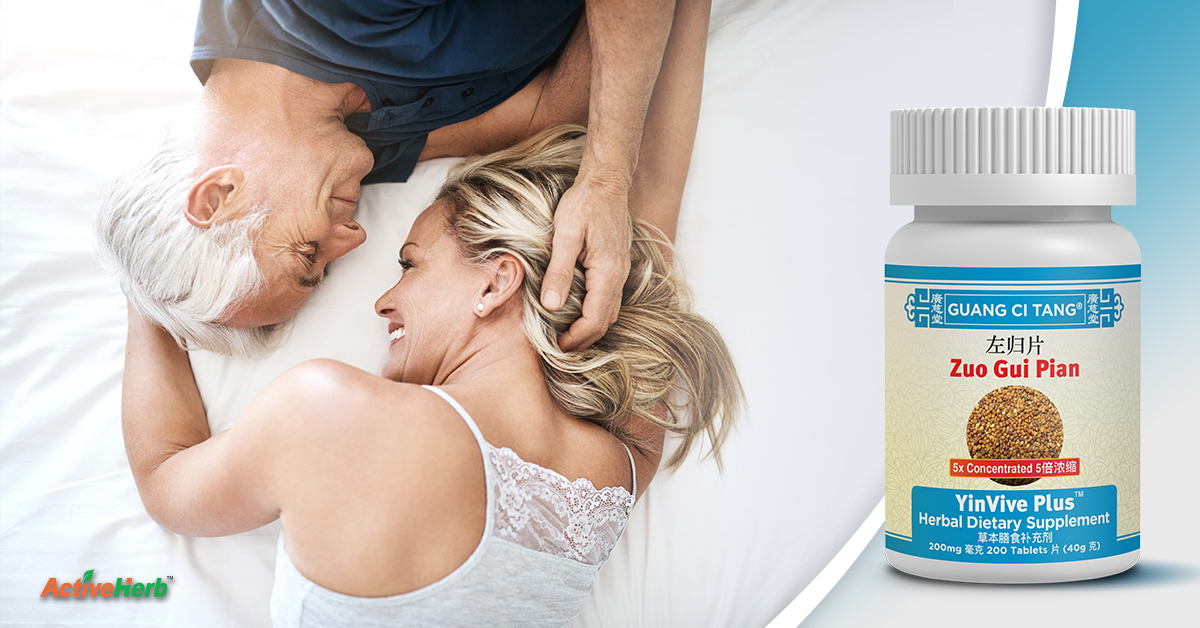 Zuo Gui Pian may support sexual wellness. Zuo Gui Pian may promote female reproductive health as well.
Zuo Gui Pian is the most potent Yin tonic in traditional Chinese medicine, whose potency is delivered by Lu Jiao Jiao (Deer antler glue) and Gui Ban Jiao (Tortoise shell glue) in its ingredients. Both ingredients are extremely expensive these days. To our knowledge we are the only brand in the US market that manufactures the formula in its original composition as in China Pharmacopoeia. Others may use the name of Zuo Gui Wan but the conposition has been changed.
What is the formula composition?
| | | |
| --- | --- | --- |
| Rehmannia cured root tuber | Rehmannia glutinosa | (Shu Di Huang) |
| Chinese yam rhizome | Dioscorea oppositifolia | (Shan Yao) |
| Asiatic dogwood fruit without seed | Cornus officinalis | (Shan Zhu Yu) |
| Deer antler gelatin | | (Lu Jiao Jiao) |
| Tortoise shell gelatin | | (Gui Ban Jiao) |
| Lycium fruit | Lycium barbarum | (Gou Qi Zi) |
| Chinese dodder seed | Cuscuta chinensis | (Tu Si Zi) |
| Achyranthes root | Achyranthes bidentata | (Niu Xi) |
Other ingredients: .
We use as little fillers/binders as possible which together amounts to % of the tablet weight.
Guang Ci Tang
® Zuo Gui Pian (YinVive Plus™) 40 grams in 200 mg 200 tablets @ 5:1 strength.
At a true 5:1 concentration, this product represents the most potent form of Zuo Gui Pian (Wan/Yin) on the market. One tablet is equal to 1 gram of raw herb.
Please note that Guang Ci Tang® Zuo Gui Wan in the pill form, which has the same formulation as the tablet, is discontinued.
Zuo Gui Pian tablets are made with all natural herbs that are tested for authenticity, quality, and potency. A traditional water decoction is prepared with the herbs to reproduce the time-tested action of the formula, and this water decoction is concentrated with our proprietary technology to form a potent extract that is made into easily absorbed tablets, which are remarkably effective, easy to use, and safe. The tablets are produced by Guang Ci Tang
®
in our state of the art cGMP-certified facility and imported in accordance with U.S. FDA guidelines. When you choose Guang Ci Tang
®
products, you are taking advantage of a wonderful fusion of science and tradition that incorporates the highest standards in the field of Chinese medicine today.
Please note that our tablets may appear neutral in finishing and a little brittle. You may observe a tiny bit of fine powder at the bottom of your bottle and occasionally one or a couple of broken tablets after transportation. This is because unlike other manufacturers, our tablets are not coated as part of our effort to minimize the use of excipients and to make them as pure as possible. These tablets can also be easily dissolved in hot water to serve as tea.
Pure. Potent. Proven.
True 5:1 concentration
Double the strength of regular brands
Minimal fillers and binders
No pharmaceuticals or dyes
Comprehensive lab testing (e.g., heavy metals,etc.)
Made in a cGMP certified facility
Unbeatable value
Safely used in the USA since 1995
Check for an independent US lab test report.
The standard dosage for YinVive Plus™ is 5 tablets each time, taken 2 to 3 times daily with or before meals. One bottle lasts users 2 to 3 weeks. The dose may be doubled for a quicker and stronger response as needed. Consult your practitioner for precise dosage recommendations based on body weight and other factors.
YinVive Plus™ is a mild tonic and therefore it usually takes time before its effects become apparent.
Precaution
Do not use it by children.
Do not use it if you are taking cold medicines.
Discontinue use if any adverse symptom like appetite loss occurs. YinVive™ may be alternatively used.
Consult your herbalist or physician before use if you are taking other medicines.
Keep out of reach of children.
Differentiation in Usage
YinVive Plus™ is closely related to
YinVive
™ in nourishing kidney Yin. It is stronger than YinVive and needs the support of good digestive function.
YinVive Plus™ differs from YanVive Plus™, which nourishes kidney Yang deficiency. You Gui Wan is more suitable for people who feel cold in the limbs whereas Zuo Gui Wan is for people who feel heat and sweat.
Side Effects
Zuo Gui Wan has been safely used with few adverse effects when taken as directed.
Warning
1. Not for use during pregnancy.
Allergy Info
YinVive Plus™ is gluten free
Disclaimer:
Product reviews solely reflect the views and opinions expressed by the contributors and not those of ActiveHerb and are provided for informational purposes only. ActiveHerb does not verify or endorse any claims made in these reviews.
Please read the full product reviews disclaimer.
YinVive Plus™ (Zuo Gui Pian)
is rated out of
5
by
7
.
Rated

5

out of

5
by
dmedic72
from
Great quality and prompt delivery!
I've been taking this formula for over a month and it's made quite a difference in my energy, libido and overall sense of wellness.
Date published: 2014-07-11
Rated

5

out of

5
by
paalomino
from
Nice blend of Chinese herbs
This is a classic blend that I'm trying for the first time. I have had some fatigue issues that I learned were related to kidney yin depletion. After recently ordering my first bottle I noticed I felt better after about a week and have progressively been feeling better. I've just ordered my second bottle, and will continue with this blend for now. I highly recommend this product for anyone with Adrenal Fatigue, because often the underlying issue involves the kidneys, which need to be replenished.
Date published: 2016-07-25
Rated

5

out of

5
by
leightn
from
Excellent information!
The information I found on the website about this formula was very beneficial--probably the most helpful and easy to understand of any TCM website I have seen. Having received acupuncture and acupressure, and having used Chinese herbal formulas, both for the past 20 years, I was impressed with the quality of the information and the effectiveness of the product. Because it is a 5x concentrated formula, and I am a very small person, I had to adjust the dosage to less than the recommended amount stated on the bottle. Although I am taking this formula for a long-standing and constitutional condition, which can take patience, discipline, and time to correct, I have begun to see subtle, but definite positive changes toward greater health after taking it for about 5 weeks.
Date published: 2015-05-01
Rated

5

out of

5
by
Lynne F
from
My acupuncturist had put me on Zuo Gui Wan for hot flashes
My acupuncturist had put me on Zuo Gui Wan for hot flashes and symptoms associated with menopause. It has helped and I continue to take this.
Date published: 2006-04-20
Rated

5

out of

5
by
Yon P
from
I have ordered Zuo Gui Wan from you in the past with very good success
I am a 51 year old woman and a customer and have ordered Zuo Gui Wan from you in the past with very good success at reducing hot flash symptoms associated with menopause.
Date published: 2008-05-21
Rated

1

out of

5
by
allergykat
from
I had mild itchy rash.
I love Yin Vive, and have had no issues. I have more energy. I tried the plus and started itching. I wish I knew what the ingredient is that caused that.
Date published: 2016-11-26
Rated

5

out of

5
by
Danimac
from
Great Product
I started taking the medication couple weeks ago and the results have been outstanding!!
Date published: 2016-10-19
I would really like to try some YinVive Plus. I understand that the cost of ingredients has gone up. Just pass the price increase on to the product cost. That way it's available and the customer can choose if he wants to buy it.
Thank you. We will take it into consideration.
Date published: 2018-08-09
when will this back in stock?
Hi, Thanks for the question. We do not have the time set. It is currently cost prohibitive (please see above). If customers are willing to pay, we have no issue of producing it. Would love to receive feedback on this.
Date published: 2018-08-09
Can you give an estimate of when this product will be back in stock?
Hi, Thanks for the question. Due to the drastic price increase of raw herbs used in the formula, we temporally put the production of this formula on hold or we will have to at least double the current price.
Date published: 2018-04-10
Can customers who are willing to pay the new price buy it soon?
Does this come in quantities larger than 200 pills per bottle?