When Diet & Exercise Are Not Enough for a Normal Cholesterol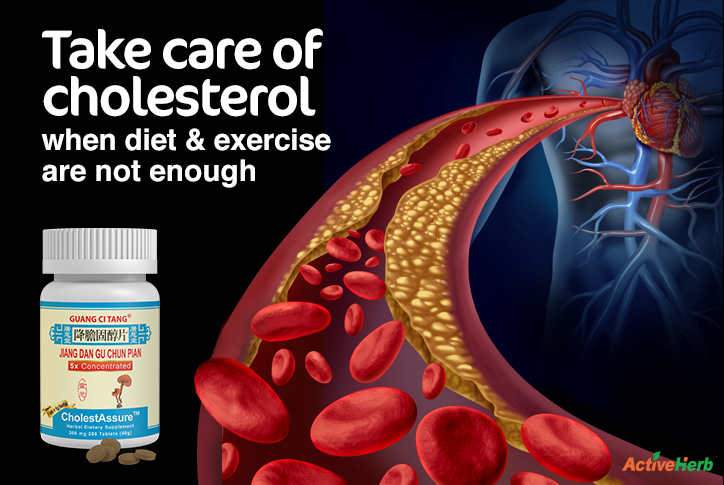 About a year ago, we explained the root causes of high cholesterol through the view of traditional Chinese medicine (TCM).

We wanted to revisit this topic because we recently received an email from a customer from San Diego. The customer wishes to remain anonymous; he agreed to let us use his initials, JH.

Excess cholesterol is attributed to internal phlegm
JH's email serves as a good case study for a certain subset of people with high cholesterol: those who have a genetic predisposition to it and can't improve the condition with diet and exercise.

In case you missed the post from last year and want the summary, here goes:

According to TCM theory, excess cholesterol is attributed to internal phlegm. Phlegm (different from the phlegm that's associated in the west with colds) can buildup in the blood vessels. Phlegm buildup in the tissues can cause blood stasis, which, in turn, manifests as excess cholesterol in the blood or tissues. In order to resolve high cholesterol, excess internal phlegm must be cleared….

Customer Case Study: High Cholesterol & High Surf
JH's email says that he is 45 years of age and leads a relatively low-stress lifestyle (excess stress can also contribute to high cholesterol). He works from home as a small business marketing consultant. Both his aunt and father take statin medication for cholesterol; the condition runs in both branches of his family.

Interestingly, JH says that he stays physically active at least 6 days per week, either surfing, hiking, mountain biking or yoga. Despite being an avid surfer and tackling big winter swells, our customer says that right around the same time our blog post from last year on cholesterol was published, he got his levels tested for the first time in many years. He was shocked by what the results revealed.

Although all his other health markers were normal, every single one of his cholesterol markers were bad. Take a look:


As you can see, his triglycerides (fats in the blood) were just about twice the upper limit of normal. Total cholesterol was almost 100 points above normal. So, too, were his LDL (the so-called "bad cholesterol) levels. Anything over 190 may indicate genetic predisposition to high cholesterol; JH's LDLs were 198. Even the so-called good cholesterol, HDL, was low.

In addition to being physically active, JH says that he eats relatively healthy. He eats nothing with added sugars. Approximately 99% of his diet is natural foods, consisting mostly of soups, stews, and salads. The only sweet thing he eats are a couple dates every day. His only pitfall, he says, is pizza. JH avoids beer and only drinks wine in moderation. He's even a proponent of intermittent fasting.

Clearly, JH is one of those people that can't be helped with exercise and diet when it comes to having normal cholesterol levels.
Avoiding Saturated Fat for High Cholesterol: Does It Help?
But there is one thing JH says that may have contributed to his high cholesterol markers: saturated fat.

Not everybody is convinced that saturated fat is bad for you. Even some peer-reviewed research from the last couple years concludes that despite for decades that saturated fat was thought to jeopardize cardiovascular health, recent studies report that saturated fat intake was associated with neither coronary heart disease (CHD) nor stroke mortality nor heart attack.1

But most mainstream medical professionals still urge people to limit their intake of saturated fat.

JH ignored this advice and hopped on the trendy bandwagon of coconut oil.

Every morning, JH would add a couple tbsp of coconut oil to his coffee. The coconut oil is supposed to temper the effects of caffeine and the high amount of fat can be burned for energy instead of eating carbohydrates. Coconut oil coffee was JH's breakfast for a couple years or so.

Here's the problem with coconut oil: it's over 80% saturated fat. Just one tablespoon contains 12 grams of saturated fat. That's 60% of the suggested daily limit. Keep in mind JH was often adding 2 tbsp of it. Plus, he would also add it as a spread to his high-fiber toast.

JH serves as a cautionary tale about being duped by diet trends. Eating large amounts of coconut oil, at least for him, is most likely not healthy. And it may not be healthy for other people as well. In fact, coconut oil may raise LDL cholesterol more than animal fats.

Immediately after receiving his shockingly-high cholesterol results, JH decided to quit coconut oil cold turkey. Six months later, his cholesterol levels had improved.

Chinese Herbs To Support Cholesterol Levels (If You're Cholesterol Is Already In A Normal Range)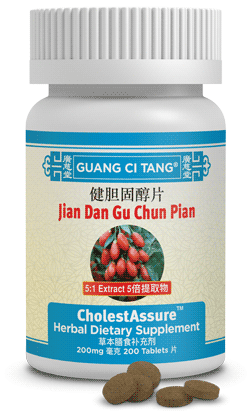 Determined to lower his cholesterol without statin drugs, JH researched herbal formulas for cholesterol support. He came across our signature formula, CholestAssure.

In theory, CholestAssure removes phlegm and blood stasis. JH believes that the combination of avoiding coconut oil and taking CholestAssure has helped support his cholesterol levels.
CholestAssure is a Guang Ci Tang signature formulated to help maintain cholesterol levels that are already within the normal range.
References:

1: Saturated Fat Consumption and Risk of Coronary Heart Disease and Ischemic Stroke: A Science Update

Suggested Reading: