New and Improved Herb Granules: As Natural as it Gets!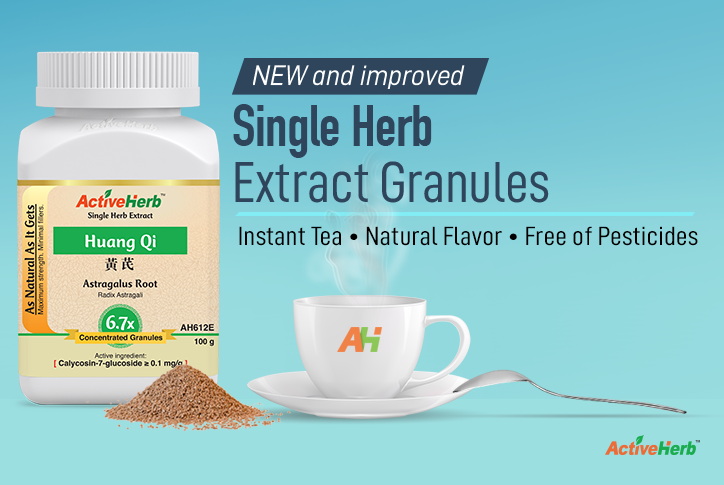 It wasn't easy. But we did it.
We set forth on a mission to find for you the absolute best-in-class Chinese herbs on the planet, in the most convenient form.
In pursuit of our quest to develop the highest-quality herbal granules, we visited several leading manufacturers across China.
Going in, we had a very stringent criteria, upon which we refused to compromise.
What exactly were we looking for? What exactly are the factors that make our new granules the highest-quality on the market, unrivaled by any competitor?
The herbal granules must preserve the natural flavor and property of the herbs.
First of all, the herbal granules must preserve the natural flavor and property of the herbs.
Secondly, they must always be free of contaminants such as heavy metals, pesticides and herbicides. We demanded our claim that our new and improved granules are "As natural as it gets" be backed by testing. As a result of our strict standards, we are the only herbal company whose granules are free of nearly 300 pesticides and herbicides. Moreover, we insisted that every batch of our 200+ herbal granule products be tested for impurities and receive a Certificate of Analysis.
The third criteria we insisted upon was that the natural yield of the granules remains unchanged after water extraction. And the only way to achieve this brings us to the fourth characteristic we demanded: the granules must contain at most minimal, or sometimes even no fillers.
We refused to lower our standards to that of our competition—granules from other brands may contain up to 80% fillers. Because each herb is extracted at its highest natural yield, our granules contain maximum potency—up to 30X concentration.
There's another factor we insisted upon in the formulation of our new line of granules: standards of quantifiable active ingredients.
What does this mean for you? Whether you're a Chinese medicine practitioner or herbal product consumer, you can rest assured that every batch of our herbal granules will be consistent and effective.
In addition, there's one more thing we demanded: total transparency of product labeling. Each bottle of our new and improved herbal granules accurately provides the active ingredients, herbal concentration and percentage of fillers used. No other U.S.-based supplier of traditional Chinese medicine is able to produce herbal granules to these specifications.
If you've never used herbal granules before, this is the easiest way to get the benefits of single herbs. From goji berry to ginseng and over 200 other herbs, all you have to do is mix the granules in hot water (or yogurt).
It's like drinking instant herbal tea. And all it takes to get the benefits of each herb is mostly just one scoop.
The complete list of new extract granules may be found here: Single Herb Extracts